Relations Between Kyrgyzstan and Russia Wax and Wane
Publication: Eurasia Daily Monitor Volume: 20 Issue: 88
By: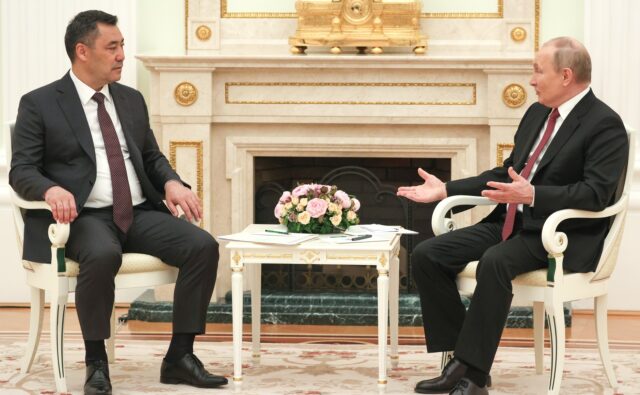 On May 7–9, Kyrgyzstani President Sadyr Japarov paid an official visit to Russia. During the visit, besides meeting with Russian President Vladimir Putin, Japarov also sat down with Prime Minister Mikhail Mishustin and Vyacheslav Volodin, chairman of the Russian State Duma. Later, Volodin accompanied the Kyrgyzstani president to the town of Rzhev in Tver region, around 200 kilometers northwest of Moscow, to jointly dedicate a World War II memorial to Kyrgyzstani war heroes (Akipress.com, May 6).
More controversially, however, for Ukrainian and Western commentators, Japarov, along with the presidents of Belarus, Kazakhstan, Tajikistan, Turkmenistan and Uzbekistan, as well as the prime minister of Armenia, participated in the annual Victory Day (V-Day) military parade dedicated to the victory over Nazi Germany in World War II. The Kyrgyzstani president's attendance was interpreted as lending support to Putin, who has been accused of committing war crimes in Ukraine (see EDM, April 19). In view of the current geopolitical situation in the region, most Kyrgyzstani commentators, though supportive of Japarov's decision to participate in the V-Day festivities, were quick to assert that this in no way amounts to Kyrgyzstan's support for Russia's brutal war against Ukraine (VB.kg, May 10).
Japarov is perhaps the only Central Asian leader who does not largely owe his ascendance to power to the Kremlin's overt or covert support. In October 2020, he was catapulted from his prison cell to become Kyrgyzstan's new leader as a result of the People's Power revolution, unseating Putin's close friend Sooronbay Jeenbekov (Al Jazeera, January 12, 2021). At the beginning of Japarov's term, the Russian president, who greatly fears anything even resembling a revolution transpiring in the post-Soviet space, gave the Kyrgyzstani leader the cold shoulder; however, over time, Putin has seemingly learned to work with Japarov.
For the Central Asian states in general and for Kyrgyzstan especially, relations with Russia regularly transcend personalities or international crises and remain a top priority due to substantial political, economic, military and humanitarian ties. As noted by both Russian and Kyrgyzstani officials, bilateral relations, especially in the fields of trade and investment, have grown significantly in recent years. According to Putin, Russia remains the largest foreign investor in Kyrgyzstan with total investments exceeding $2 billion. Meanwhile, Russia, under hefty Western sanctions, has increasingly sought to reorient its trade away from the West and, where possible, rely instead on an ever-shrinking pool of friendly countries, such as Kyrgyzstan, to partially compensate for losses. Hence, the significant 34-percent growth in bilateral trade between the two sides in 2022 amounted to a record $3.4 billion, which also saw notable growth in Kyrgyzstani exports to Russian, with 35 percent of all exports going to the Russian market (VB.kg, May 12).
The changes in the Russian economy have opened up opportunities for Kyrgyzstan and the other Central Asian states to source much-needed energy recourses, including oil products, natural gas and electricity, at discount prices from Russia. The adjustments have also opened up these countries' access to the Russian market for their own exports, mainly agricultural and textile products as well as various consumer goods.
Besides economic cooperation, during his recent visit to Moscow, Japarov finalized a bilateral agreement with Putin to strengthen Russian military facilities in Kyrgyzstan, which envisages deploying more military aircraft and advanced air-defense systems to the Russian military base in Kant, just outside Bishkek (TASS, May 8). According to Kyrgyzstani military experts, Bishkek does not have its own air defense systems and therefore will have to rely on Russian military assistance for the foreseeable future. Whether this agreement will actually reverse the latest tendency, whereby the Kremlin, due to manpower and equipment shortages, has resorted to pulling combat-ready troops from the Russian military bases in Kyrgyzstan and deploying them to the frontlines in Ukraine, remains to be seen. Often, such grand announcements are used purely for propaganda purposes to demonstrate that Russia can not only maintain its fighting in Ukraine but also preserve its status as security guarantor in Central Asia within the framework of Collective Security Treaty Organization (CSTO) (VB.kg, May 12)—which has been challenged in recent weeks (see EDM, May 24).
Another key factor in Kyrgyzstani-Russian relations is the potential role that the Kremlin could play in mediating a peaceful solution to Bishkek's border disputes with Dushanbe. In recent years, Kyrgyzstan and Tajikistan have engaged in several brief but violent border clashes (see EDM, May 19, 2021; September 23, 2022; November 3, 2022). As a result, the Kyrgyzstani government requested that Moscow help settle the disputes by providing various Soviet-era documents and maps kept in Russian archives, ostensibly with the expectation that these records will substantiate Kyrgyzstan's border claims. However, Tajikistan has rejected the notion of Russia's mediating role, leaving the effort in limbo.
According to official sources, the Kremlin's elevation of Japarov's recent visit was, in a way, a diplomatic effort to compensate for its own miscalculation in 2021 when only Tajikistani President Emomali Rahmon was invited to attend the V-Day celebrations in Moscow—just two weeks after violent border clashes broke out between Kyrgyzstan and Tajikistan in late April 2021. Japarov took offense and later refused to attend an informal summit of the Commonwealth of Independent States in St. Petersburg in October 2022. That same month, the Kyrgyzstani president further underscored his displeasure by canceling CSTO military drills that were originally scheduled to be held in Kyrgyzstan, thus undermining Moscow's confidence in its relations with Bishkek (Caspianpolicy.org, October 18, 2022).
Overall, Kyrgyzstan has sought to go beyond its reliance on Russia and develop stronger ties with its neighbors. Recently, Bishkek has had success in reaching agreements with other states in the region on key energy and transport projects. For example, a trilateral intergovernmental group from Kyrgyzstan, Kazakhstan and Uzbekistan is currently working on the joint construction of the Kambarata-1 Hydropower Plant in Kara-Jygach, Kyrgyzstan, which will generate larger quantities of desperately needed electricity and help ensure stable water supplies for agricultural purposes (Radio Free Europe/Radio Liberty, January 11). Moreover, Kyrgyzstan, together with China and Uzbekistan, is finalizing another trilateral agreement for the construction of a key railway line connecting China to Uzbekistan via southern Kyrgyzstan, which will shorten the rail route from China to Europe by 900 kilometers (see EDM, March 16).
Assuredly, Russia does not want to be left behind in these critical projects that will reshape Central Asia. However, besides declarations of intent, the Kremlin has been slow to move and unable to carve out a meaningful role, largely due to its own economic struggles. Nevertheless, as Kyrgyzstani Deputy Foreign Minister Asein Isaev declared, while Kyrgyzstan would welcome Russian participation in these infrastructure projects, "if there any circumstances that will prevent Russia from participating, Kyrgyzstan will still be able to implement these important projects on its own with other partners" (Kabar.kg, May 11).
In conclusion, it appears that Russia's war against Ukraine is stirring up apprehensions in Kyrgyzstan and the other Central Asian states. Even so, the conflict will not stop these countries from pursuing engagement with Russia at some level in the future. As the Kyrgyzstan example demonstrates, the Central Asian countries primarily view relations with Russia through the lens of their own interests and needs. Therefore, the prospects for Kyrgyzstan's future cooperation with Russia should be decoupled from the tendency to tie them directly to developments in Ukraine.