Released From Three-Day Detention, Saakashvili Resumes Calls to Remove Ukrainian President Poroshenko
Publication: Eurasia Daily Monitor Volume: 14 Issue: 160
By: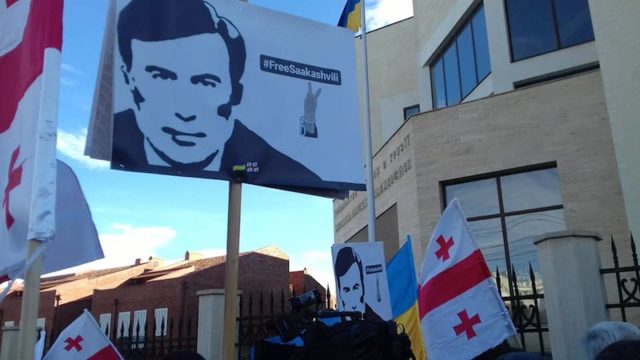 Following a turbulent chain of events, Mikheil Saakashvili, the former president of Georgia and the opposition activist leader of the Ukrainian Rukh Novykh Syl, last week found himself under house arrest in his Kyiv apartment. But today, on December 11, in yet another plot twist, he was freed in a decision by the Pechyora District (Kyiv) court (Netgazeti.ge, December 11).
Saakashvili, who from May 2015 to November 2016 served as governor of Ukraine's Odesa region, was arrested—for the second time within four days—on December 8, by the National Police in a friend's flat in the Solomianka District of the Ukrainian capital and initially moved to a detention facility, before being placed under house arrest on December 9. He has been charged with assisting Russian-based criminal groups and covering up their illicit activities, which led to the initial, failed attempt to apprehend him on December 5, also at his apartment (Civil Georgia, December 9).
On that day, Saakashvili was confronted on the roof of his eight-story apartment building by several well-armed units of the Security Service of Ukraine (SSU). The SSU detachments, dressed in riot gear, pulled up to Kostelnaya Street. But before the special forces could break down the door, Saakashvili climbed out of a window, addressing his numerous supporters from the rooftop (Facebook.com/SaakashviliMikheil, December 5). Ultimately, Saakashvili was detained, but the demonstrators managed to circle the SSU special forces' van that was about to transport him away. Following a series of skirmishes, his supporters succeeded in releasing Saakashvili from the vehicle. The former Odesa mayor then went directly to an opposition rally in central Kyiv (UNIAN, December 5; RFE/RL, December 6).
Notably, the December 5 incident was the second slap in the face of this kind for Ukrainian authorities: back in September, Saakashvili already had succeeded in peacefully breaking through the Polish-Ukrainian border, where he was initially denied entry on the grounds that his Ukrainian citizenship had been stripped by the authorities (see EDM, September 14).
Ukraine's Prosecutor General Yuriy Lutsenko has charged Saakashvili with allegedly receiving $300,000 from Sergei Kurchenko, who, of all things, is a supporter of the former pro-Russian Ukrainian president, Viktor Yanukovych, and is presently hiding out in Russia (Jam-news.net, December 8). Lutsenko claimed that the SSU wiretapped Saakashvili and his associates and recorded them speaking with Kurchenko, who was supposed to transfer the money to one of Saakashvili's alleged allies, Severion Dangadze (1tv.ge, December 5). Lutsenko said law enforcement officials intercepted part of the money transfers in November, also arresting Dangadze on December 4. In recent months, Saakashvili led a series of anti-corruption protest rallies throughout Ukraine, demanding that President Petro Poroshenko and his government resign (see EDM, October 31). He called for a large rally to be held in Kyiv on December 10.
Prosecutor General Lutsenko has presented audio and video recordings of alleged conversations and meetings. They are supposed to prove that Saakashvili supporters had already received half a million dollars from Russia. However, all presumed evidence still awaits authentication in court (Hromadske.ua, December 5).
Saakashvili strongly denies Lutsenko's allegations: "I do not give a damn about what Lutsenko said there. They are lying bastards," he reportedly said. Saakashvili claims that he had already been threatened for his activism by representatives of President Poroshenko. Specifically, parliamentarian Aleksandr Granovsky told Saakashvili to cease his anti-corruption rallies and leave Ukraine or face consequences (Hromadske.ua, December 5). Georgian media outlets suggest that Saakashvili's detention, which succeeded with law enforcement's second attempt, on the night of December 8, is connected to a campaign begun by the Poroshenko government against the National Anti-Corruption Bureau of Ukraine (NABU). The Bureau was created in 2015, with the United States and the European Union's support, to fight corruption in post-Maidan Ukraine (Rustavi 2, December 10). One of the charges Saakashvili has leveled against Poroshenko is that he as well as other high-raking officials are selling military equipment to the government at overpriced rates and personally being financially rewarded for this.
A leader of the Georgian opposition party United National Movement, Zaal Udumashvili, is convinced that Saakashvili will soon be exonerated: "You can accuse Saakashvili of many things. You can accuse him even of being from Mars, but you cannot accuse him of connections to Russia" (Rustavi 2, December 9). While the Georgian government has submitted a request with Ukrainian authorities to extradite Saakashvili to Georgia, where he faces separate charges of corruption, it is not clear whether Kyiv will comply.
The spokesperson for the US Department of State, Heather Nauert, noted during a December 5 press briefing that "we're closely monitoring that situation [of Saakashvili's initial arrest and release]… But the Government of Ukraine […] if they are detaining someone, arresting someone […] it needs to be in accordance with the laws and regulations of that country," signaling at least a skepticism with regard to the legality of the former Georgian president's detention (State.gov, December 5). Carl Bildt, a co-chair of the European Council on Foreign Relations, tweeted on December 5, "Trying to arrest Saakhasvili [sic] on the pretext that he's some sort of Russian agent looks extremely amateurish. Who will believe that story?" (Twitter.com/carlbildt, December 5), adding that "political arrests [in Ukraine] will radically diminish the country's credibility in the West" (Twitter.com/carlbildt, December 5). Ukrainian opposition leaders, among them Yulia Tymoshenko, also urged the "immediate release" of Saakashvili (iPress.ge, December 9).
The authorities held Saakashvili under house arrest between December 9 and 11, during which time he carried out a hunger strike that he declared while in preliminary detention (Amerikiskhma.com, December 9). Meanwhile, on December 10, thousands of his supporters answered the Georgian-Ukrainian politician's call and gathered in Kyiv for a "Rally to Impeach" Poroshenko (Netgazeti.ge, December 9), while also demanding "freedom for Saakashvili" (Netgazeti.com, December 10). Saakashvili's wife and former Georgian opposition leader Sandra Roelofs addressed the rally and called for his release. She, too, accused Poroshenko of corruption, appealing to the massed crowd to fight on for his resignation: "We have to make Poroshenko understand that politics is not business," Roelofs stated (iPress.ge, December 10). The December 11 decision by the Kyiv court to set Saakashvili's free opens yet another subchapter in his eventful biography as a leader of the Ukrainian opposition. But it is unclear if the disparate Ukrainian opposition forces will unite to achieve the goals of impeaching the sitting president, which Saakashvili has continued to trumpet following his release.