Republic of Cyprus to House Russian Aircraft, Naval Ships
Publication: Eurasia Daily Monitor Volume: 11 Issue: 14
By: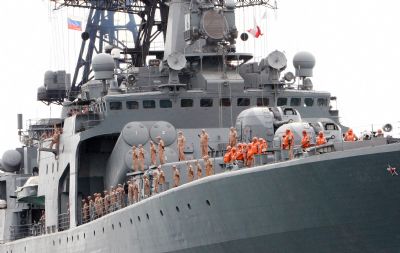 The eastern Mediterranean, which has seen an intermittent Russian naval presence for more than two centuries, will again see Russian military assets deployed there as a new Russian-Cypriot agreement takes effect. On January 10, Cyprus's Council of Ministers approved a defense ministry draft proposal for the island country to allow Russian military aircraft to use the Andreas Papandreou military airbase near Paphos and to open the Limassol port to Russian warships. Cypriot Foreign Minister Ioannis Kasoulides observed, "The Russian fleet is a welcome guest in Cyprus" (Voice of Russia, January 14).
Russia's use of the Cypriot facilities were discussed by Russian Defense Minister Sergei Shoigu and his Cypriot counterpart, Fotis Fotiou, in May 2013, as well as during subsequent meetings in June 2013 between Russian Foreign Minister Sergei Lavrov and Foreign Minister Kasoulidis (Cyprus Weekly, January 11). Under Fotiou's proposal, initial airbase use would be limited to humanitarian and emergency situations.
Russia's significant naval presence in the eastern Mediterranean began three months ago with vessels from its Baltic, Northern, Black Sea and Pacific fleets, including the Pacific Fleet's flagship, the guided missile cruiser Variag, and the Northern Fleet flagship, the missile cruiser Petr Velikii (Kommersant, January 15).
Besides the Variag and the Petr Velikii, Russia's Mediterranean squadron now includes the aircraft carrier Admiral Kuznetsov, a destroyer, a frigate, four landing craft, two surveillance ships, tugs and tankers (Murmanskoe Informatsionne Agentstvo Bi-Port, January 20).
Russia's increased Cypriot military presence will impact relations with both Turkey and the United Kingdom. Turkish Republic of Northern Cyprus President Dervis Eroglu said on January 19 that the Russian-Cypriot rapprochement could stymie progress toward reunifying the island, as Russia could use its United Nations Security Council veto to block reunification efforts (Bayrak Radyo Televizyon Kurumu, January 19).
The UK's position in Cyprus is unique. Britain retains "Sovereign Base Areas of Akrotiri and Dhekelia," measuring roughly 98 square miles and created by the 1960 Treaty of Establishment, which granted Cyprus independence (Famagusta Gazette, January 15). Russia's new access effectively ends Britain's monopoly of the island's military assets.
The Cypriot government stresses that the Russian agreement is not unusual, as during earlier regional crises Cyprus offered airbase and facilities to foreign militaries, including the United States, Italy, France and Russia. Cyprus currently provides port facilities to US, Russian, Danish, German, Norwegian and Chinese warships that are removing Syrian chemical weapons (Cyprus Mail, January 10).
The UN Organization for the Prohibition of Chemical Weapons (UN-OPCW) mission provides useful cover for Russia's access to Cypriot facilities. In October 2013, the Cypriot Cabinet approved establishing a support base for the UN-OPCW, after which the Russian naval surge began. On January 7, the Russian Navy's Petr Velikii missile cruiser and China's Yancheng frigate provided safe passage for the Danish Ark Futura cargo ship, loaded with 560 tons of Syrian chemical weapons from Syria's Latakia port. The Norwegian frigate Helge Ingstad and Danish support vessel Esbern Snare also participated (Oruzhie Rossii, January 15).
One byproduct of the Syrian operation is that Russian naval officers met with their Chinese colleagues aboard the Yancheng on January 19 to discuss the possibility of future joint Mediterranean tactical drills (Kommersant, January 15). The Russian and Chinese navies have regularly held joint drills in the East since 2005, under the framework of the Shanghai Cooperation Organization. The most recent was "Naval Interaction 2013," off Vladivostok, in what was, to date, China's largest overseas war game scenario. Seven Chinese warships, including four destroyers, two frigates and a supply ship, participated (Russian Ministry of Defense, July 4, 2013). But the rising Russian-Chinese naval cooperation in the Mediterranean is the most surprising aspect of Russia's renewed presence in this region.
The international coalition of warships involved in transferring Syrian chemical weapons will be busy over the next several months, as the remaining samples must be removed from Syria by no later than February 5 and destroyed by June 30, 2014 (Voice of America, December 9, 2013).
The prospect of a semi-permanent Russian base on European Union soil concerns Brussels; Nicosia has already come under suspicion before for potentially allowing itself to be used as a transit point for Russian arms shipments to the Bashar al-Assad regime. Cyprus is also close to the strategic sea line of communications (SLOC) of the Turkish Straits, a prime oil export route for Russia. Consequently, due to Cyprus's location, this Mediterranean country allows Russia to shield its Syrian client state as well as check possible initiatives by the North Atlantic Treaty Organization toward the Dardanelles. Furthermore, the island is proximate to the Suez Canal, which exits the Red Sea at the Bab al-Mandab Strait into the Indian Ocean. China's primary oil import SLOC runs from the Persian Gulf's Strait of Hormuz eastwards to the Strait of Malacca, while the reverse western passage is used by Chinese merchant shipping to Europe. Chinese interest in the eastern Mediterranean is accordingly rising, and the region could, therefore, soon see an ongoing Chinese naval presence as well. Indeed, Cypriot Defense Minister Fotiou is preparing for an upcoming visit to Beijing, where a defense agreement is on the agenda (Famagusta Gazette, January 4).
Given this intertwining of economic and political concerns, Russia's and China's growing interest in Cyprus is likely to continue as the Mediterranean ceases to be a NATO "lake."