Rights Violations Reported in Dagestan, Ingushetia and Kabardino-Balkaria
Publication: Eurasia Daily Monitor Volume: 7 Issue: 132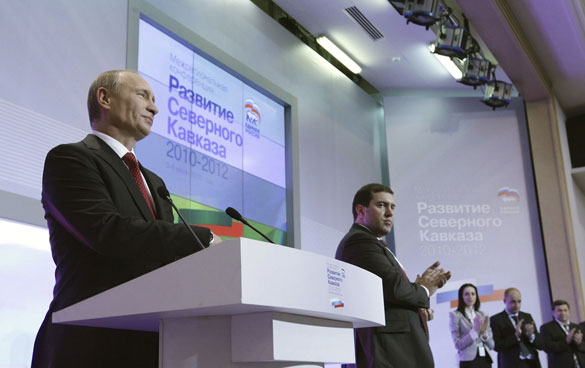 As Russian Prime Minister, Vladimir Putin, this week announced a new strategy to bring prosperity to the North Caucasus, people across the region publicly accused local authorities of abusing human rights.
Putin said in the city of Kislovodsk in Stavropol Krai on July 6 that while rebels in the North Caucasus are still carrying out terrorist acts, the insurgents are "more and more degenerating into common criminal groups" and time is running out for them. "We will with all our force protect the life, rights and security of our citizens," he declared, calling for the creation of 400,000 extra jobs in the North Caucasus within the next decade. "We all need a peaceful, prosperous Caucasus," Putin said, adding that the state-owned Vnesheconombank would set up a branch in the North Caucasus to help with investment projects and that the Russian finance ministry would guarantee loans for such projects (AFP, July 6).
On July 7, just a day after Putin's remarks, human rights activists in Dagestan held a conference at which they announced a new human rights umbrella group, "United Human Right Activists of the Republic of Dagestan," and approved the text of an open letter to the republic's President, Magmedsalam Magomedov. In the letter, the activists called on the Dagestani authorities to exert control over security forces in the republic in order to end illegal detentions, abductions and extra-judicial killings. They also called on authorities to end actions supporting only the republic's officially-approved religious group while persecuting others, and to overturn the local law banning "Wahhabi" and "other extremist activity," which, they said, violates federal laws and Russia's constitution.
The activists also called for the locations or burial places of those who have been abducted or have disappeared to be made public, for relatives of those in custody to be informed of their whereabouts and the reasons for their detention, for law enforcement bodies to stop preventing lawyers from doing their jobs, as well as security forces to use proportionate force during special operations, and those arrested in Dagestan no longer to be sent to prisons outside the republic.
The authors of the open letter also called on Dagestan's authorities to begin talks with so-called "forest brothers," as the local rebels are called, aimed at convincing them to lay down their arms, and to initiate an amnesty for rebel fighters who are not "blood-stained" and wish to leave the insurgency. The activists also said that such people and their families should not be persecuted, and that other rebel fighters who "have acknowledged their mistakes" and want to lay down their arms should be guaranteed that they will receive punishments proportionate to their crimes.
Among the letter's signatories were Isalmagomed Nabiev, chairman of the independent union of drivers of Dagestan; Abdurakhman Yunusov, president of the "Rakurs" information-analytical center; local television journalist Zarema Gasanova; and lawyer Rasul Kadiev.
On July 8, two residents of Ingushetia, Rakhman Imazhev of Nazran and Anzor Mamilov of Magas, separately lodged complaints with human rights groups and Ingushetia's President, Yunus-Bek Yevkurov. Imazhev reported that earlier on July 8, armed Federal Security Service (FSB) agents in masks had raided his family's house claiming that his brother, Ramazan Imazhev, was in illegal possession of weapons and ammunition. The FSB agents found "literature of an Islamic character," after which they detained Ramazan Imazhev, who was described by his brother as having a higher education, a wife and a young son and no criminal record. "We do not understand why they took Ramazan, and we fear for his life and health," Rakhman Imazhev said, adding "We are sure that they took Ramazan illegally and in violation of his right to legal counsel."
Anzor Mamilov, for his part, reported that he and his father had been stopped by police at a checkpoint earlier on July 8, and were taken to the interior ministry building in Nazran. Mamilov said he was questioned about "religion and terrorist acts," and beaten until he agreed to sign a false confession and a document stating that he will work for the police and FSB. He said the police also told him that if he told anybody what had happened to him while in custody, they would show his agreement to be a police informant to the rebels, who would "destroy him." He said that if the rebels did not kill him, he would "definitely disappear without a trace" if he revealed what happened during his police interrogation (www.kavkaz-uzel.ru, July 9).
In Kabardino-Balkaria, the independent Human Right Center reported today that it had received a complaint from Karalbi Karamizov, a resident of the village of Chegem-2 in the republic's Chegem district, that police had forced him to incriminate himself and other innocent people. According to the center's lawyer, Timur Tukhuzhev, Karamizov said in the complaint that police had searched his home on June 23 and detained him and his two sons, one of whom is handicapped. Karamizov claimed that while in custody, he was beaten and could hear the cries of his sons begging not to be beaten. He said that since then, police have claimed that he and his sons are connected to the "illegal armed formations –that is, the rebels– and that is why they were detained. "My family and I are law-abiding citizens, we never broke the law; we live exclusively on the fruits of our labor," he said (www.kavkaz-uzel.ru, July 9).
Meanwhile, the head of the Memorial human rights group, Oleg Orlov, said on July 8 that the group may halt its work in Chechnya after Chechen President, Ramzan Kadyrov, called Memorial employees "enemies of the people, enemies of the law and enemies of the state." Kadyrov was quoted as saying during an interview on Chechen state-run television on July 3: "Be it Orlov, be it the women and men of Memorial from (the Chechen town of) Gudermes… What have they done for the region? They are paid large salaries by the West and, to account for their activities, they write any shit and rot."
Orlov called Kadyrov's comments "a clear and direct threat," "very dangerous" and "without question a signal to officials and to the law enforcement forces in Chechnya to start taking action against rights workers." Orlov added that some "will take these words from their leader as an indictment of concrete individuals –our friends– as outlaws," noting that Kadyrov had made similar threats prior to the murder of Memorial activist, Natalya Estemirova, on July 15, 2009 (AFP, July 8).
On July 6, Moscow police summoned Orlov and charged him with libel in connection with comments the Memorial head made following the murder of Estemirova that Kadyrov was responsible for the killing (https://www.fidh.org/Mr-Oleg-Orlov-charged-with-criminal-offence). Kadyrov had dropped a lawsuit against Orlov earlier this year (The Moscow Times, July 7).
In his interview on Chechen state-run television, Kadyrov also praised recent paintball attacks in Chechnya on women who were not wearing headscarves. According to eyewitnesses, about a dozen such attacks by men in camouflage occurred in Chechnya last month. "I do not know (who they are), but when I find them I shall announce my gratitude," Kadyrov was quoted as saying of the perpetrators of the attacks. He added that even if the attacks "were carried out with my permission, I would not be ashamed of it," and called the victims of the attacks "naked women" who probably had been forewarned (Reuters, July 8).