"Ruling the Internet According to Law": Chinese Internet Governance in 2014 and Beyond
Publication: China Brief Volume: 15 Issue: 2
By: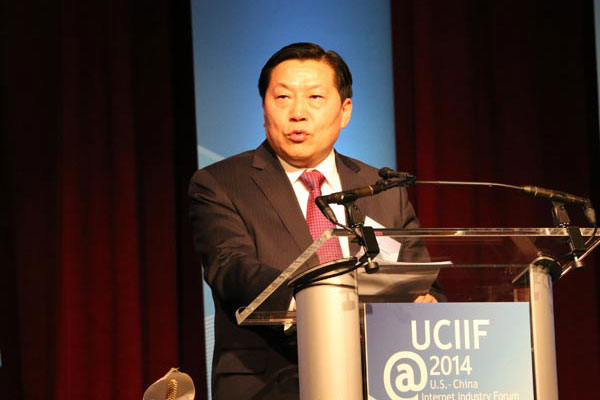 The Chinese government is known for its heavy-handed censorship of the country's Internet, now with a user base of about 665 million. After the blockage or shut down of a series of social media accounts, commercial websites, text messaging applications, online libraries and cloud computing services, 2014 ended with the total blockage of Gmail, inaccessible without recourse to a Virtual Private Network (VPN). [1]
In February 2014 three months after creating and presiding over a powerful National Security Commission, which is responsible for cyber security issues, Chinese President Xi Jinping moved to head up a new government body, the Central Internet Security and Informatization Leading Group (CISILG). During the first meeting of the group, Xi called for "the proper management of public opinions on the Internet" (Xinhua, February 27, 2014). Making sure the Internet is under its control is now one of the most pressing strategic concerns for the Chinese Communist Party (CCP).
In October, the CCP held its Fourth Plenum of the 18th Party Congress. The decision document that emerged from the conference outlined an array of reforms under the theme of "ruling the country according to law" (yifa zhiguo), including "regulating Internet activities according to law" (see China Brief, November 20, 2014; Xinhua, October 28, 2014). The phrase "ruling the Internet according to law" (yifa zhiwang) has since been popularized. "The Party's Fourth Plenum spirit of law should be vigorously applied to the Internet to ensure regulators and online users behave within the limits of law," said Lu Wei. Lu, dubbed "China's Internet Czar" by Western media, is the director of the State Internet Information Office (SIIO), China's leading Internet regulatory body (Xinhua, October 27, 2014).
While the phrase "ruling the Internet according to law" may sound new, the practice of employing law as a tool to contain the Internet is certainly not. In the past decade, laws and regulations have been issued one after another to tighten the Party's grip over the Internet. Below is a discussion of important rulings issued in 2014 that pertain to Internet governance and how they have been or could be used to undermine China's Internet freedom. This is followed by an analysis of the implications of the government's Internet governance plans for 2015 from the perspective of Internet freedom.
Intensified Crackdown on Online Opinion Leaders
China topped the country list of journalists jailed in 2014 with 44 journalists now behind bars, up from 32 the previous year, according to the Committee to Protect Journalists (Committee to Protect Journalists, December 17, 2014). This may not be a complete list since the Chinese government does not publish relevant statistics and often times trials are carried out secretively. Besides those who have been formally sentenced, there are numerous people who ran afoul of the authorities in various ways for speaking out online. Several new regulations issued in 2014 provide policy and regulatory grounds to facilitate the intensified crackdown on online commentators.
In March, the Implementing Regulations of the Law on Protection of State Secrets came into force (2014). This law, along with the amended Law on Protection of State Secrets (2010), is part of the CCP's ongoing efforts to address the rapid growth of the Internet, expanding the scope of state secrets to include all channels of information. The wording of the law makes it such that nearly anything could be construed as a state secret, and anyone who publishes information without prior government authorization might be subject to prosecution.
Prosecuting individuals for national security violations is the most common method used by the Chinese government to silence dissent (Congressional-Executive Commission on China, May 7, 2003). Thousands of people have been detained or jailed in the name of such violations (Duihua Foundation, February 10, 2014). In November, the journalist Gao Yu was put on trial for "divulging state secrets" (Xinhua, May 8, 2014). The alleged secret is a Communist Party document, known as "Document No. 9," which ordered government officials to eradicate seven subversive influences on society, including Western constitutional democracy and human rights. Months before Gao sent the document to foreign news sites, however, the main content of the document was already widely circulated, including in local Party mouthpiece newspapers. This highlights the looseness with which the law on state secrets applies and can be used selectively by authorities.
In October, the Supreme People's Court (SPC) issued a new judicial interpretation addressing the illegal disclosure of personal information and damages caused by defamatory statements on the Internet (Xinhua, October 14, 2014). The ruling makes not only those who create but also those who share "harmful" information potentially liable for any impact. The ruling also stipulates that the degree of liability should correspond to the violators' "nature and scope of influence." Yao Hui, a judge at the SPC further explained in an interview, "If you have a very large number of followers, you should know that the information you repost will influence many people. Legally, you will have a higher responsibility" (Xinhua, October 17, 2014).
This ruling is a part of the CCP's ongoing efforts to muzzle influential social and political online commentators (see China Brief, February 7, 2014). In 2013, the SPC and Supreme People's Procuratorate issued an interpretation that stipulates social media users who post defamatory information viewed more than 5,000 times or shared more than 500 times will be held criminally liable and can be punished for up to three years in prison, and dissemination of false information on social media that causes a public uproar can be charged with "picking quarrels and provoking troubles" (xunxin zishi), which is punishable with up to five years in jail (2013). Hundreds of social media users have since been detained on charges of concocting and spreading false claims, often critical of the Chinese government. In May, prominent human rights lawyer Pu Zhiqiang was detained on suspicion of "picking quarrels and provoking troubles." According to Pu's lawyer, it was due to the over 30 messages he posted on Weibo that criticized certain CCP figures, including Mao Zedong's grandson (Radio Free Asia, December 19, 2014).
Tightening Control on Online Service Providers
Besides escalating the persecution of outspoken Internet users, the Chinese government has also been busy managing social media and other online services providers. After several years of aggressive censorship on Weibo, which ultimately led to the fast decline of this once dominant social media platform, in 2014 the government began to lay its hands on newcomer WeChat, now China's most popular social media tool.
The hammer first came down on WeChat in March 2014 when several dozen politically liberal high-profile public accounts were deleted with no apparent forewarning. A more deadly blow was dealt to WeChat in August with the promulgation of a new regulation stipulating that only the public accounts of news agencies and news websites can publish news and opinion pieces regarding current events. And the public accounts of non-news agencies and news websites can only repost news and opinion pieces (2014). In China, to qualify as a news agency or website an entity must obtain the necessary certifications, and only those that are directly managed by government agencies and are approved by the State Council can be news agencies or news websites. Therefore, the hobbling effect that the new regulation has is not that it requires the content of most public accounts to be pre-approved before publishing, it is that it denies their right to publish news and opinions on current events altogether. This regulation, just like many other regulations on the Internet, however, is not strictly enforced, as some grassroots public accounts of civil rights groups, independent writers and others continue to operate. But the purpose of this unreasonable and ultimately unenforceable rule is to create a climate of fear to force people into self-censorship, as they know that at any time, their accounts can be shut down and they can be prosecuted.
Not only is non-state controlled content regarding current events on the Internet viewed as a threat, Western entertainment is being cast as a menace too. In September, SAPPRFT announced that it would require "broadcasting licenses" for all foreign television programs and movies before they can be posted on video-streaming websites and the websites must take down unapproved content by March 2015 (2014). According to Sun Wenguang, a retired professor at Shandong University, "the values of freedom, equality and human rights [reflected in foreign entertainment shows] are in contradiction with the values the Chinese government promotes. That's why the government is hostile to foreign cultural products." Independent writer Zan Aizong doubts whether the regulation will have real effect, "Unless you cut off Internet entirely, users will always be able to find their ways to watch the shows" (Radio Free Asia, September 5, 2014).
Internet Freedom in 2015
Under the banner of carrying out "the spirit of the Fourth Plenum," the Chinese government held various conferences throughout the end of 2014 on a variety of topics relating to Internet governance. The conferences set the agenda for "ruling the country according to law" in 2015, with some of the policies discussed raising alarm bells for the future of Internet freedom in China.
During a conference for media executives held in November, Liu Binjie, former director of the now-defunct General Administration of Press and Publication and a member of the Standing Committee of the National People's Congress (NPC), said that the NPC is planning to introduce China's first press law and this law will enable traditional state-controlled media to operate more freely in the social media realm. Liu also revealed that the government plans to establish a platform where all original news information will be required to first be uploaded. Any online news portal that wants to repost the information will be required to pay (China Daily Online, December 1, 2014). Liu said the purpose of the platform is to better protect intellectual property rights so that online media cannot free ride for reproduction, but Wen Yunchao, a New York-based Internet activist, disagrees: "What the authorities really want to do is to block out the dissemination of original news information that is not pre-approved by the government" (Author's interview, January 5, 2015).
Perhaps the most foreboding news regarding the Internet in 2014 came from Internet Czar Lu Wei. Lu revealed during an October CISILG conference that China will establish an Internet users credibility history system that records and evaluates users' online activities to "reward those who behave well and punish those who do not." While Lu did not get into details, he said such a system will make "abiding by the law all Internet users' voluntary pursuit and behavior" (People's Daily Online, October 25, 2014). This is yet another attempt by the Chinese government to implement an Orwellian-style online surveillance system, after it failed to meet its goal of establishing a nationwide real-name registration online system by mid-2014 (Xinhua, March 28, 2013). Back in 2009, the government's plan of requiring the installation of specific filtering software "Green Dam" for all computers sold in the country was also later suspended after overwhelming pressure from Internet users (Xinhua, June 30, 2009).
The Party does not always get what it wants, however, as many Chinese Internet users continue to passionately write and share information critical of the government, defying censorship laws. Some go further to demand the abolition of the laws, claiming that they are in violation of the right to free speech and thus unconstitutional.
Conclusion
2014 was the 20th anniversary of the Internet's arrival in China. Over the past 20 years, as an increasingly integrated part of China's "socialist market economy," the Chinese Internet market has grown remarkably. What comes along inevitably is the spread of diverse ideas and people's demand for deepening reforms and further liberalization of the economic and political system. The Party, unwilling to lose its grip on Chinese society, is equally unwilling to see the diminishment of economic activities as a result of excessive control over the Internet. This conundrum is embodied by Lu Wei's recent visit to Silicon Valley. On the one hand, the economic growth that companies like Facebook attain is immensely attractive to Chinese leaders, enough to warrant symbolic high-level exchanges between the two sides. Yet these opportunities are weighed against what Chinese leaders acknowledge and what relevant Chinese laws point to are risks to China's stability presented by social media platforms like Facebook that are not tethered to Chinese authorities the way indigenous platforms are. The key to striking a balance appears to lie in a sophisticated Internet censorship system. Besides improving the technological aspects of the system, employing laws more effectively to deter and punish those who dare to cross the line is also essential to achieving such a goal. That is what "ruling the Internet according to law" is really about.
Notes
According to Freedom House's 2014 report on Internet Freedom, China ranked third to last of the 65 countries assessed, faring only better than Syria and Iran, and scored worse than it did in 2013 (Freedom House, November 2014).