Russia Accepts and Emulates China's Coronavirus Propaganda
Publication: Eurasia Daily Monitor Volume: 17 Issue: 53
By: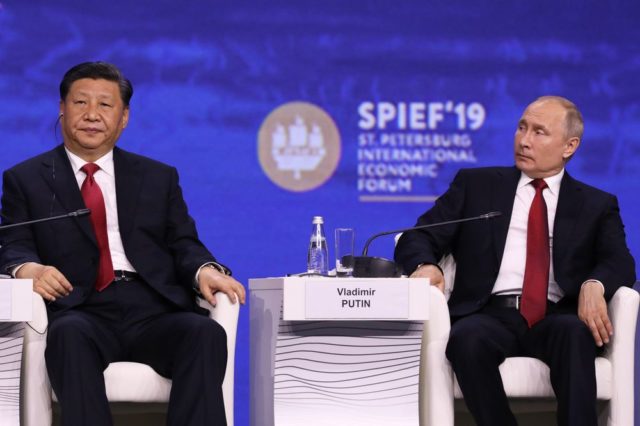 After a delayed start, Russia is now being hit by the COVID-19 outbreak with devastating force; yet, it has only praise for China's policy of containing the disease, despite the obvious fact that this containment failed to prevent a local outbreak in Wuhan from becoming a global pandemic. President Vladimir Putin recently found it opportune to emphasize that it was "counterproductive" to accuse Beijing of providing information about this dangerous infection "in an untimely manner" (Kremlin.ru, April 16). This was the key point in his ten-minute telephone conversation with President Xi Jinping around midnight last Thursday, April 16 (Beijing time), which allegedly consisted of an "in-depth discussion" of international matters.
It was only the second conversation between the two leaders this year, which hardly testifies to a close friendship. Nonetheless, that fact did not stop Chinese propaganda from alleging a unique personal connection that supposedly underpinned Xi and Putin's "common stance against wrongdoing that politicizes the pandemic" (Global Times, April 17).
The Kremlin was probably happy to receive this phone call, particularly because the same Chinese propaganda outlet had recently criticized Russia for insufficient measures in combating the coronavirus (Izvestia, April 15). The number of infections in Russia is, indeed, growing exponentially, while tests are badly unreliable. As a result, Russian hospitals are unable to separate the COVID-19 cases and are becoming hubs of transmission (Meduza, April 16).
In Moscow, which accounts for two thirds of the country's infections, the authorities have been trying to imitate Chinese lockdown measures, but so far they have succeed only in corralling huge crowds in the metro, exposing not only tens of thousands of travelers to the disease but also hundreds of police officers (The Village, April 16). The attempt to introduce electronic passes for private cars has collapsed because of multiple glitches in the software and ensuing traffic jams (Novaya Gazeta, April 17). Public irritation with these awkward and poorly explained measures, taken without the announcement of an emergency situation, is growing in parallel with the spread of the deadly disease (Rosbalt, April 17).
China has consequently closed all the crossings along its long land border with Russia—but that policy has not affected Moscow's eagerness to continue to praise Beijing's success in domestically exterminating the pandemic (Novaya Gazeta, April 17). Russian mainstream media remains mum about China's responsibility for and suppression of information about the mutation of the coronavirus; however, Russian outlets publish plenty of crude slander about the United States' experiments with viruses (Izvestia, April 17). In fact, Moscow is keen to amplify and even join Chinese propaganda, currently centered on deliveries (not always charitable) of medical equipment to badly hit European countries (The Insider, April 15). Russia's own propaganda puts much spin on the heroic work of a team of military medics in Bergamo, Italy; but this narrative looks increasingly at odds with the apparent shortages of crucially needed supplies and trained personnel in many Russian regions (TV Zvezda, April 16).
Among the Kremlin-friendly expert community in Moscow, there is much pondering about China's greatly strengthened role in global affairs due to its presumed leadership in defeating the COVID-19 pandemic (Rossiiskaya Gazeta, April 15). Wishful thinking regarding bandwagoning with this expected surge in power is mixed, however, as some analysts express concern about China's reenergized expansion into Central Asia and, particularly, Kazakhstan (Izvestia, April 17). Russia's own ties with Central Asia have been damaged by the deep contraction in demand for migrant labor, which left millions without incomes and tens of thousands stranded in legal limbo (Moskovsky Komsomolets, April 13). Russian politicians have largely ignored this disruption but recognize the acute need to kowtow to ceremony-sensitive China. The State Duma (lower chamber of the Russian parliament) found time to legislate the change of date for celebrating the end of World War II from September 2 to September 3, which departs from the historical moment of Japan's capitulation but fits with the official holiday in China that is always marked by a grand military parade (Nezavisimaya Gazeta, April 14; see EDM, April 16).
China is, indeed, the last hope for Russia, which finds itself in dire economic straits. The government in Moscow has done relatively little to manage the steady stagnation, while the president's views on the economy ignore the role of small business (Moscow Echo, April 17). News that the Chinese economy contracted by 6.8 percent in the first quarter of 2020 came as a shock to many Russian economists, who counted on the southeastern neighbor's irrepressible growth (Nezavisimaya Gazeta, April 17). In the mainstream rent-extraction and cash-flow focused economic thinking, there is scant understanding of how the Chinese "miracle" of accelerating modernization really works. While the statistics Beijing provides are routinely taken for solid data in Moscow (Carnegie.ru, April 17).
What matters most for Russia is Chinese demand for oil and natural gas. Therefore, the resumption of deliveries through the newly inaugurated but subsequently closed Sila Sibiri (Power of Siberia) gas pipeline was taken to signal a quick recovery in the energy markets (Neftegaz.ru, April 1). But even if the volumes of Russian hydrocarbon export return to their planned levels, revenues are set to contract because prices show no signs of rebound after the renegotiated OPEC+ agreement on production quotas, in which Russia committed to greater cuts than it could possibly deliver (Newsru.com, April 15; see EDM, April 9). Saudi Arabia, meanwhile, continues to offer European and Asian customers attractive discounts on future contracts; whereas, Russia cannot count on the durability of Chinese preference for its oil despite whatever bilateral promises are extended (Novaya Gazeta, April 17).
The Russian leadership consciously set the course for deepening the country's dependency on China and now finds it must preserve this policy despite the growing costs and risks. The fact that Beijing will always put its interests first and account for the needs of its strategic partner only insofar as they do not infringe on China's position is hardly news for Moscow. But the discovery of the apparent hidden weakness behind China's perceived economic might has shocked many Russian elites. At the same time, whereas the Chinese government proved capable of enforcing an extra-severe shutdown on society, the Kremlin cannot possibly emulate that approach. Propaganda can produce useful camouflage; but as those convenient lies depart ever farther from reality, the consequences may eventually prove detrimental to the continued resilience of the Putinist regime.