Russia and Georgia Expand Their Only Border Crossing Point
Publication: Eurasia Daily Monitor Volume: 10 Issue: 163
By: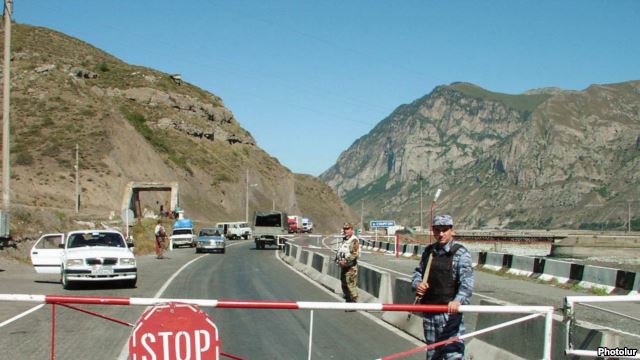 Several days ago (September 10), reconstruction and expansion works at the Verkhny Lars border checkpoint were completed. The checkpoint, located in Georgia's Kazbegi district on the highway historically known as the Georgian Military Road, is the only legally functioning border crossing between Russia and Georgia. The other two checkpoints, Nizhny Zaramag and Psou are closed due to the Georgian–South Ossetian and Georgian-Abkhazian conflicts (https://www.civil.ge/eng/article.php?id=26440).
Notably, the Georgian Military Road is the only highway that connects not only Georgia, but also Armenia to Russia. Consequently, Yerevan has insisted on opening the highway after Russia imposed a trade embargo against Georgia in 2006 (https://www.civil.ge/eng/article.php?id=25715) and broke all transportation links to it. The United States significantly contributed to resolving this problem and restoring the Verkhny Lars checkpoint. Within the framework of the "reset" policy, Washington sought to relieve the tensions between Russia and Georgia, while advocating for the resumption of bilateral ties. One of the important steps forward was the reconstruction of the border checkpoint to improve its throughput of people and transport. The US government allotted $2.4 million for the crossing's modernization. The funds were spent not only on the construction of roads, but also on equipment acquisition. All works were finished by September 2009 and the checkpoint started to function at full capacity (https://en.trend.az/news/politics/1534443.html). The checkpoint was able to service 5,000 people per day, but that quickly proved insufficient for the growing numbers of cars and passengers. So a second stage of modernization of the checkpoint ensued, which was finished in the beginning of September 2013.
Now, Verkhny Lars is able to service 13,000 people per day. According to the Georgian Customs Department of the Ministry of Finance, 329,601 people crossed the checkpoint between January and July 2013—more than half of them were Russian citizens. In July 2013, 61,979 Russian citizens crossed into Georgia through this checkpoint, whereas this figure in 2011 and 2012 was 16,113 and 41,331, respectively (https://www.civil.ge/eng/article.php?id=26440).
A local municipality representative told Jamestown that, most frequently, ethnic Ingush and North Ossetians along with other residents of southern Russia cross into Georgia at the checkpoint. "In past years, the number of Muscovites and residents from St. Petersburg has also increased. They come for leisure with their families," Georgi Tushurashvili, a Kazbegi district official, noted (Author's interview, September 14).
Many Russians go to Kazbegi and other areas in Georgia to gamble in the casinos. In contrast to the majority of regions of Russia, Georgia has no restrictions on gambling. A luxurious hotel with a huge, fashionable casino recently opened in Kazbegi (https://newsland.com/news/detail/id/995528/). In many instances, Muscovites and St. Petersburgians fly to the capital of North Ossetia, Vladikavkaz, and from there proceed by car to Kazbegi to play blackjack or poker. Many also travel deeper into the country.
The checkpoint at Kazbegi is especially suitable for those who travel to Georgia by car with their families. While the checking of documents on the Russian side of the border takes at least a half an hour, on the Georgian side it is done within five minutes. President Mikheil Saakashvili tried to promote a benevolent attitude toward tourists at the state level. He met with Russian tourists at the Verkhny Lars border checkpoint himself several times, took pictures with them and demonstrated his favorable attitude toward Russians (https://newsgeorgia.ru/politics/20120409/214899173.html). The Georgian leader had two objectives: first, to refute the Russian press' allegations about his "Russophobia" and second, to personally contribute to Georgia's tourism development. Tourism under Saakashvili has become the primary driver of Georgia's GDP growth.
The increase in tourism from Russia is the largest in Georgia. According to Georgia's Ministry of the Interior, the number of Russians visiting Georgia grew in 2013 by 44.2 percent in comparison to the previous year (https://www.kommersant.ru/doc/2277399). Most of these tourists crossed the border at Verkhny Lars. Relatively few Russian tourists fly to Georgia as economy-class tickets cost $400. By comparison, a return air ticket from Tbilisi to Istanbul costs half as much.
Tourist flows would be far greater, if Georgia recognized the legitimacy of the other two border checkpoints—Nizhny Zaramag and Psou. However, according to Georgian legislation, any foreigner, including Russian citizens, who visits South Ossetia and Abkhazia via those checkpoints may be arrested and imprisoned for up to four years or subjected to a large fine (https://slon.ru/world/kak_isportit_otpusk_v_gruzii-777461.xhtml). The new Georgian authorities have tried to soften this legislation and liberalize border crossings, but President Saakashvili and his team put up a formidable resistance to the proposed changes. Saakashvili insists on a strict division between a neighborly attitude toward Russian tourists on the one hand, but refusal to accept Russian policies on the occupation of Abkhazia and South Ossetia on the other.
Russian tourists can enter Georgia via the Verkhny Lars checkpoint without visas, while Georgians have to wait in long lines at the Swiss Embassy to receive Russian visas. Moscow made it clear that easing the visa regime with Georgia may take place only after Tbilisi agrees to restore diplomatic relations with Russia. Georgia broke diplomatic relations with Russia after the "Five Days War" in 2008 and subsequent recognition of the independence of Abkhazia and South Ossetia by Russia.
Despite tense relations between the two governments, guards on both sides of the border along the Georgian Military Road easily find a common language. Source in the interior ministry, of which the Border Department is a part, told Jamestown on September 14 that a "hotline" connects Georgian and Russian border guards and they often exchange information about traffic flows, trying to improve the conditions of travel for passengers and cargo trucks—the latter generally bound for Armenia from Russia.
Armenian drivers often refer to this highway as the "main highway for Armenia" because of its direct link with Russia. The maintenance of this Russian-Armenian connection, which is vital for Yerevan, was made possible after the US convinced Georgian officials not to raise additional demands on Moscow for the removal of the Russian trade embargo on Georgia (https://www.kavkaz-uzel.ru/articles/162886/). Thus, the Verkhny Lars checkpoint became the focal point for the interests of all three countries in the region, offering some degree of hope that tensions will subside over time and the space for mutually beneficial and respectful cooperation will expand.
Verkhny Lars and tourism are not political achievements of the new government of Prime Minister Bidzina Ivanishvili. All important decisions on the matter had been taken by President Saakashvili, who demonstrated that he had realized the importance of improving relations with the northern neighbor. But further progress will depend on concrete steps being taken from the Russian side.