RUSSIA AND ITS ALLIES CONDUCT EURASIAN AIR DEFENSE DRILL
Publication: Eurasia Daily Monitor Volume: 5 Issue: 79
By: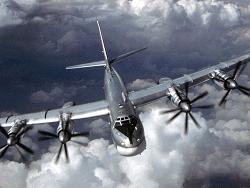 NATO's eastwards expansion plan, articulated earlier this month at a summit in Bucharest, has firmed up Kremlin opposition to the alliance's interest in former Soviet republics, particularly Georgia and the Ukraine, which over the last year has taken the form of military power projections beyond Russia's frontiers.
Last August Russia revived its practice of sending out strategic bombers on long-range patrols, and in February two Russian bombers over-flew the USS Nimitz carrier while it was on maneuvers in the Pacific, the first time that such an incident had occurred in four years. On February 8, in a nationally televised speech to the State Council, Russian President Vladimir Putin told his audience that NATO's aggressive tactics were threatening to unleash a new arms race and that "In effect, we are forced to retaliate, to make corresponding decisions. Russia has, and always will have, responses to these new challenges" ("O strategii razvitiia Rossii do 2020 goda" [About the strategic development of Russia to 2020], https://www.kremlin.ru, February 8). On April 22 eight member nations of the Commonwealth of Independent States' (CIS) Joint Air Defense Force conducted a massive Air Defense System (PVO) exercise involving 110 aircraft and helicopters across the breadth of the participating nations, with more than 10 missile, air defense, anti-aircraft, and electronic warfare units involved in training exercises to protect Moscow and the Central Federal District's air space alone.
Deputy Commander of the Russian Air Force Lieutenant-General Vadim Volkovitskii said, "Over 20 scenarios will be rehearsed, designed at strengthening the air space of CIS countries–Russia, Belarus, Ukraine, Armenia, Kazakhstan, Kyrgyzstan, Tajikistan and Uzbekistan" (RIA-Novosti, April 22).
The head of the Russian Air Force's information and public relations department Colonel Aleksandr Drobyshevskii said, "Over 110 aircraft and helicopters–MiG-29 (NATO designation "Fulcrum"), MiG-31 ("Foxhound"), and Sukhoi Su-27 fighters ("Flanker"), Sukhoi Su–24 bombers ("Fencer"), Tupolev Tu-22 ("Blinder"), and Tupolev-95 ("Bear") strategic bombers, Beriev A-50 Shmel ("Mainstay") AWACS planes, as well as Mil Mi-8 ("Hip") and Mil Mi-24 ("Hind") helicopters are involved in the exercise" (Itar-Tass, April 22). Russian Air Force Commander Colonel-General Aleksandr Zelin directed the exercise from the central command post of the Russian Air Force.
The breadth of the exercise is striking, as it ranges from Central Europe to the border with China and includes aircraft from Ukraine, a NATO aspirant whose potential membership particularly infuriates the Kremlin. The exercise involved a series of bilateral exercises. Russian and Kazakh MiG-31 interceptors operated from Kazakhstan's Karaganda airfield, coordinating aerial interception operations with Russian fighters operating from airstrips in Tolmachevo and Bolshoe Savino. Farther west, more than 25 Belarusian and Russian Su-24 and Su-27 aircraft operating from Belarus facilities at Siverskiy and Russia's Ross airfield conducted joint exercises (Belorusskoe Telegraficheskoe Agenstvo, April 22). According to Drobyshevskii, aircraft from the Russian Kant air base in Kyrgyzstan also participated. Besides aircraft, Armenia contributed personnel to the PVO command staff exercise training (www.panaorama.am, April 22).
The exercise took place two days after a Georgian reconnaissance Unmanned Aerial Vehicle (UAV) was shot down over the secessionist territory of Abkhazia, reportedly by a Russian Air Force fighter. Moscow strongly denies the charge. Georgia's air force commander subsequently played footage for reporters that allegedly shows a Russian aircraft downing the Georgian drone.
The operation is reminiscent of one held in April 2004, when 100 CIS aircraft participated in a similar PVO exercise (Rossiiskaia Gazeta, April 8, 2004). U.S. aircraft from the nearby American base in Manas, Kyrgyzstan, shadowed the participating Russian fighters based in Kant. The 2004 exercise was directed against a simulated terrorist attack, but with tension rising between Russia and NATO, the recent exercise had a rather different emphasis.
Despite the public relations reports that the CIS PVO exercise went swimmingly, there are nevertheless indications that Russia's Central Asian military presence creates local unrest in a similar way as the U.S. airbase in Manas, Kyrgyzstan. On December 6, 2006, a U.S. soldier there shot and killed a Kyrgyz citizen, leading to calls in Parliament to expel American forces from the base (see EDM, May 4, 2007).
In a fracas similar to the Manas incident, an encounter between Kyrgyz Interior Ministry (MVD) forces and Russian soldiers based at Kant resulted on April 20 in Lieutenant Maxim Zotov being shot after a jeep carrying troops sped through a stoplight. Zotov was wounded and sent to hospital with two broken ribs and bullet wounds to his lung and spleen (www.regnum.ru, April 24). Seeking to quell the media reports about the incident, the MVD noted that "unfounded heightened speculation does not contribute to strengthening the collegial and allied relations of Kyrgyzstan with the Russian Federation against the background of the increasingly positive image of Russia in the world and in CIS countries."
If the American pressure to expand NATO eastwards does not abate, then one can expect to see additional CIS PVO exercises and, should Russia wish to burnish its "increasingly positive image" with its neighbors, similar operations with its Collective Security Treaty Organization (CSTO) and Shanghai Cooperation Organization (SCO) partners as well.