Russia and Kazakhstan Agree to a Joint Air Defense Shield
Publication: Eurasia Daily Monitor Volume: 8 Issue: 6
By: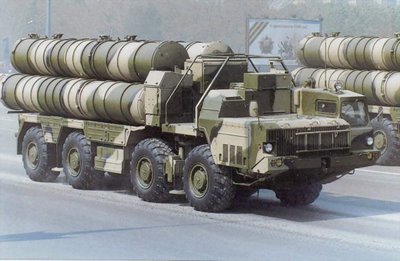 Russia and Kazakhstan have agreed to establish a joint regional air defense shield, with Moscow pledging to transfer several S-300 air defense systems to Astana. The S-300's are designed to protect administrative, industrial, and military centers from tactical and strategic aviation attacks. Russia also invited Kazakhstan to join its missile early warning and space monitoring network, and use Russia's GLONASS satellite global positioning system. "We have agreed to create a joint regional air defense network, which is similar to that of Russia and Belarus," explained the Chief of Kazakhstan's Air Defenses, Lieutenant-General Alexander Sorokin. Moreover, Sorokin stressed that the Kazakh air force would be responsible for defending Russian airspace along the joint border and that Astana was also interested in acquiring Russia's advanced S-400 air defense systems (www.rosbalt.ru, December 8, 2010).
The agreement came amidst prolonged efforts by Kazakhstan and Russia to enhance air defense capabilities of the Collective Security Treaty Organization (CSTO) and CIS and the foiled attempt by Iran to acquire $800 million worth S-300 systems from Russia after the recent sanctions imposed by the UN Security Council (www.infox.ru, October 7, 2010). In November 2010, Russia and NATO agreed to cooperate on missile defense in Europe against what many see as possible attacks by Iran, Syria, or North Korea (www.trend.az, December 7, 10).
Astana has long acquired arms from Moscow at preferential prices, though it also appears open, for purposes of its multi-vector foreign policy, to weapons deals with the US, France, and Israel (www.vlasti.net March 4, 2009; www.vpk-news.ru, November 30, 2005). Russia, in turn, is keen on expanding its arms exports, based upon business considerations and regional security imperatives. Russia remains one of the world's largest arms suppliers, with arms exports projected in 2010 alone to reach around $10 billion (www.infox.ru, October 28, 2010).
NATO's Individual Partnership Action Plans and military interoperability initiatives with CIS and CSTO members in particular reinforce Russia's intentions to advance an existing, yet incomplete, CIS joint air defense network. The latter was established in 1995, but the relatively unyielding policies of the newly independent states following the collapse of the Soviet Union (particularly in the face of neutral Turkmenistan and Western-oriented Georgia) seem to have undermined the viability of the security initiative, among many other reasons (RIA Novosti, February 10, 2009).
Russia is further concerned about US long-term intentions and its military presence in the region. In 2008, for instance, the US and Kazakhstan discussed prospects for cooperation in the framework of the Caspian Guard program attempting to create an integrated airspace and maritime border control regime and advance security in the energy-rich region that also borders Iran. Washington and Astana also discussed modernization of Kazakh air forces and positioning of the fourth regional element of the Missile Defense Plan for Europe in the Kazakh basin of the Caspian, whose legal status remains unresolved (www.centrasia.ru, June 2, 2008).
While the CIS air defense network has gained in strength in recent years, it still lacks a fully developed operational capability. The accord with Kazakhstan seeks to compensate for lost time (www.trend.az, November 12, 2010). In 2007, it was decided to create East-European, South Caucasus, and Central Asian zones of air defense, to be complemented by CSTO capabilities (www.stoletie.ru, December 8, 2010). The Chief of the Russian Air Force, Colonel-General Alexander Zelin, said Kazakhstan's plans to modernize its air defense systems "will be one of the most important factors of strategic stability in Central Asia" (www.vlasti.net, March 4, 2009).
The CIS air defense network now has 7 air defense brigades, 46 units with S-200 and S-300 air defense missile systems, 23 fighter units with MiG-29, MiG-31 and Su-27 aircraft, 22 electronic support units and 2 detachments of electronic warfare (RIA Novosti, October 20, 2010). Multilateral exercises at the Russian Ashuluk range within both the CSTO and the CIS (the two regional groupings often distrusted by their own members) are scheduled for the summer of 2011 (www.trend.az, December 9, 2010, www.gzt.ru, December 8, 2010; EDM, September 16, 2010).
Some experts suggest that the Russian-Kazakh deal does not really change the status quo, or undermine Western interests in Central Asia. "For US policymakers, as for many other people, it is clear that Kazakhstan has and wants to have a close defense and security relationship with Russia, but as Astana emphasizes often, this does not mean necessarily any cutback in cooperation with NATO," suggested Nicolás de Pedro, an expert at the Barcelona Center for International Affairs (www.trend.az, November 12, 2010). In November 2010, Kazakhstan granted NATO the right to use its airspace to support the coalition forces in Afghanistan.
Igor Torbakov, a Senior Researcher at the Finnish Institute of International Affairs, believes Russia will continue partnering with other states to bolster air defenses in the post-Soviet space. "The agreement with Kazakhstan on Air Defense is an unambiguous headway, and Russia will probably continue pushing this idea in respect to other CIS countries," Torbakov explained. According to Torbakov, many of the regional countries are unable to afford air defense systems, making military cooperation with Russia in this area very appealing (www.trend.az, December 10, 2010).
However, de Pedro questioned the ability of the Kazakh-Russian joint air defense to counter major threats. "I do not believe this will help Kazakhstan to face the main menaces on the immediate horizon, as many of them are of a non-traditional nature," de Pedro said (www.trend.az, November 12, 2010). Kazakhstan currently has 2 divisions of such air defense systems, which cover the two most populous cities in the country: Astana and Almaty. The systems were acquired in 1999-2001 in lieu of Russia's debt for renting military training ranges and the removal of military hardware from Kazakh territory after the collapse of the Soviet Union (www.vlasti.net March 4, 2009).
It remains to be seen whether the Kazakh-Russian agreement will prove significant for bilateral and multilateral air defense initiatives in the post-Soviet space, as well as whether energy resource-endowed countries in Central Asia and the South Caucasus can successfully modernize their armed forces without antagonizing small and big powers alike.