Russia and Tajikistan Move Closer to Basing Agreement
Publication: Eurasia Daily Monitor Volume: 9 Issue: 170
By: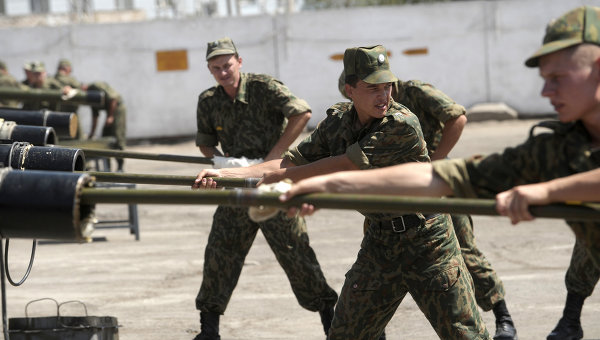 On September 11, Anatoly Antonov, Russia's Deputy Minister of Defense, visited Dushanbe to take part in bilateral talks concerning the extension of Russia's basing rights for their 201st motorized rifle division (BBC Tajiki, September 13). He met with Tajikistan's commission headed by Minister of Justice Rustam Mengliev, and the talks were held concurrently with a joint military exercise designed to prepare a rapid reaction force to prevent an insurgent style attack on Russia's bases in Tajikistan (Ozodagon, September 13). Likewise on September 14 Tajikistan's Drug Control Agency (DCA) participated in the CSTO's GROM counter narcotic exercises hosted in Moscow, aimed at facilitating the fight against drug trafficking and organized crime (Tojnews, September 14).
In a news conference, Antonov reported that the two sides were close to finalizing a deal that is expected to be signed during Tajikistani President Emomalii Rahmon's trip to Moscow in October (Tojnews, September 12). Antonov seemed positive, telling reporters that, "In last month's meeting in August, there were ten issues that had not yet been resolved, but now we are in the final phase" (news.tj, September 13). Over the past year, the negotiations have been heated at times, with Russia accusing Tajikistan of demanding a purported $300 million basing fee, a charge which Dushanbe denies (for background see EDM, July 9). A string of public comments made this summer by top Russian military commanders, including Colonel-General Vladimir Chirkin, the Commander-in-Chief of Russia's Ground Forces, stoked further resentment (see EDM, July 9).
While the final terms are not yet known, it appears that both parties have agreed to at least a provisional two-year extension (until 2016) (Tojnews, September 12). Beyond that, Russian and Tajikistani news agencies claiming reliable inside sources indicate that the final deal will most likely be for between 10 and 29 years (news.tj, September 13; Moscow Times, September 17). Additionally, it appears that Russia is not prepared to pay outright for the basing rights, but is only offering Tajikistan training and discounted equipment as compensation (Trend.az, September 12).
The Russian base (the largest foreign Russian presence abroad) is a polarizing issue in Tajikistan. In the past, issues of sovereignty and national pride have sparked feverish opposition to the extension of the base. To make matters worse, on August 22, a ten-year-old boy was killed and three others injured when his sickle hit an unexploded ordnance in the field he was working in. The incident took place near the Russian training facility of Mumirak in Kulob in the middle of a two-week military exercise involving all three of Russia's training grounds (Ozodi, September 14). Russia denied culpability, but a military spokesman in Tajikistan had previously announced that 5,000 rounds, 2,000 grenades, 500 mines and 45 shells were to be used in the course of the exercises (BBC Tajiki, August 20). The spokesperson had also emphasized that many of the Russian participants were experienced veterans of "the civil war fought in various regions in Russia" (presumably the North Caucuses), negatively affecting Russia's image in Tajikistan going into the new round of talks.
However, Russia's negotiating position was arguably strengthened over the past two months by the recent violence in Gorno-Badakhshan (see EDM July 27, August 1). The outbreak of violence and continued instability in the remote mountainous region allows Russia to form a more compelling case for its crucial role in ensuring Tajikistan's security than earlier this summer when negotiations seemed to be stalling. Several factors contribute to this: 1) Khorog, the scene of the violence, is situated on the Afghan border; 2) Tolib Ayombekov the man accused of killing General Major Abdullo Nazarov (the head of the State Committee for National Security directorate in Badakhshan) and whose arrest was the casus belli for the deployment of military forces and the subsequent escalation was himself the head of the local border guard (Ozodi, July 27). That fact, combined with accompanying headlines in the international press such as "Afghan militants massing along Tajik border, Afghans say," the government's inept handling of the situation, and the broader context of the 2014 NATO withdrawal from Afghanistan gives Moscow more room to make the case that its presence is necessary to maintain security (https://centralasiaonline.com/en_GB/articles/caii/newsbriefs/2012/09/07/newsbrief-04). The fortuitous timing (for Russia) of this violence is not lost on many Tajik pundits who cannot help but wonder if Russia could have had a role in instigating the violence or at least benefited from manipulating its coverage (Ozodagon, August 10; BBC Tajiki, September 12).
However, there seems to be little concrete evidence of a wider conspiracy, and Russia does not lack for leverage in the negotiations. Historically Russia's two main cudgels for persuading Dushanbe have been controlling the price of gasoline exports and migrant labor. Currently Tajikistan imports 90 percent of its oil products from Russia (Ozodi, March 25, 2011). In 2010, Russia added on increased customs fees for gasoline, which markedly increased the price of gasoline at pumps in Tajikistan. Likewise, last year's diplomatic standoff between the two countries over the highly politicized criminal case of Vladimir Sadovnichy, a civilian pilot and Russian citizen detained by Tajikistan's authorities and charged with smuggling, demonstrated Moscow's willingness to use threats of tighter visa regimes and deportation of migrant workers as a tool of coercive foreign policy (see EDM, November 10, 2011).
However with Kazakhstani oil company Tethys Petroleum's announcement this summer of potentially massive oil and natural gas deposits in Tajikistan, many are hopeful that energy independence and an injection of "petrodollars" could help equalize relations with Russia. While these hopes are speculative, they surely inform Dushanbe's long term strategy, particularly when it comes to the length of the Russian military base extension (https://www.kemyaesaadat.com/index.php?option=com_content&view=article&id=4276:1&catid=5:1). For Russia, seeing the increasing role of other powers in Tajikistan and the potential erosion of Moscow's dominance in the bilateral relationship motivates it to extend Russia's basing rights for as long as possible. For at least the short term, Russia is relying on both its economic and political leverage as well as Tajikistan's domestic instability, border with Afghanistan and troubled relationship with Uzbekistan to secure a favorable deal.