Russia and Tajikistan Settle Differences Before Crucial Deadlines
Publication: Eurasia Daily Monitor Volume: 10 Issue: 151
By: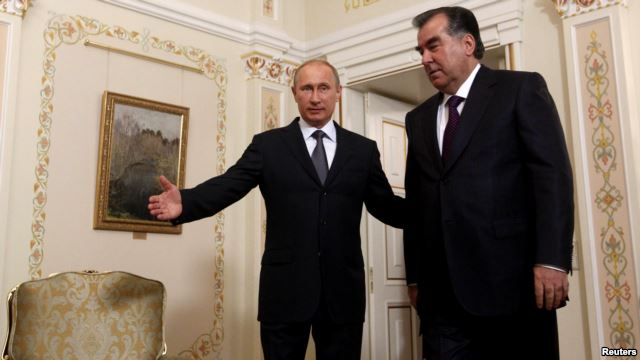 On August 1, Tajikistan's President Emomalii Rahmon paid a working visit to Moscow where he met with his Russian counterpart, Vladimir Putin. Their meeting took place less than a year after the Russian leader had visited Dushanbe last October and a few months before the presidential elections in Tajikistan scheduled for November 2013. Whereas the official agenda of Rahmon's brief stay in Moscow spanned a wide scope of bilateral issues, the future of Russia's military presence in Tajikistan took center stage. Following months of fierce bickering, a compromise was finally reached during Putin's visit to Dushanbe on October 5, 2012, regarding the extension of Russia's lease of the military base. Tajikistan thereby dropped its claim to the introduction of lease payments, while also agreeing to prolong the agreement for 30 more years until 2042. However, these concessions were made only in exchange for reciprocal steps on the Russian side (Ria.ru, October 5, 2012).
In February 2013, the head of the Russian Federal Migration Service, Konstantin Romodanovsky, and the chairman of Tajikistan's migration authority, Safialo Divanayev, signed a special inter-agency agreement concerning the legal status of Tajikistan's labor migrants residing on Russian territory. According to this accord, the guest workforce is hence granted a 15-day period to accomplish registration procedures in Russia, against only seven days in the past. According to Dushanbe, this step might facilitate the relocation of Tajikistani migrants to places other than Moscow and St. Petersburg in Russia's west or large urban centers in the Siberian provinces, providing them with additional time for crossing long distances, finding accommodations and accepting new jobs (Rus.ruvr.ru, February 8).
While official data identifies the number of Tajikistani nationals living in Russia for employment purposes as somewhere between 1.10 and 1.32 million (some 10 percent of the total number of foreign citizens employed in Russia), there are also over 400,000 illegal workers from Tajikistan. One of the reasons behind their reluctance to declare their monthly income and obtain necessary authorization has been the rigidity of local laws restricting their choice of employment opportunities. At the same time, Tajikistan's citizens working in Russia have been playing an increasingly strategic role in the functioning of their homeland's economy. In January 2012, the Tajik National Bank reported that Russia-based migrants had sent almost $3 billion back to their families, 33.6 percent more than in 2010. Overall, the share of remittances received from abroad represented some 45.4 percent of Tajikistan's GDP in 2011 (Kommersant.ru, March 19; Migrant.fergana.ru, December 2, 2012; Lenta.ru, January 19, 2012).
Another agreement concluded during Putin's October 2012 visit to Dushanbe concerned Russian energy imports to Tajikistan. Likewise, in February 2013, Moscow and Dushanbe successfully formalized the future exemption of Russian oil exports to Tajikistan from the customs duties imposed by the Kremlin on its external energy trade as of May 2010 (outside of its Customs Union with Kazakhstan and Belarus). The two sides actually agreed that Tajikistan would import under the new preferential rules up to 1 million tons of crude oil and refined oil products (over 70 percent of this quantity should be gasoline and diesel) by the end of 2013. Afterwards, the two governments would determine the projected amount of oil imports by Dushanbe not later than by October 1 of each preceding year. Whereas Tajikistan already ratified the energy trade agreement three months after its initial signing, Russian authorities have yet to reciprocate (Toptj.com, May 3).
On the other hand, Tajikistan has been dragging its feet on ratifying the new treaty regarding Russia's military facilities on its territory, despite the formalization of the two abovementioned strategic documents. Consequently, Moscow promptly launched a bitter PR campaign against Tajikistan. In mid-April 2013, Russia's Deputy Prime Minister Dmitry Rogozin conducted an unplanned inspection of a Dushanbe-Moscow train carrying hundreds of Tajiks all attracted by Russia's more dynamic labor market. Besides his promises to suspend rail links between the two countries for sanitary reasons, Rogozin also hinted at the possibility of rapidly enforcing tighter border controls for Tajikistani citizens, including the mandatory use of passports for cross-border travel. Earlier, Vladimir Putin's December 2012 address to the Russian Federal Assembly had mentioned 2015 as the target for the introduction of stricter oversight measures applicable to foreign nationals, particularly from the Commonwealth of Independent States (CIS). The ensuing media campaign actively depicting Tajikistan in highly negative terms was likewise intended as a means of exerting political pressure upon Rahmon and his government (Rosbalt.ru, April 15).
President Rahmon's latest visit to Moscow, however, largely served to defuse these growing tensions. Following his talks with Putin, Tajikistan's leader solemnly promised that the new agreement on the Russian military base in Tajikistan would be ratified in the fall, after the parliament's return from the holiday season. Moreover, the entry into force of the oil exports accord should also be expected in the nearest future. Nonetheless, Moscow would have to offer additional concessions, a move it previously refused to subscribe to, awaiting a more submissive attitude in Dushanbe. On August 1, Russia's Defense Minister Sergei Shoigu said that Tajikistan would receive $200 million worth of direct military aid by 2020. Russia has also agreed to jointly construct four hydropower plants in Tajikistan. Previously, such cooperation was said to be improbable because of Tajikistan's skyrocketing debt to Russia for the exploitation of the Sangtuda-1 hydropower station, opened in July 2009 in the presence of Russian President Dmitry Medvedev. As of August 2013, this debt has already reached $79.4 million and is unlikely to decrease in the short run (Gazeta.ru, August 1; Vzglyad.ru, August 1; Profi-forex.org, August 1).
While Russian-Tajikistani relations have never been easy, both countries are currently interested in maintaining a stable long-term working relationship. Russia's continued military presence in Tajikistan, a country whose proximity to Afghanistan could make it one of the first targets of the Taliban after 2014, is considered a guarantee of regional stability. It is also viewed as Moscow's own remedy against more terrorism and extremism in the North Caucasus and other parts of Russia. For Tajikistan, Russia remains an important economic partner and a major source of revenue for its flagging economy. Moreover, Russia's desire to continue its cooperation with the Rahmon regime is widely equated with its support of Tajikistan's president in light of the upcoming electoral contest. Given all these factors, the bilateral partnership is likely to remain firmly on the upside at least until next year.