Russia and Turkey: Two Friends Become Enemies
Publication: Eurasia Daily Monitor Volume: 12 Issue: 216
By: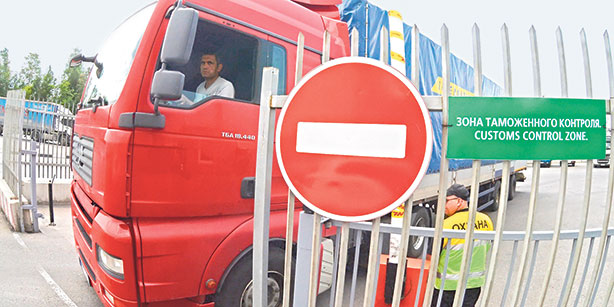 On November 28, the Kremlin announced the implementation of a series of economic sanctions against Turkey in response to the latter's shooting down of a Russian Su-24 military jet that had violated Turkish airspace (Kremlin.ru, November 29). In line with Ankara's previously announced rules of engagement, the Su-24 was brought down, on November 24, by an air-to-air missile fired by a Turkish F-16, following the Russian aircraft's incursion into Turkish airspace and its failure to heed repeated warnings (TRT, November 24). Both Russian pilots managed to eject from their burning plane; one was subsequently saved by his compatriots through a rescue operation that itself came under a deadly attack, but the other pilot was shot dead by a local Syrian rebel group during his parachute descent. Immediately after this incident, Russian President Vladimir Putin angrily declared, "Turkey has stabbed us in the back." Moreover, Russian Foreign Minister Sergei Lavrov canceled his scheduled meeting with his Turkish counterpart (NTV November 24), while Prime Minister Dmitry Medvedev stated that this incident would have an adverse impact on Turkish-Russian relations at the economic, political and societal levels (Dmitry Medvedev's Facebook page, November 25). Russia has demanded an apology from Turkey, but the latter has refused, promising to respond in a similar fashion in the event of another airspace violation in the future (CNN Turk, November 25).
Tensions between Russia and Turkey have been growing steadily even before the downing of the Su-24. Starting from November 20, Russian planes operating in Syria have been providing aerial support to the armies of embattled President Bashar al-Assad as well as bombing Turkmen villages in the northwestern part of the Syrian-Turkish border (TRT November 20). The Turkish government demands that al-Assad step down, and the Syrian Turkmen tribes have strong historical and cultural ties to ethnic Turks in Turkey.
Prior to the deadly November 24 incident, Russian military planes had already infringed on Turkey's airspace four times over the past two years. In each of these earlier violations, the Turkish government sent a diplomatic note of protest to Russia. But after its Su-24 was shot down last week, Moscow imposed a series of economic sanctions against Turkey, including the termination of visa-free travel for Turkish citizens traveling to Russia. All charter flights to Russia have been banned, and importing merchandise from Turkey—especially in the textiles sector—is now restricted, if not altogether banned. The employment of Turkish workers inside Russia has also been restricted. Furthermore, tourism agencies have been instructed to limit their operations in Turkey, and the activities of the Turkish contractors in the Russian construction sector have been curtailed (Government.ru, November 29).
Turkey's exports to Russia stood at $5.946 billion, in 2014. Its main export items to Russia include citrus fruits; passenger cars and other motor vehicles; tomatoes, components, parts and accessories for road vehicles; and textiles made of synthetic filament yarns. Last year, Turkey's imports from the Russian Federation stood at $25.293 billion. The main items imported by Turkey from Russia are natural gas and other petroleum-based products (BBC—Turkish service, November 25).
According to economics expert Dr. Jabrail Valiyev, who cited information from the Turkish Ministry of Economy, "Considering the overall range of trade items between the two countries, one may note that Russia mainly imports food products and convenience goods from Turkey. Turkey's main import items are the gas products that it is compulsorily obliged to obtain from Russia. The total foreign trade volume is $31.239 [according to 2014 data]. This year, even prior to the recent breakdown in bilateral relations, these figures had gone down. [From January to September 2015], Turkey's export volume [year-on-year] to Russia dropped to $2.7 billion, and the import volume dropped significantly more to $15.8 billion. As can be observed from these figures, Russia [is the destination for] only 3.8 percent of Turkey's total export volumes and provides more than 10 percent of its imports. Natural gas, which Russia is obliged [by contract] to sell [to Turkey], is still on the import list, and Russia is not taking the risk of shutting this trade down just yet. In the case of tourism, Russia's share [of the value of the Turkish tourist sector] is 10 percent. It is estimated that Turkey's annual revenue from Russian tourists equals $4 billion. Therefore, some believe that Russia's economic sanctions against Turkey will bounce back on it with a boomerang effect" (Author's interview, November 30).
This past June, Prime Minister Medvedev extended Russia's self-imposed embargo on food imports from the European Union until August 5, 2016 (RT, June 25). Thus, the impact of Russian sanctions on Turkish food products will likely contribute to further shortages and food price inflation inside Russia in the near term. But Turkey is also likely to suffer significantly. In particular, economists estimate that Turkey's current account deficit, recently calculated at $35 billion, could rise by another $5–10 billion next year as a result of the Russian sanctions (Today's Zaman, November 30).
In addition, just after Turkey shot down the Su-24, Russian authorities imprisoned for ten days ten Turkish businessmen who had been part of a corporate delegation attending a trade fair in Russia. The Turkish businessmen were then pressured by the police to leave the country (CNN Turk, November 25). Furthermore, the Russian security forces raided a state-owned youth hostel that was accommodating Turkish students studying in Russia (Today's Zaman, November 30).
The Turkish foreign ministry has called on the Russian authorities to stop harassing Turkish citizens traveling to Russia for business, leisure or educational purposes. But it is clear that this severe breakdown in Turkish-Russian relations is unlikely to be mended anytime soon. Large-scale joint projects like the Turkish Stream natural gas pipeline and the Akkuyu Nuclear Power Plant will probably be suspended, if not fully shelved, and President Recep Tayyip Erdoğan's scheduled visit to Russia on December 15 will almost certainly not happen. At the moment, it seems particularly improbable for bilateral relations to bounce back from this nadir anytime soon.