Russia Annexes Additional Georgian Lands, Closing in on the Strategic East-West Highway
Publication: Eurasia Daily Monitor Volume: 12 Issue: 135
By: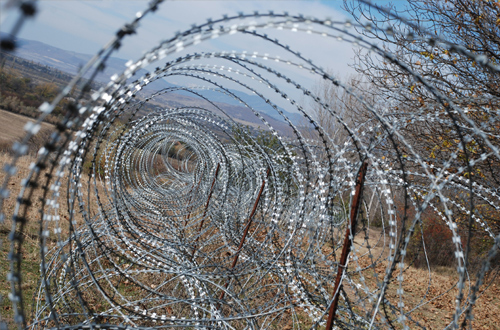 On July 10, the Russian occupation forces in the separatist territory of South Ossetia (Tskhinvali region) moved the occupation line deeper into Georgia, thus effectively slicing off additional lands in the Georgian villages of Tsitelubani and Orchosani. Russian troops erected new signs, marking what they call a "state border" between South Ossetia and the rest of Georgia. As a result of these activities, a small portion of the 520-mile (830-kilometer) Baku-Supsa oil pipeline, which daily transports 100,000 barrels of Azerbaijani oil to Georgia's Black Sea cost, fell under Russian control (Channel 1 TV, Rustavi 2, July 11).
Moreover, all these developments took place in striking proximity to the highly strategic East-West highway, the key transportation artery connecting the eastern part of Georgia to its western regions. Russians came to within just over a half mile (about 1,000 yards) from the highway—so close, in fact, that from these new Russian positions, one can actually see with the naked eye individual vehicles moving along the road (Channel1 TV, Imedi TV, Rustavi 2, July 11).
If needed, Russian forces stationed along the current occupation line could capture and block that section of the East-West highway within fifteen minutes. Needless to say, were Tbilisi to lose control over the highway, it would split Georgia into two parts, causing a major political as well as humanitarian catastrophe in the country. After Russia's latest actions, such a scenario no longer seems improbable for Georgia. It may well be a real possibility sometime in the not-too-distant future.
Moving the occupation line deeper into Georgia has been a regular occurrence since Georgia's devastating military defeat in the 2008 Russian-Georgian war and the subsequent Russian occupation of South Ossetia. After the war's conclusion, Russia repeatedly sliced off hundreds of acres of additional Georgian lands along the occupation line, leaving multiple Georgian communities cut off from one another on opposite sides of a barbed wire fence (see EDM, September 23, 2013). In fact, Moscow uses the tactic of a "creeping annexation," as it was dubbed by Georgians, as a noose that it gradually tightens over Georgia every time Tbilisi does something that Moscow finds unacceptable.
Russia's latest shifts of the occupation line may have been sparked by a number of recent developments. First, based on the July 3, 2014, ruling of the European Court of Human Rights (ECHR), Georgia requested that Russia pay over 70 million euros ($76 million) in compensation for damages incurred by the deportations of Georgian nationals from Russia during the 2006 Georgian-Russian spy war (Civil Georgia, July 3, 2015). Second, on July 8, Georgia launched a military exercise named Agile Spirit 2015 alongside five North Atlantic Treaty Organization (NATO) member countries: The United States, Latvia, Lithuania, Romania and Bulgaria (Channel 1TV, July 8). Therefore, in light of those events, Russia's recent actions should be seen as a retaliatory action to inflict physical losses on Georgia and punish it in order to discourage this small country from similar actions in the future.
Georgia's capacity to stop Russia's "creeping annexation" is extremely limited. First of all, Tbilisi cannot expect foreign military help under any circumstances. Even political and diplomatic backing from the West seems to be limited. On July 15, the European Union issued a somewhat timid statement, which generally urged all sides to avoid "steps that could be perceived as provocative" (Civil Georgia, July 15). Such a statement will hardly serve as a deterrent, especially against Russia's modern-day revanchist regime.
Georgia's own military capabilities are in a dire state, too. The Georgian military never fully recovered from the colossal losses in military hardware and ammunition that it incurred during the 2008 war. Subsequently, the country is entirely unprepared for a conflict not only with Russia, but even against any hypothetical less powerful opponent.
The Georgian government's ineffectiveness and its lack of strategy for dealing with this problem further complicate matters. Certainly, Tbilisi's options are limited because of the severity of the situation and the overall weakness of Georgia vis-à-vis Russia. However, Georgia's ruling team has, so far, chosen to ignore the problem altogether, hoping that Russia would stop its aggressive actions and that the situation would calm down. Georgian authorities issued several statements, expressing protests and condemning Moscow's actions (Channel 1 TV, Imedi TV, July 11–19), but certainly, these have not worked. Russia has denied any involvement in the recent land grab and advised the Georgian government to talk directly to the Ossetians (Radio Abkhazetis Khma, July 15). Some sporadic protest rallies along the occupation line and in the capital Tbilisi did not make much difference either (Liberali.ge, July 18). Russians now firmly occupy territory closely adjacent to Georgia's highly strategic East-West Highway.
How can Moscow's "creeping annexation" be stopped, and what will happen if Russia decides to eventually annex a section of the East-West highway? So far, neither the Georgian government nor Georgia's western partners and allies seem to have a ready answer to this question. But a viable strategy to this problem may be needed much sooner than many policymakers inside and outside of Georgia can imagine at this stage.