RUSSIA AUGMENTING AIR BASE IN KYRGYZSTAN
Publication: Eurasia Daily Monitor Volume: 3 Issue: 35
By: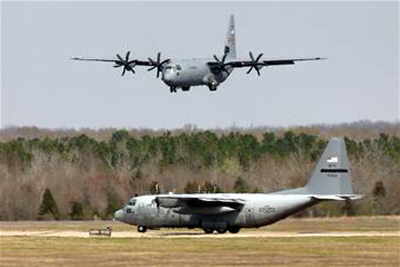 Russia's Air Force commander-in-chief General Vladimir Mikhailov, along with Security Council Deputy Secretary Yuri Zubakov and CIS Collective Security Treaty Organization (CSTO) Secretary-General Nikolai Bordyuzha, held talks February 16-18 in Kyrgyzstan on augmenting Russia's Kant air base near Bishkek. The Russian side did not negotiate, but simply communicated its decision on base expansion to Kyrgyzstan's political and military leaders.
The Russian military is also adding a ground force element to the air base. A 25-strong "anti-terrorist" special-force unit has deployed to Kant, "and soon there will be more," according to Mikhailov (Russian Television Channel One, February 19). Bordyuzha discussed the deployment of a CSTO rapid-reaction battalion in Kyrgyzstan with the country's Defense Ministry.
Hangars and barracks are being upgraded, and new ones are under construction to accommodate additional planes and personnel at Kant. The scheduled net increase for 2006 is 100% for aircraft and 50% for personnel. Thus, the base is slated to host some 260 commissioned officers, at least 500 contract and conscript troops, and a minimum total of 25 planes and helicopters by the end of this year. The air assets will add up to a mix of Su-25 and Su-27 fighter-bombers along with obsolete An-26 transport planes and Mi-8 helicopters.
In contrast to the U.S.-led air base at Manas nearby, the Russian base pays neither rent, nor landing and takeoff fees to Kyrgyzstan, and may operate any number of Russian planes at Kant. Moreover, Kyrgyzstan pays the bills for water, electricity, and other services it supplies to the Kant base. To justify using it gratis, Russia claims that the base is a "collective" one under the CSTO's aegis and that it provides security for member countries including Kyrgyzstan. Thus, the latter ends up paying such "protection" costs from its empty coffers.
Moscow characterizes its Kant base as an organic component of the CSTO's joint rapid deployment forces; as a permanent base, unlike the American-led "temporary" Manas base; and as tasked to operate in this part of Central Asia, again unlike the Manas base, whose area of operations is restricted to the relatively distant Afghanistan. According to the Russian delegation in Bishkek, the Kant base "is forever [na vsegda], we are investing big money in it" (Itar-Tass, February 16).
The Russian delegation and Kyrgyzstan's Defense Ministry signed a set of amendments to the 2003 Agreement on the Status and Conditions of Deployment of Russia's Air Base in Kyrgyzstan. Under the amendments, the Kant base shall henceforth pay utility bills only if it exceeds certain levels of consumption. In the event of force majeure circumstances at Manas (which the United States shares with Kyrgyzstan's international civilian airport), international civilian planes may henceforth use the Russian-repaired runway at Kant as a bacp option for emergency landings. This arrangement would obviate the need for Kyrgyzstan to re-route international flights to Kazakhstan's Almaty airport when weather conditions are bad in the Bishkek area.
Further under the amendments, the Kant base is to host and service Kyrgyz Defense Ministry planes and helicopters, and Russia's Air Force will train Kyrgyz pilots in Russia. However, Kyrgyzstan does not have an air force; it only has several ancient, Czechoslovak-made L-39 trainer planes. For a few more crumbs thrown Kyrgyzstan's way (though not officially linked to arrangements for the air base), President Vladimir Putin has announced his consent to Bishkek's request that Russia's Defense Ministry buy a measly $3.5 million worth of Kyrgyz tobacco and cotton products in 2006.
Thus, Russia will continue using the Kant base practically gratis. Nevertheless, Kyrgyzstan's defense minister, General Ismail Isakov, took umbrage at local journalists who pointed to that fact during the press conference (Public Educational Radio and TV [Bishkek], February 16).
On the eve of the Russian visit, President Kurmanbek Bakiyev confirmed the Kyrgyz government's demand for a "hundredfold rent increase" on the American-led Manas air base: from slightly over $2 million to $200 million annually. Bakiyev's arithmetic seems questionable, as the Manas base is known to be paying far more than $2 million for rent, services, and takeoff/landing fees. To justify the demand, Bakiyev resorts to "market" arguments ("our calculations correspond to world standards") as well as poverty pleas ("the price hike is due to Kyrgyzstan's economic situation"). Bakiyev credits Russia for having invested at Kant, but ignores the far larger U.S. investments since 2001 in upgrading Manas for U.S., Kyrgyz, and international use. "Anyone engaged in any activity here must pay," he asserts about the coalition's Manas base. But he applies a different logic to the Kant base: "It functions under CSTO aegis, thus there is no question about rent payments" (Kommersant, February 15).
Following the unnecessary, partly self-inflicted loss of the Karshi-Khanabad base in Uzbekistan, the United States has been forced to increase reliance on the Manas base. In this situation, Moscow-oriented Kyrgyz leaders — or Moscow itself through those leaders — apparently calculate that they have better chances to apply a squeeze on the United States in Kyrgyzstan.
(Interfax, Itar-Tass, Russian Television Channel One, Akipress, February 16-19)