RUSSIA BEGINS CYBER ATTACKS AGAINST ESTONIAN GOVERNMENT
Publication: Eurasia Daily Monitor Volume: 4 Issue: 86
By: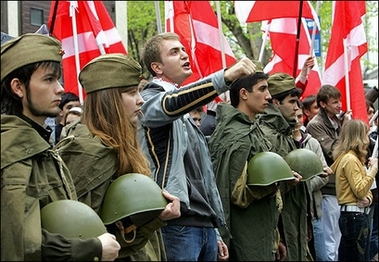 The Kremlin's assault on Estonia is intensifying on four levels of varying sophistication. These include: cyber attacks from within Russia's Presidential Administration against the Estonian presidency's and government's electronic communications; political demands, backed by economic sanctions threats, to change the Estonian government; siege laid by Kremlin-created organizations to the Estonian Embassy in Moscow; and instigatory coverage of the April 27-29 violent riots of Russian youth in Tallinn by Russia's state television.
Moscow seeks to create an atmosphere of international crisis over the relocation of the Soviet Army monument, the Bronze Soldier, from downtown Tallinn (see EDM, April 27, May 1). Moscow's response seems affected by contradictory impulses: unrestrained fury toward Estonia, calculated wedge-drawing tactics in Europe, and residual-resurgent proprietary feelings about the insubordinate country.
Russian Minister of Foreign Affairs Sergei Lavrov denounces Estonia for "spitting of these values" [evidently Soviet ones] and behaving "disgustingly." The Duma's International Affairs Committee chairman, Konstantin Kosachev, accuses Estonia of "barbarism" and "lying." These and other Russian officials mix the bullying language with the familiar neo-Soviet mysticism that defends "sacred" objects [the Bronze Soldier as a substitute icon] against "blasphemy" [by Estonian unbelievers in this case]. Those two key words are recurrent in Russian officials' statements during this crisis.
Officials in Moscow are also publicly asking the European Union, NATO, the Council of Europe, and other international organizations to censure Estonia over "pro-fascist" inclinations and "discrimination" — now also "repression" — of local Russians. Such accusations against Estonia or Latvia hardly ever convinced any international organization. However, Moscow's operational goal is not to elicit condemnation of Estonia or Latvia. It is, rather, to portray these Baltic states as irritants to the West's relations with Russia and to induce Western governments to remain silent, instead of supporting the Baltic states against such bullying. Moscow hopes to draw wedges among Western allies through protracted application of this tactic.
In a move potentially repeatable against other countries, top-level Russian authorities are sabotaging the Estonian state's web servers since April 27. According to Justice Minister Rein Lang and Foreign Affairs Minister Urmas Paet, the cyber attacks on April 29 and 30 were traced to IP addresses in Moscow owned by the Russian presidential administration and government (Estonian TV, Eesti Paevaleht, April 30, May 1). The attacks have perturbed the entire information network of Estonia's state administrations, government and presidency. The effects are particularly disruptive on a country like Estonia, a European leader regarding the generalization of electronic governance.
Top officials in Moscow seem to be of two minds regarding possible economic sanctions against Estonia. First Deputy Prime Minister Sergei Ivanov, Federation Council Chairman Sergei Mironov, and Moscow mayor Yurii Luzhkov are among those urging economic sanctions, such as reducing Russian transit operations via Estonia and cutting the import of Estonian goods to Russia. Apparently at the authorities' behest, the popular newspapers Komsomolskaya pravda and Moskovskii Komsomolets have published lists of Estonian goods to be boycotted by customers or pulled off stores' shelves.
Other officials, such as Duma Chairman Boris Gryzlov and the Federation Council's International Relations Committee chairman Mikhail Margelov, are cautioning against "emotionalism" and economic sanctions. Russian Industrialists and Entrepreneurs Union (RIEU) president Alexander Shokhin deems economic sanctions undesirable, calling instead for political actions against Estonia, urging Russia's business partners in Estonia to oppose the removal of Soviet monuments, and promising to follow the Russian government's policy if sanctions are ultimately imposed (Komsomolskaya pravda, April 28).
The debate on economic sanctions is not only déjà vu, but more irrelevant than ever. Barely one tenth of Estonia's export trade goes to Russia at present. Russia had doubled the customs duties on Estonian goods during the 1990s when Estonia was largely reliant on the Russian market. Estonia then reoriented its exports toward Europe faster than it would otherwise have done. Russian threats to reduce transit flows via Estonia are also more than a decade old and have little credibility. In this case as well, Moscow's political statements seem to ignore Estonia's rapid economic advancement, which has drastically reduced the share of Russian transit in Estonia's GDP and national income.
(BNS, Interfax, Itar-Tass, Russian Television Channel One, April 28-May 1; BBC Monitoring, Russian TV and radio highlights, April 30-May 1; see EDM, January 15, March 26, April 27, May 1)