Russia Boosts Military Alliance With Armenia
Publication: Eurasia Daily Monitor Volume: 7 Issue: 159
By: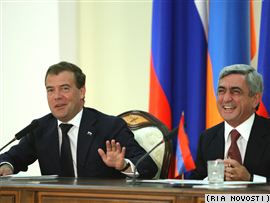 Russia and Armenia have agreed to deepen their already close military ties, signing a deal that will strengthen Russian influence in the South Caucasus and could have profound implications for the unresolved Karabakh conflict. Amendments to a bilateral 1995 defense treaty were signed during Russian President, Dmitry Medvedev's, visit to Yerevan on August 19-20.
The amendments, publicized by both sides, extended Russia's lease on a Soviet-era military base headquartered in the northwestern Armenian city of Gyumri by 24 years, until 2044, and enhanced its role in the South Caucasus state's security. The approximately 4,000 troops stationed there will now not only protect the "interests of the Russian Federation," but also "ensure the security of the Republic of Armenia" jointly with the Armenian army. According to Armenian President, Serzh Sargsyan, this agreement will expand their "sphere of geographical and strategic responsibility." "The activity of the Russian military base was until now confined to the external border of the former USSR. That restriction has now been removed from the treaty's text," Sargsyan told a joint news conference with Medvedev (Hayastani Hanrapetutyun, August 21).
Sargsyan also emphasized that the amended treaty commits Moscow to supply the Armenian armed forces with "modern and compatible weaponry and special military hardware." A separate memorandum signed on August 20 by the Russian and Armenian defense ministers, Anatoliy Serdyukov and Seyran Ohanian respectively, envisages the creation of joint ventures specializing in repairs and maintenance of military hardware (presumably Russian-made) located in Armenia. The latter document apparently resulted from a visit to Armenia in July by a team of Russian military officials led by Nikolay Bordyuzha, the Secretary-General of the Russian-led Collective Security Treaty Organization (CSTO). Following discussions with senior Armenian security officials in Yerevan it was announced that the Russian and Armenian defense industries will soon forge much closer links within the CSTO framework. Bordyuzha told journalists that the two sides have already launched an unspecified "pilot project" aimed at integrating Armenian defense enterprises into the Russian military-industrial complex (Regnum, July 20).
Armenian officials and pro-government politicians admit that the new defense accord with Russia is, in large measure, a response to Azerbaijan's ongoing military build-up and growing threat to resolve the Karabakh issue by force. These individuals claim the deepening of bilateral military cooperation with Russia will discourage Baku from unleashing another war for the Armenian-controlled disputed territory. Some Armenian officials even claim that the Russian military is now obliged to openly back Karabakh in case of such a war. In an interview on August 25 with Radio Free Europe's Armenian service, Ohanian, expressed confidence that Moscow would intervene in the event of an Azeri assault on Karabakh becoming "a threat to the Republic of Armenia."
Expert opinion in the region and beyond is divided over the credibility of such statements. Some analysts argue that Karabakh is not an internationally recognized part of Armenia and therefore cannot be covered by the Russian-Armenian pact. Others say that it will now be easier for the Kremlin to find an excuse for intervening in the conflict on the Armenian side. In what might be a further sign that Russia is strongly disinterested in renewed fighting in Karabakh, Medvedev noted in Yerevan that the deal extending the Russian military presence in Armenia will help to maintain "peace and order" in the region. "We have allied obligations to CSTO member states. Armenia is also a member of the CSTO," Medvedev said in that context (Armenian Public Television, 20 August).
The Russian president discussed the issue with his Azeri counterpart, Ilham Aliyev, when he visited Baku two weeks later. He seemed to downplay the significance of the deal after their talks, saying that it "means only one thing: the term of the base will be prolonged by a number of years" (ITAR-TASS, September 3). Russian Foreign Minister, Sergei Lavrov, likewise assured Azeri media ahead of Medvedev's trip that the Russian-Armenian agreement will not alter "the balance of forces in the region."
Moscow raised additional questions about its regional agenda earlier in August when it pointedly declined to deny a Russian newspaper report that it plans to sell two batteries of sophisticated S-300 air-defense systems to Azerbaijan. Whether the $300 million sale would have a primarily commercial significance for Moscow or marks an attempt to placate Baku while keeping Yerevan even more dependent on Russian military aid remains to be seen.
The prospect of such a deal, effectively acknowledged by Armenian officials, has sparked controversy among opposition politicians and experts in Yerevan. They believe that the surface-to-air missiles would seriously limit Armenia's ability to strike Azeri military facilities as well as its oil and gas infrastructure. Ohanian dismissed such fears, insisting that S-300's would not give Baku a "strategic advantage" in the Karabakh dispute. "We are very familiar with those systems, we have been exploiting them for quite a long time, and we know the possibilities to reduce their effectiveness," Ohanian said. The Armenian defense minister also reaffirmed his government's plans, announced on August 10, to acquire long-range precision-guided missiles that would be aimed at "strategic facilities" among Armenia's hostile neighbors. He refused to clarify whether this is the kind of "special" weaponry which the Russians will deliver to Armenia under the new pact (Hayastani Hanrapetutyun, August 21).
The Armenian military has already received large quantities of Russian weapons at knockdown prices or even free of charge since the early 1990's. Additional arms deliveries, coupled with the new mandate for Russian troops in Armenia, will put Moscow in a better position to maintain the Karabakh status quo in the years ahead. For its part, Moscow is securing a long-term military foothold in the region and, assuming that the sale of S-300's occurs, gaining more leverage against Azerbaijan. Whether or not that will facilitate a peaceful Karabakh settlement is unclear.