Russia Cancels Stealth Corvette Project After Prototype Launched
Publication: Eurasia Daily Monitor Volume: 20 Issue: 115
By: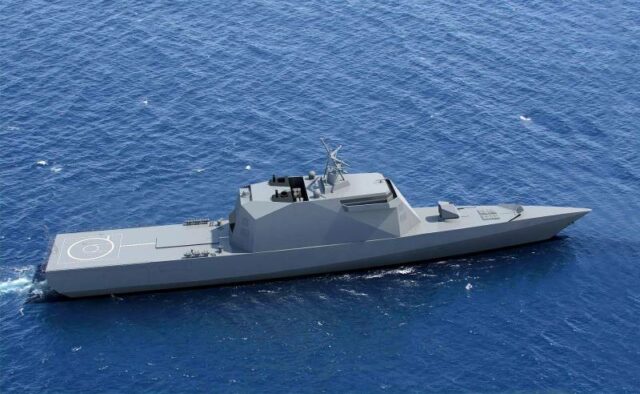 Soaring costs and unexpected technological difficulties have led the Russian Navy to cancel serial production of its Project 20386 class of new "stealth" corvettes after completion of the series prototype, the Derzkii (Дерзкий,  "Daring"), under construction at St. Petersburg's Severnaia Verf facility, part of the United Shipbuilding Corporation (USC) (TASS, July 7). Based on the earlier Steregushchii Project 20380 and Gremiashchii Project 20385 corvette classes, the new Project 20386-class was planned to be larger, incorporating more stealth design features than its predecessors.
Confident that the Project 20386 Derzkii-class corvette could be a naval game-changer, the year after its keel was laid, Almaz Central Marine Design Bureau Director General Aleksandr Shliakhtenko told journalists that a second Project 20386 corvette would be laid down in 2018 at Severnaia Verf, the second vessel of a planned production run of more than 10 additional warships (TASS, June 28, 2017). Shliakhtenko added that the authorities were considering equipping the new corvette with Kalibr missiles.
Equipping the Derzkii with these missiles would give it a reliable long-range weapon, already extensively deployed on the Russian Navy's Kilo-class, Lada-class, Amur-class, Akula-class, Iasen-class and Borei-class submarines. Surface vessels Gremiashchii-class, Buian-M-class, Steregushchii-class and Karakurt-class corvettes alongside Admiral Gorshkov–class, Admiral Grigorovich-class and Gepard-class frigates also deploy this particular missile system.
Two years earlier, a Kalibr naval missile strike had startled Western intelligence services when on October 7, 2015, the Caspian Flotilla's Gepard-class Project 11661 Dagestan frigate and Buian-M-class Project 21631 corvettes Grad Sviiazhsk, Uglich and Velikii Ustiug launched 26 Kalibr-NK 3M14T cruise missiles from the Caspian at 11 Islamic State targets in Syria during the Syrian Civil War (Topwar.ru, October 9, 2015).
The Derzkii has a displacement of 3,400 tons with a length of 358 feet (109 meters), a projected top speed of 30 knots and a cruising range of 5,000 nautical miles. The ship's impressive armaments will include a Burevestnik 100-millimeter (mm) A-190-01 naval artillery system, two 30-mm AK-630M guns, Poliment-Redut air defense systems, two Paket-E/NK anti-submarine launchers and either Kalibr–NK 3M14T cruise missiles or Uran KH-35 GRAU 3M24 ("Uranus," NATO designation SS-N-25 "Switchblade") anti-ship missiles. The ship can also house a Ka-27 or Ka-29 helicopter (Flotprom.ru, May 31).
The Russian Navy envisaged the 20386 Project corvettes' mission to include conducting combat operations against maritime enemies in near and distant sea zones, protecting sea communications and commercial shipping from enemy air attack with their anti-aircraft missile systems and providing artillery support for amphibious landings (Izvestiya, May 31).
Powered by a combined diesel-electric and gas turbine, the Derzkii's configuration has repeatedly changed since its keel was laid on October 28, 2016, at Severnaia Verf. Briefing the media at the time, Russian Defense Ministry Navy Department of Information and Mass Communications official Igor Dygalo confidently said, "Corvette Project 20386 will have a hull and superstructure that significantly reduce radar visibility. The ship will be equipped with modern anti-ship and anti-submarine armaments as well as an anti-aircraft missile system. The crew will undergo a full training cycle at the Joint Training Center of the Russian Navy in St. Petersburg" (Vpk.name, October 28, 2016).
However, problems began to arise over funding for the Project 20386 corvettes. In a December 2021 interview, USC Director Aleksei Rakhmanov said there had been "certain problems with financing" the Derzkii as well as technological difficulties related to implementing unexpected changes in the vessel's specifications (Kommersant, December 29, 2021).
Statistics show plainly the fiscal issues, as the Project 20386 Derzkii cost is given as 29 billion rubles (~$320.4 million), in contrast to a Project 20380 Steregushchii corvette costing 18 billion rubles (~$198.9 million), nearly half as much (Topwar.ru, June 22).
Soaring costs and unforeseen technological complexities finally overwhelmed plans for the warship's serial production, leaving as the sole Project 20386 for the foreseeable future the Derzkii prototype. Speaking on condition of anonymity, a military-industrial complex source told Russian outlet TASS that the highly advanced technology of the project combined with the high estimated cost of Project 20386 precluded its serial construction in the same way as corvettes of earlier projects (TASS, July 7).
As a consolation prize of sorts for the Russian Navy, Severnaia Verf and the Amur Shipyard will continue to build earlier corvette designs, Project 20380 Steregushchii-class and Project 20385 Gremiashchii-class warships (Flotprom.ru, July 7). After the Derzkii's launch, Severnaia Verf and the Amur Shipbuilding Plant in Komsomolsk-on-Amur will continue to build additional Project 20380 and Project 20385 corvettes.
Enmeshed in Putin's "special military operation" (SVO) against Ukraine since February 2022, the Russian military and its budget have been under unprecedented strain with limited success, no service more than the navy, which is seeing its unsustainable "stealth" dreams evaporate. Perhaps the Kremlin should reread Marx, who wrote, "The redeeming feature of war is that it puts a nation to the test. As exposure to the atmosphere reduces all mummies to instant dissolution, so war passes supreme judgment upon social systems that have outlived their vitality."