Russia Creates Far Eastern Development Agency
Publication: Eurasia Daily Monitor Volume: 9 Issue: 104
By: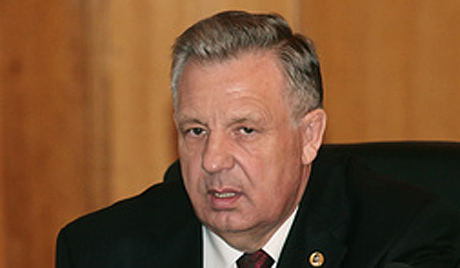 On May 21, Russia's freshly re-minted President Vladimir Putin signed a decree to reform the cabinet. The government now includes the newly-created Ministry for the Development of the Russian Far East, which will coordinate the implementation of regional development programs and manage state-owned assets, except for forests and assets in strategic sectors (Interfax, RIA-Novosti, May 21). The creation of the Far East Development Ministry comes as an apparent substitution of the previously planned state-owned corporation tasked with developing Russia's Far East and Siberia. Last month, first Deputy Prime Minister Igor Shuvalov argued that such a corporation could have been created as a subsidiary of the state-run Vnesheconombank (VEB) (see EDM, May 2).
Viktor Ishayev, the Presidential Envoy to the Far Eastern Federal District, was appointed to head the new ministry. He is one of the most experienced members of the country's new cabinet. Ishayev headed the Khabarovsk regional government for nearly two decades – between 1991 and 2009. Additionally, three years ago Ishayev was named a presidential envoy to the Far East, a position that he retains under the new government.
Ishayev's appointment followed his high-profile calls to prioritize regional development projects. Last month, Ishayev suggested adopting a regional development blueprint until 2050 and investing 3.3 trillion rubles ($106 billion) to develop the Far Eastern regions in the next decade. He has also urged increasing investment cooperation with China and Japan (see EDM May 2).
The Far East Development Minister's latest calls to strengthen economic ties with Beijing came as a departure from his earlier critical position. In the early 2000s, Ishayev vocally complained that Chinese maps allegedly painted vast areas of the Russian Far East "in Chinese colors." Ishayev warned of the perceived "yellow threat" and speculated that China was considering the annexation of at least 1.5 million hectares (approximately 5,800 square miles) of Russian territory. However, in 2003, President Putin strongly dismissed Ishayev's concerns. Subsequently, Ishayev no longer questions the Kremlin's policies toward China (see EDM, May 25, 2005).
In recent years, Ishayev has repeatedly advocated new measures to encourage economic development in the region and complained about low household incomes in Eastern Siberia and the Far East – some 12 percent below Russia's average. He suggested allowing the Far Eastern regions to retain a larger share of the corporate profit tax and the value-added tax (VAT). Ishayev also urged prioritizing exports of finished petrochemical products, rather than oil and gas, or risk Russia becoming a raw materials supplier to East Asia's more advanced economies. In September 2007, Ishayev argued that China, Japan and South Korea remained regional economic leaders, while Russia's Eastern Siberia and the Far East, along with North Korea and Mongolia, were becoming increasingly marginalized.
Not surprisingly, Russia's regional officials hailed Ishayev's appointment. On May 22, Kamchatka governor Vladimir Ilyukhin voiced confidence that Ishayev's ministerial job would help to expedite regional development projects (Interfax, May 22).
Even Putin's opponents supported Ishayev's elevation to the federal government post. On May 22, Communist Party leader Gennady Zyuganov hailed Ishayev's appointment as a move toward the faster development of Russia's Far East. Ishayev's managerial experience could have even allowed him to become the country's prime minister, Zyuganov added in televised remarks (Rossiya 24, May 22).
In line with Ishayev's calls to develop the Far East, Russian officials have also repeatedly pledged to pursue high-profile projects of political significance, but which were designed to prepare for the upcoming Asia-Pacific Economic Cooperation (APEC) summit meeting in Vladivostok. The Russian daily Kommersant commented that the creation of the new ministry and Ishayev's appointment coincided with next September's APEC summit (Kommersant, May 21).
In 2007, the Kremlin pledged to spend billions of dollars in government funding to build a resort area on Russky Island, off the Pacific port of Vladivostok, to host the planned APEC summit. Last month, Ishayev hailed the completion of several successful large-scale projects in Vladivostok – notably, the bridge linking Russky Island and the mainland – ahead of the APEC summit (see EDM, February 5, 2007).
Meanwhile, the restructured Russian government no longer includes first Deputy Prime Minister Igor Sechin, who used to be in charge of the crucial energy sector. Instead, Sechin was appointed to head Russia's state-run oil giant Rosneft, and his new duties will include the development of petrochemical production in the Far Eastern regions. Russia's major oil company happens to have some unfulfilled obligations in the Far East. In 2007, Rosneft pledged to build the first stage of the huge "Eastern" refinery in Primorie region near Cape Yelizarov with a capacity of 10 million tons per year by 2012. But these plans have been slow to materialize so far (see EDM, September 24, 2007).
The creation of the Far East Development Ministry indicates that the Russian government continues to prioritize its ambitious goals there. However, some of the earlier plans to develop the Far Eastern regions, including those originally advocated by Ishayev, continue to lag behind schedule. It remains to be seen whether Ishayev's ministerial appointment will be enough to speed the Far East projects along.