Kazakhstan Pledges Support to NATO's Afghanistan Transition Strategy
Publication: Eurasia Daily Monitor Volume: 9 Issue: 104
By: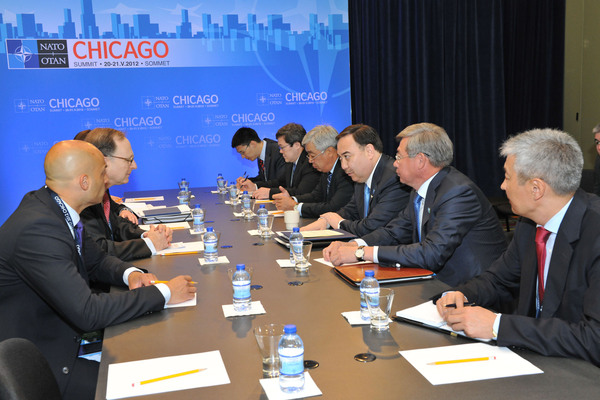 Kazakhstan and the other Central Asian countries played important roles at last week's NATO summit in Chicago thanks to the session's emphasis on Afghanistan and partnerships. Nonetheless, the Central Asian delegations joined others in expressing unease about NATO's support for Eurasian security after NATO ends its combat mission in Afghanistan in 2014. Kazakhstan's delegation was led by Foreign Minister Yerzhan Kazykhanov.
Kazakhstan was especially prominent in NATO's discussion on Afghanistan. On May 22, the Heads of State and Government of Afghanistan and nations contributing to the NATO-led International Security Assistance Force (ISAF) held a special meeting. The three main issues addressed at the session were NATO's plans to withdraw its combat forces after 2014, ISAF's continued support for the Afghan National Security Forces (ANSF) to enable them to assume this leading combat role, and the commitment of the international community to support Afghanistan after 2014 (Kazakhstan Pravda, May 22).
Following the meeting, NATO Secretary General Anders Fogh Rasmussen singled out the contributions of Kazakhstan – along with Russia, the Kyrgyz Republic and Uzbekistan – in facilitating the transit of ISAF non-lethal cargoes into Afghanistan through the Northern Distribution Network (NDN), some of whose routes pass through their territories (Khabar, May 22).
During the extended ISAF meeting, Kazykhanov reaffirmed Kazakhstan's commitment to continue supporting NATO's mission in Afghanistan as well as provide additional bilateral assistance. He announced his government's decision to aid the ANSF training mission with money, personnel and other resources. Furthermore, Kazykhanov announced that Kazakhstan would open its Caspian port of Aktau for NATO transit operations, to augment existing NDN routes. In addition, the Foreign Minister said that Kazakhstan would provide Afghanistan with more grain through donations to international organizations such as the UN Food and Agriculture Organization and World Food Program. He pledged to continue other bilateral humanitarian, educational and assistance programs to Afghanistan (Kazakhstani Ministry of Foreign Affairs, May 21).
In addressing ISAF's efforts, Kazykhanov placed particularly strong emphasis on strengthening the fight against Afghan narco-terrorism as essential for stabilizing the country. He stressed the need to combat illicit drug trafficking at the regional level. The Foreign Minister highlighted the work of the Central Asian Regional Information Coordination Center (CARICC), created in Almaty under the auspices of the United Nations Office on Drugs and Crime in 1996, to counter Eurasian narcotics trafficking (Kazakhstan Pravda, May 22).
Yet, earlier that month, the Moscow-dominated Collective Security Treaty Organization (CSTO), of which Kazakhstan is a member, had again urged NATO to concentrate on eradicating opium poppy and narcotics laboratories in Afghanistan while allowing the CSTO to manage the counternarcotics efforts in Central Asia (see EDM, April 10).
The decision of Nazarbayev and other Central Asian presidents to decline President Barack Obama's invitation to come to the most important international meeting his home town had ever hosted further testifies to the preeminent role Moscow plays in constraining NATO-Central Asian partnerships. After President Vladimir Putin announced his decision not to attend the summit, the Central Asian countries announced that they would send their foreign ministers to Chicago rather than their presidents.
Another factor constraining NATO's influence in Central Asia is that the priorities of the alliance and its members most often focus elsewhere (in the Balkans, in managing relations with the EU in the west and Russia in the east, and most recently in North Africa).
Indeed, a week before the summit, Kazykhanov published an article in the Western media that, while welcoming ISAF's contributions to Afghanistan and noting the opportunity to transform the NDN infrastructure into a means to bolster peaceful regional commerce, nevertheless warned the NATO summit not to overlook "the continuing fragility of Afghanistan and the threats that it still poses to its own people, its immediate neighborhood and the wider region" (Real Clear World, May 18). Eurasian leaders have joined others in expressing concerns that the West will once again abandon Afghanistan, outsourcing the management of a pivotal failed state to its neighbors. "We have it in our collective power to prevent another nightmare scenario in Afghanistan," Kazykhanov wrote in concluding his article. "To do so, we must look beyond 2014 and help Afghans help themselves."
In a special meeting with Central Asian ministers, US Defense Secretary Leon E. Panetta sought to address this concern by assuring them that the United States would sustain an enduring security relationship with Afghanistan and their own countries to prevent Afghanistan from again becoming a terrorist safe haven. Panetta further expressed deep appreciation for their countries' support of ISAF through the NDN. The secretary also stressed the importance of their countries cooperating further to promote the economic development of Afghanistan and the Central Asian region (Trend, May 22).
While in Chicago, Kazykhanov attended a number of bilateral meetings with the ministers from the Netherlands, Finland and Japan, along with the EU High Representative for Foreign Affairs and Security Policy, Catherine Ashton (Kazakhstan Today, May 22).
In one of these sessions, Kazykhanov met with US Assistant Secretary of State Robert Blake to discuss progress in fulfilling the agreements that were reached by Presidents Nazarbayev and Obama during the Second Nuclear Security Summit in Seoul in March 2012. They also reviewed implementation of the agreements reached during the first meeting of the Kazakhstan-US Commission on Strategic Partnership held in April 2012 in Washington. The Commission was established by Kazykhanov and US Secretary of State Hillary Clinton on February 1, 2012 (KazInform, May 21).