RUSSIA DOUBLING ITS TROOPS IN GEORGIA'S ABKHAZIA REGION
Publication: Eurasia Daily Monitor Volume: 5 Issue: 85
By: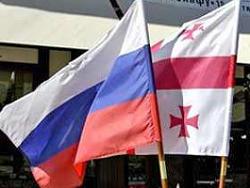 From April 29 through May 3, Russia sent additional troops to Georgia's Abkhazia region on the pretense of "peacekeeping" and ostensibly on behalf of the Commonwealth of Independent States (CIS). The Russian government announced its move through the mass media, but it did not inform the Georgian government or any international organization, let alone request permission for the troop deployment. It only notified the local United Nations Observer Mission in Georgia (UNOMIG) about the deployment after it was already under way and without providing any data about the numbers and armaments involved.
Georgian and international media showed footage of tanks and other armored vehicles, artillery and troop columns crossing–and, thus, violating–the internationally recognized Russia-Georgia border, staging a show of force in downtown Sukhumi and stationing themselves apparently near the Abkhaz-Georgian demarcation line. On May 1 Russia's ministries of defense and foreign affairs announced that the troops were being augmented to the authorized level of 3,000 (Interfax, May 1). Their announcements cite the previous troop level as 2,000, although Moscow had until now has acknowledged 1,500 "peacekeepers" in Abkhazia. The discrepancy seems designed to play down the troop increase somewhat; and in any case it casts fresh doubt on the veracity of the military data provided by Moscow in general.
The peacekeeping pretense notwithstanding, this troop deployment can only qualify as military aggression under international law. Georgia is protesting against it in these terms. Russia's CIS "collective peacekeeping" operation never had a legal basis on a bilateral Russia-Georgia level. No international organization or authority ever authorized Russia to conduct such an operation.
Russia is also breaching the mandate that it had largely written itself in 1994 for this "collective CIS operation." Those basic documents are the Moscow agreement on ceasefire and separation of forces in Abkhazia, Georgia, of May 17, 1994, and the August 22, 1994, agreement by the CIS countries' presidents on a collective CIS peacekeeping operation. Under those agreements, any troop deployments require Georgian consent. Moreover, the "peacekeeping" operation is subject to reassessment at six-month intervals, with Georgia entitled to demand its termination. The authorized troop strength is "2,500 to 3,000," although the number deployed in recent years has been half that figure.
In recent days Moscow has alleged that Georgian troops were gathering near the Georgian-Abkhaz demarcation line, in preparation for attacking Abkhazia. Moscow offered no evidence, however, and has found no acceptance for this excuse. The United Nations Observer Mission in Georgia (UNOMIG), normally a passive watcher in the area, has obliquely contradicted Moscow's claim. Georgia's acting Minister of Foreign Affairs Davit Bakradze and other officials have noted the similarity between this pretext and past Soviet excuses for moving troops into neighboring countries (Civil Georgia, April 30, May 1-2).
The Russian operation's commander, Major-General Sergei Cheban, has been persona non grata in Georgia since 2006 and his presence on Georgian territory therefore illegal. The Russian contingent closely cooperates with the unlawful Abkhaz forces, themselves created by the Russian military. Illustrating that symbiosis, the Russian "peacekeepers'" chief of staff, Colonel Aleksandr Pavlushko, was appointed deputy "defense minister" of Abkhazia on April 29, even as the supplementary Russian troops began their deployment there (Kavkas-Press, Rustavi-2 TV, April 30).
Georgia takes the position that the deployment of additional Russian troops since April 29, without Georgia's consent and despite its protests, constitutes military aggression against Georgia. Multiple statements by President Mikheil Saakashvili, Prime Minister Lado Gurgenidze, Parliament Speaker Nino Burjanadze, and the Ministry of Foreign Affairs since April 29 include the following arguments: 1) The additional Russian forces can not be regarded as peacekeepers because their deployment lacks Georgian or international authorization; 2) The deployment amounts to "an act of aggression disguised as a peacekeeping operation"; 3) The move forms part of recent de facto Russian measures to annex Abkhazia; 4) It demonstrates that Russia is party to the conflict, rather than a peacekeeper or mediator; 5) Far from being consistent with peacekeeping, the deployment poses high risks of destabilization; 6) "Georgia appeals to the international community and international organizations to take urgent actions to stop Russia's military aggression."
Officially, Georgia draws a distinction between the Russian troops that were already in place before April 29 and the troops that have moved in since that date. It accepts de facto the presence of the former, pending a transformation of that Russian operation. However, Georgia urgently demands the withdrawal of the supplementary troops deployed since April 29. At the same time, Georgia points out that the unauthorized troop deployment is the latest in a series of moves that disqualify Russia from any further legitimate role as a peacekeeper and mediator (Georgian MFA press releases, Civil Georgia, Rustavi 2-TV, April 29-30, May 1-3).