Russia Eyes Iraqi Energy Sector
Publication: Eurasia Daily Monitor Volume: 6 Issue: 79
By: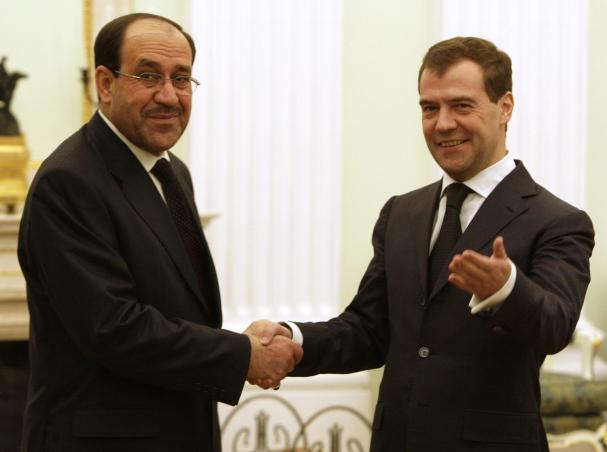 As Russia recently pledged to develop ties with Iraq, the Kremlin voiced hopes to secure a larger role in Iraqi energy sector. Following the April 10 meetings in Moscow between Russian President Dmitry Medvedev, Prime Minister Vladimir Putin and visiting Iraqi Prime Minister Nuri al-Maliki, both sides agreed to work on restoring pre-war energy deals clinched before the U.S.-led invasion of Iraq in 2003.
Ahead of the meetings in Moscow, Russian news agencies quoted the Kremlin's sources as arguing that major Russian companies, including Lukoil, Zarubezhneft, Stroitransgaz, Technopromexport, Tatneft and Soyuzneftegaz, remained interested in Iraqi energy projects (Interfax, April 10).
But following the talks, Russia's Energy Minister Sergei Shmatko said only that Iraq promised to cooperate with Russian companies on equal terms, as with other foreign firms. He added that both sides agreed to form a working group to consider the possible revival of pre-war energy contracts (Interfax, RIA-Novosti, April 10).
Prime Minister al-Maliki told a round table discussion with Russian business executives in Moscow on April 11 that the Iraqi authorities were prepared to guarantee investment protection for Russian companies. He also invited Russian executives to visit Iraq for further talks (RIA-Novosti, April 11). The announcement of a working group and pledges of further talks were thought to indicate that both sides failed to reach any specific agreements.
Nonetheless, Lukoil CEO Vagit Alekperov announced that his company was prepared to adapt its West Qurna-2 contract to conform to new Iraqi legislative requirements. He hailed the talks with al-Maliki as "successful," and pledged to visit Iraq with Shmatko's mission (RIA-Novosti, April 11).
Lukoil's interest in Iraqi oil riches was not only about the West Qurna-2. Earlier this month, Alekperov said his company planned to compete for a tender to develop the West Qurna-1 oil deposit (Interfax, April 9). Russian oil firms had signed contracts worth $4 billion with the Saddam Hussein regime to develop Iraq's oil reserves. The 23-year multi-billion contract to develop the West Qurna-2 oil field was signed in 1997 between Iraq and a Lukoil-led consortium. Under that agreement, the Russian group was scheduled to develop reserves of around 8 billion barrels. Saddam's government canceled the contract in February 2003, just before the war, but Lukoil still considers its West Qurna-2 deal as valid.
In 2004, Lukoil and the Iraqi Oil Ministry signed a Memorandum of Understanding for assistance with the rebuilding of the Iraqi oil industry, and to train personnel. The two sides reportedly reached an "understanding" on the West Qurna, in which Lukoil owns 68.5 percent. Lukoil has pledged that the West Qurna production sharing agreement could bring Iraq $45 billion over two decades.
Apart from Lukoil, the state-run Zarubezhneft worked in Iraq since 1967 and helped launch Iraq's one million barrels-per-day Rumaila field. It had hoped to develop Iraq's giant West Qurna field as a part of Lukoil-led consortium.
In contrast to Lukoil's optimism, Zarubezhneft has been more skeptical about its prospects in Iraq. In March 2003, then Zarubezhneft CEO Nikolai Tokarev argued "The Americans do not need anyone else in Iraq, they will control Iraqi crude themselves. There will be nothing good for Russian firms in Iraq," he predicted. Zarubezhneft previously said it lost $200 million in other contracts due to the U.S.-led war on Iraq.
As Moscow apparently felt excluded from a share of the Iraqi oil market, it refused to write off debts after learning it could not participate in the U.S.-funded reconstruction projects. But in 2005, Moscow pledged to write off 65 percent of Iraq's debts from more than $8 billion to $3.5 billion.
In 2006, the Kremlin eventually joined the Paris Club decision on Iraq and in early 2008 it finalized writing-off more than 90 percent of Iraq's debts. In his previous capacity of Russia's President, Vladimir Putin used to suggest that investments by Russian companies in Iraq could eventually reach $4 billion.
Until five years ago, hundreds of Russian citizens worked in Iraq repairing power stations. In May 2004, the Russian government ordered an evacuation of all its citizens after one Russian was killed and a number of others were kidnapped in Baghdad. However, this month Russian power companies moved to resume their work in Iraq. On April 10, Technopromexport signed a $133 million contract in Moscow with the Iraqi energy agency to rebuild the Harta power plant in Iraq. The Russian company pledged to rebuild the second and third generating units of the plant within 30 months (Interfax, April 10).
Russian media outlets also speculated that both sides might move towards the restoration of military ties. Russia was keen to revive its oil contracts in Iraq, while the Iraqi government sought Russian arms supplies, including T-72 tanks and BTR-90 armored vehicles, Kommersant business daily commented on April 10. Therefore, both sides could discuss a quid pro quo deal (Kommersant, April 10).
Moscow and Baghdad have maintained military ties for decades. Between 1958 and 1990, Iraq imported nearly 10,000 Soviet-made tanks and armored vehicles, nearly fifteen hundred military aircraft and helicopters, and some forty naval vessels. The total bill reportedly exceeded $30 billion. In mid 2003, Russia officially lifted its arms embargo against Iraq. Since 2004, Russian officials have hinted that the country was prepared to resume arms sales to Iraq, and train Iraqi servicemen in Russia or in a third country, but not within Iraq.
Ahead of Prime Minister al-Maliki's trip to Moscow, the Russian media reported that Iraq's government might be interested in procuring around twenty combat helicopters. However, no concrete arms trade agreements were announced after al-Maliki's visit.
Therefore, it remains to be seen whether Russia will secure a greater role in Iraq's oil and gas. In recent months, Russian energy companies have been announcing cuts in their domestic investment programs. Hence the pre-war energy deals in Iraq may fail to materialize due to funding shortages.