Russia Faces Multiple Terrorist Threats
Publication: Eurasia Daily Monitor Volume: 8 Issue: 19
By: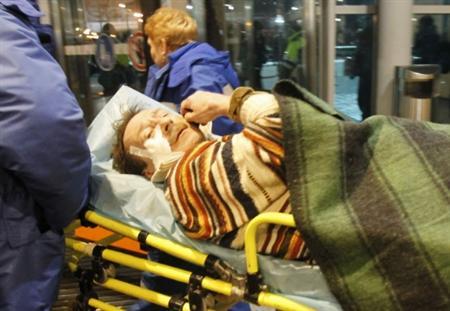 The Domodedovo airport bombing on January 24, that left 35 dead, including the alleged suicide bomber and more than 100 injured – Russians and foreigners – has overshadowed other important political events: the final ratification of the START III arms control treaty by both houses of parliament, the signing of a Russo-French agreement to build four Mistral naval assault ships and President Dmitry Medvedev's visit to the World Economic Forum at Davos. Medvedev cut his Davos visit to several hours on January 26, returning on the same day to Moscow. At the Forum, Medvedev announced that the perpetrators of the bomb attack "planned to put Russia on its knees and prevent the presidential visit to Davos, but failed" (Interfax, January 27).
Medvedev is clearly very angry with the obvious lapse in security that allowed a suicide bomber to mix with the crowd of taxi drivers, people meeting arriving relatives and business partners at one of the two Domodedovo international flights exits from the baggage claim area. Medvedev has ordered a criminal investigation into the security lapses, fired several interior ministry officials responsible for transport and security as well as demanding the reinforcement of antiterrorist procedures at all Russia's airports and railroad terminals (RIA Novosti, January 26). Speaking at a meeting of Federal Security Service (FSB) senior officials, Medvedev lamented that antiterrorist security becomes sloppy soon after a major terror attack and causes a brief mobilization of resources and readiness. Medvedev called on Russian authorities to follow the US and Israel in organizing better antiterrorist security, noting "the level of terrorist threat in Russia is higher than in the US." Medvedev described the perpetrators of the Domodedovo bombing as "bandits" and demanded that the FSB finds the guilty and "exterminate them on sight without mercy," if they resist arrest, adding "The lairs of the bandits," no matter where they are or "what name they carry – must be liquidated" (www.kremlin.ru, January 25).
Today, Russia is plagued by several active major terrorist threats. In the North Caucasus radical Islamist (Salafi) insurgency is raging in Dagestan, Kabardino-Balkaria, Chechnya and Ingushetia with almost daily reports of bombings, attacks and killings. This week on January 26, another car bomb reportedly killed four people and injured several more in a café in Khasavyurt – a town in Dagestan close to Chechnya with a sizable Chechen population. On January 14, also in Khasavyurt, a similar bombing killed four in an attack on another café (RIA Novosti, January 27). Islamist insurgents in Dagestan and other parts of the North Caucasus have been using deadly violence including bombings to attack restaurants and public saunas they accuse of violating Sharia Islamic law by promoting alcohol consumption and prostitution. Attempts by the Russian security forces and local pro-Moscow law enforcement agencies to contain the growing Islamist terrorist threat by using indiscriminate force and the "extermination" of suspects have failed – the number of attacks and killings in the North Caucasus has been growing in 2009 and 2010. Suicide bomb attacks in Moscow continue (The Moscow Times, January 26).
Russian Nazi-style radical nationalists have been attacking and killing non-Slavic looking people in Moscow's streets and metro system, as well as detonating bombs in open-air markets frequented by migrants from the Caucasus and Asia. But the use of suicide bomb attacks in the past has been exclusively connected to Islamist radicals, so it was assumed in Moscow that the Domodedovo bombing originated from the North Caucasus. According to the Deputy Chairman of the Duma Security Committee, former FSB Colonel Gennady Gudkov, "there is an abundance of suicide volunteers in the North Caucasus, ready to blow up anywhere." Gudkov said the Russian security services are inefficient and have not managed to seriously penetrate the ranks of the Islamist underground to gain essential intelligence to disrupt major terrorist attacks. Constant reports of successes in dealing with the terrorist threat in the North Caucasus by Russia's security services "are inflated" (Kommersant, January 25).
Prime Minister, Vladimir Putin, told journalists that the "preliminary evidence suggests the Domodedovo bombing has no connection to Chechnya." According to Putin, Moscow was always ready to have dialogue and seek agreements with responsible political forces in the North Caucasus and such dialogue "helped pacify the situation in Chechnya." Putin is apparently referring to former rebel and present pro-Moscow Chechen kingpin, Ramzan Kadyrov, who switched to the Russian side together with his late father, Akhmad Kadyrov, in 2000. Putin vowed to continue a "merciless fight with extremists" adding "there will be no talks with terrorists." Putin promised to continue spending billions of rubles to develop the economy and social infrastructure in the North Caucasus, while forming ties with so-called "traditional" Sufi Islam as opposed to Salafi radicals that form the backbone of the North Caucasian insurgency (https://premier.gov.ru/events/news/13958/).
Neither Putin nor Medvedev seem to be offering anything new in the aftermath of the Domodedovo bombing –only more vigorous implementation of already failed policies. The persistent practice of the "extermination of bandits" ignores the political and social causes of the insurgency (corruption and brutal religious and political repression in the region). Against the opinion of informed experts, Moscow does not seem to seek out more moderate Salafis and separate them from hardcore terrorists (Voyenno Promyshlennyy Kuryer, January 26).
Billions of rubles in federal funds pumped into the North Caucasus (Chechnya, Ingushetia and Dagestan in particular) since 2000 to reduce unemployment and social tension have been massively misappropriated. Federal money is in fact promoting corruption and the disintegration of traditional rural communities; migration to large cities, including the most desired destination – Moscow, where the Muslim population is growing dramatically and fueling radical nationalist movements that demand "Russia for Russians," and "Moscow for Muscovites" (EDM, December 16). This week, Russian nationalist football fans attempted street action to protest against the Domodedovo bombing, but were suppressed by OMON riot police (Interfax, January 25).
Most Muscovites do not use airports regularly, so the overall impact of the terrorist bombing of Domodedovo airport on the population seems to be limited (The Moscow News, January 26). In a city prone to constant traffic jams, most use the metro and attacks there – like the suicide bombings last March by Islamists, or rampages by nationalist football fans last month – cause mass distress. Besieged by competing radicals and terrorists, intimidated and molested by corrupt security forces and police, Muscovites are sitting on their hands, waiting for something really terrible to happen – a centuries-old Russian tradition.