Russian Gas Sector Moves Towards Recovery
Publication: Eurasia Daily Monitor Volume: 8 Issue: 19
By: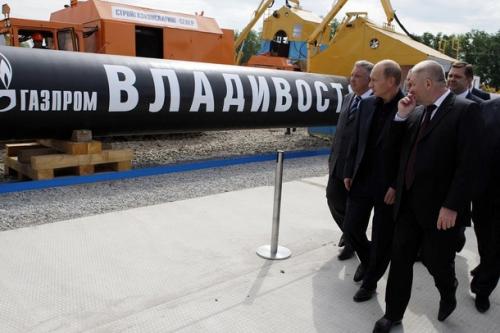 Russia's natural gas sector has increased its domestic production and exports, apparently recovering in the aftermath of the recent economic downturn. However, the industry remains dependent on exports amid growing costs. Moscow's official statistics appeared to indicate that the domestic gas sector managed to overcome the economic crisis of 2008. The country's total gas production reached 650.3 billion cubic meters (bcm) in 2010, or 11.5 percent up year-on-year, according to energy ministry data (Prime-Tass, January 10).
However, the production figures for Gazprom fell short of earlier positive forecasts. Gazprom had planned to produce 519-525 bcm of gas in 2010, but the company only managed to reach 508.5 bcm last year. However, the production figure still represented a significant increase compared with 461.5 bcm in 2009 (Interfax, January 3).
Similarly, Gazprom planned to export 161 bcm to Europe in 2010, but it only exported 138-140 bcm last year. The decrease indicated Gazprom's weakening position in Europe, according to Interfax news agency (Interfax, January 3). Russia's total gas exports reached 185 bcm in 2010 or 10.6 percent up year-on-year, according to the energy ministry.
Russia has repeatedly increased its gas output plans. In October 2010, Prime Minister Vladimir Putin pledged to increase natural gas production up to one trillion bcm by 2030. Russia plans to continue developing new deposits and aims to build 25,000 kilometers (km) of new gas pipelines to export natural gas, Putin said. Nonetheless, Russian media described plans to increase the country's natural gas production up to 1 trillion cubic meters (tcm) per year as "super-optimistic." Russian energy officials also conceded that growing domestic costs were making the country's gas exports less competitive internationally (Interfax, October 27, 2010).
Meanwhile, Gazprom insisted that its gas exports and domestic sales should be "equally profitable" from the beginning of 2011. The "equal profitability" target was intended to secure similar margins from exports and domestic sales. It was expected due to bring Gazprom up to 1.5 trillion rubles ($49.4 billion) over the next decade. However, the government apparently remained reluctant to allow unpopular domestic gas price increases, favored by Gazprom. Therefore, the authorities delayed the introduction of "equal profitability" until 2014-2015.
Therefore, Russia's natural gas sector remains largely dependent on exports with its higher profit margins. Subsequently, Gazprom continues to favor giant, capital intensive and export-oriented projects. Paradoxically, these projects also serve to increase costs and make Russian gas exports less competitive. Gazprom aims to launch the first stage of the Nord Stream subsea gas pipeline in September 2011. The first stage would have a capacity of 27.5 bcm annually, which is due to eventually reach 55 bcm per year. Gazprom holds 51 percent in Nord Stream AG, Wintershall 15.5 and E.ON Ruhrgas 15.5 percent each, Gasunie and GDF Suez 9 percent each.
The first stage of the 1,224 km Nord Stream subsea gas pipeline is currently estimated to be 75 percent completed. The second stage is expected to be completed next year, doubling annual production capacity to around 55 bcm. The pipeline, which is estimated to cost some 7.5 billion Euros, is due to supply gas from new deposits, including Shtokman, as well as existing gas production facilities.
The Shtokman field, some 650 km offshore in the Barents Sea, is estimated to contain 3.8 tcm of gas reserves. In February 2008, Gazprom, France's Total and Norway's StatoilHydro formed a joint venture company, Swiss-registered Shtokman Development AG, to operate the giant Shtokman gas field. Shtokman Development AG would own the production facilities of the Shtokman project's first stage for 25 years after the start of gas production, and then Total and StatoilHydro would transfer their stakes to Gazprom.
Gazprom owns a 51 percent stake in Shtokman Development AG, while Total holds 25 percent and StatoilHydro a 24 percent stake, according to the agreement. Gazprom and its partners aimed to start gas supplies from the Shtokman field, with estimated gas reserves of 3.7 tcm (131 trillion cubic feet), by the end of 2013 and start LNG supplies in 2014. The project's first phase was expected to produce some 23.7 billion cubic meters (837 billion cubic feet) of natural gas a year. The total cost of the Shtokman project to develop the Arctic off-shore gas field was estimated at $30 billion. In early January 2011, Gazprom and its major project faced corruption allegations. The Norwegian oil company Statoil claimed it encountered rising corruption in its partnership with Gazprom, designed to develop the Shtokman deposit, according to a US cable leaked to WikiLeaks and published by the Norwegian daily Aftenposten on January 7 (Interfax, January 7).
Russian media outlets also noted leaked US embassy cables that contained critical views of Gazprom. Vedomosti business daily commented that the US diplomats viewed Gazprom as a corrupt, inefficient and non-market monopoly. Being a relic of the Soviet-era gas ministry, Gazprom apparently underestimated the declining appetite for natural gas in Europe, the daily cited the leaked cables as saying (Vedomosti, January 6).