Russia Flexes Muscles of Airborne Forces
Publication: Eurasia Daily Monitor Volume: 15 Issue: 117
By: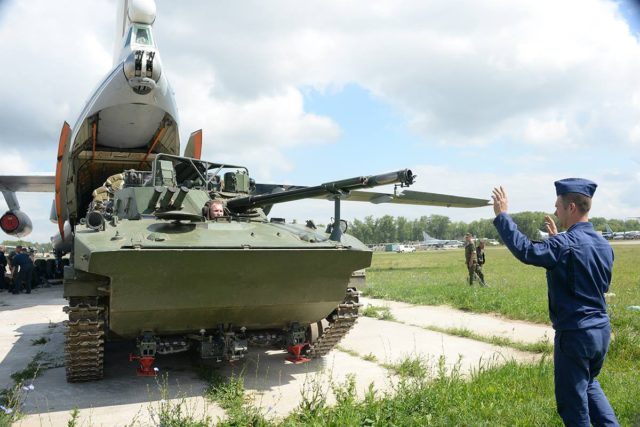 The Russian Airborne Troops (Vozdushno-Desantnye Voyska—VDV) and Military Transport Aviation (Voyenno-Transportnoy Aviatsii—VTA) carried out a comprehensive exercise in the Ryazan area, on July 9–13. Participation by the VTA was unprecedented, while the drill, in and of itself, showcased some interesting and novel features, including the first ever aerial drop of a BTR-MDM armored personnel carrier with a crew of three onboard.
The mid-July exercise involved the 137th Airborne Regiment (Ryazan) of the 106th Airborne Division, organized in two battalion combat groups and reinforced by two artillery battalions armed with 2S9 Nona mortars, an artillery battery with D-30 howitzers and an anti-aircraft company equipped with Strela-10M low-altitude surface-to-air missile systems (SAM) (Mil.ru, July 9, 10; TV Zvezda, Redstar.ru, July 11). Additionally, special forces (spetsnaz) as well as unmanned aerial vehicle (UAV), electronic countermeasure (ECM) and engineering units reinforced the regiment (Mil.ru, July 9). In total, 2,500 soldiers and about 200 armored vehicles (BMD-4M, BMD-2K-AU, BTR-MDM and BMD-Ksy) took part in the exercise, which was jointly directed by the commanders of the VDV and VTA, Colonel General Andrei Serdiukov and Lieutenant General Valdimir Benediktov, respectively (Mil.ru [1], [2], [3], July 9).
According to Colonel General Serdiukov, the exercise was comprised of three phases: 1) preparations for and relocation from Ryazan to airfields in Ivanovo and Ulyanovsk oblast, 2) the loading of personnel and equipment, and 3) the actual airdrop and ensuing simulated combat. The last phase involved attacking an enemy command post followed by relocation, which included fording a stretch of water and, thereafter, seizing and holding terrain in order to ensure a high tempo of advance by the main forces—all with the support of artillery and frontal and army aviation (Mil.ru, July 9; Redstar.ru, July 11). Air support was provided by MiG-31BM and Su-27 fighters, Su-24 attack jets and Mi-24 attack helicopters—in total, 70 aircraft (Nezavisimaya Gazeta, July 12).
In order to airlift the 137th Airborne Regiment, three air transport regiments (the 117th, 334th and 708th) were employed and relocated from their ordinary bases to airfields in Ivanovo and Ulyanovsk oblast. According to one source, 45 Il-76 strategic transport planes took part in the exercise (Rossiyskaya Gazeta, July 9; Izvestia, July 18). At the airfields, personnel and equipment were loaded after the 137th Airborne Regiment arrived from Ryazan via a different means of transportation, a distance of about 300 kilometers to Ivanovo and 700 kilometers to Ulyanovsk (TV Zvezda, July 11). Presumably, additional Military Transport Aviation units must have been involved considering the appearance in the exercise of other aircraft, besides Il-76s, that the three above-mentioned VTA regiments are not equipped with.
The actual airdrop exercises took place at Zhitovo and, about 75 kilometers away, at Noviki—both in Ryazan oblast. The emphasis was on Zhitovo, where more than 700 parachutists and 50 combat vehicles were dropped. At Noviki, about 500 troops and just 12 combat vehicles were parachuted down (Redstar.ru, July 11). The number of combat vehicles mentioned suggests that less than half of the combat vehicles participating in the exercise were dropped and the rest were either flown in or arrived to the exercise area directly from their respective garrisons. The fact that two drop zones were used was explained by "the need to work out the command of troops at a great distance from the command post with the help of satellite communication systems R-439 and R-142DA" (TV Zvezda, July 11). In all, four command posts (division, regiment and two battalion command posts), all equipped with the Andromeda-D command-and-control (C2) system, were active during the exercise (Nezavisimaya Gazeta, July 12).
One important objective was testing new equipment, and the salient feature in this particular exercise was the reportedly first-ever airdrop of a BTR-MDM with a crew of three onboard. The vehicle was dropped from a height of 1,800 meters and descended with a speed of 10 meters per second, using the Bachtia-U-PDS parachute system (Vpk.name, July 16). The BTR-MDM landed in front of a large number of spectators, including journalists, and drove up to the crowd of onlookers. After coming to a halt, the BTR-MDM's crew left the vehicle to be interviewed and congratulated (Ok.ru, July 13, 14).
The demonstrated parachute flight of the BTR-MDM was not unexpected. Back in March, the Russian paper Izvestia reported that a BMD-4M infantry fighting vehicles (IFV) would be airdropped in connection with a planned August exercise of the 106th Airborne Division (Izvestia, March 6). However, two things were striking about the actual incident that was ultimately carried out (a month earlier than forecast). First, why was a BTR-MDM dropped instead of a BMD-4M, as previously reported? Second, the parachute flight took place in the presence of spectators. BMD-4Ms have been undergoing airdrops since 2014, when the first trials took place. So the fact that a public airdrop of this IFV with crew onboard was not attempted this past July is surprising—especially since previous tests with the Bachtia parachute system had supposedly been successful (Lenta.ru, July 31, 2017; RIA Novosti, July 26, 2018). Dropping the BTR-MDM in front of an audience indicates that the authorities trusted no mishaps would occur; and it is likely that this had not, in fact, been the first test drop of this vehicle with personnel inside.
On one hand, further such airdrop demonstrations can be expected, particularly since the BMD-4M IFV has not yet, as far as is known, been parachuted down with a crew onboard. But on the other hand, more comprehensive airdrop exercises involving crewed combat vehicles will probably be quite rare—particularly since a representative for the VDV has said that these are generally only done in a time of war and not in connection with routine drills.
The military exercise in July reiterated the importance the Russian Armed Forces attach to the VDV. Indeed, that importance can also be deduced from the introduction of tanks to air assault units and the planned reorganization of the 31st Air Assault Brigade into the 104th Air Assault Division (see EDM, April 4, 2018; RIA Novosti, July 28, 2018; Lenta.ru, June 4, 2015). It is debatable to what degree that has been the consequence of successful lobbying efforts by the VDV versus this military branch's actual usefulness on a modern battlefield. Nevertheless, despite the VDV's own shortage of air transport capabilities, the Airborne Troops will be a force to be reckoned with, particularly when employed as a rapid reaction force in combination with "little green men," insurgent forces and the like.