Russia Following 'Syrian Playbook' in Its Approach to Venezuela
Publication: Eurasia Daily Monitor Volume: 16 Issue: 12
By: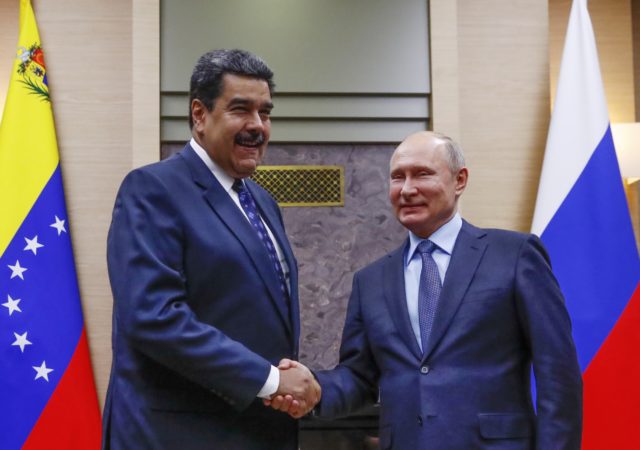 The economic and political crisis in Venezuela is seen in Russia as an imperialist conspiracy, led by the United States, to oust a Russian ally: the "legitimate" and "progressive" government of President Nicolás Maduro.
The Kremlin's involvement in Latin America goes back many decades. In the 1960s, Moscow sent arms, troops and nuclear weapons to support Fidel Castro in Cuba. In the 1980s, the Soviet Union supplied arms, aid and military advisors to prop up the Sandinista regime in Nicaragua. And during the 1970s Moscow was an outspoken supporter of the Chilean government of then-president Salvador Allende; but it did not deploy armed forces when Allende was overthrown in a bloody coup. Today, the Communist Soviet Union is no more and Russian President Vladimir Putin publicly positions himself as a conservative-nationalist and Orthodox Christian—the friend and supporter of rightwing nationalists and populists in Europe. But in Latin America, it seems time has been frozen. Russia's friends are Maduro and his predecessor Hugo Chavez in Venezuela, the post-Castro Communist regime in Cuba, and the Sandinista leader Daniel Ortega in Nicaragua. Moscow is propping up leftwing regimes in an attempt to build a strategic foothold in the United States' own backyard—a policy driven by pure anti-Americanism.
Last December, the Russian Aerospace Forces (Vozdushno-Kosmicheskiye Sily—VKS) deployed to Venezuela two Tu-160 Blackjack strategic bombers that flew in from Russia nonstop, with midair refueling, and then back again (see EDM, December 13, 2018). To establish a temporary operational base, equipment and ground technicians were flown into Venezuela on Il-62 and An-124 transport jets using a refueling stopover on Sal Island in Cape Verde—a strategic airstrip built during the Cold War with Soviet aid to handle heavy Soviet military jets. Previous Tu-160 excursions to Venezuela occurred in September 2008 and November 2013. Defense Minister Sergei Shoigu announced that Russia plans to continue visits by strategic bombers to Venezuela and will also send in warships with cruise missiles (Militarynews.ru, December 10, 2018). Russian officials declared that the deployment of bombers to Venezuela was in response to the North Atlantic Treaty Organization (NATO) establishing bases close to Russia's borders. It was also reported that Moscow may establish a permanent operational airbase in Venezuela (Militarynews.ru, December 12, 2018).
The Tu-160s apparently arrived in Venezuela last month unarmed, which is impossible to verify. These strategic bombers took part in joint exercises with the Venezuelan Air Force, which flew Russian-built Su-30 and US-made F-16 jets (Militarynews.ru, December 12, 2018). Tu-160 Blackjacks can carry Russia's newest Kh-101 long-range cruise missiles that have been test-fired at targets in Syria, or the Kh-102 with a nuclear warhead. The Kh-101/Kh-102 has a range of some 5,500 km and can carry a payload of up to one megaton. With such a long-range weapon, the Tu-160 can fire at the continental US almost immediately after takeoff from Venezuela. Even a handful of these bombers deployed in Latin America could, therefore, pose a formidable threat, forcing the US to further stretch its anti-air/anti-missile defense assets.
Venezuela is strategically important and oil-rich. To secure a close relationship with its rulers and its military, Moscow has been shipping billions of dollars' worth of weapons on credit, while the state-owned Rosneft oil major (controlled by Putin's close associate Igor Sechin) has been investing billions into oil extraction and paying cash advances to Maduro to be covered by future oil shipments. Neither the Sechin cash advances, nor the arms trade credits have been repaid. These debts may eventually be written off by a new opposition Venezuelan government led by the self-proclaimed interim president, Juan Guaido, if it manages to push Maduro out (see EDM, January 28, 2019). Yet, even if Maduro somehow succeeds in clinging to power with Russian help, he will hardly have the resources to service the loans. Some write-off of outstanding Venezuelan debt looks inevitable (Interfax, January 29, 2019).
Some in Moscow have been advocating a more balanced approach to the Venezuelan crisis, arguing that continued support for Maduro is senseless; it would be better to begin establishing contacts with the opposition to possibly secure at least a portion of Russia's multi-billion-dollar investments (RBC, January 28, 2019). Guaido has been calling on "Russian and Chinese investors" to help facilitate a smooth transition of power, promising further cooperation (Lenta.ru, January 29, 2019). But the Kremlin appears set on backing Maduro until the bloody end. According to Russian Foreign Minister Sergei Lavrov, "The US is hell-bent on illegal regime change [in Venezuela]. We shall support the legitimate Maduro government with all means available" (Militarynews.ru, January 29, 2019). By facilitating a transition of power in Venezuela, Moscow could, indeed, preserve some of its investments. But any hope of establishing a military foothold to potentially threaten the US with long-range cruise missiles would certainly be lost.
Moscow has been progressively elevating its anti-American rhetoric, accusing Washington of not only undermining international order by imposing sweeping sanctions aimed at denying the Maduro regime oil revenues, but of also endangering the entire region with an ecological catastrophe caused by possible oil spills (Interfax, January 31, 2019). At this stage, it is unclear whether Russia might go beyond angry words and denunciations, such as possible covert or direct military action.
The flamboyant Russian nationalist politician Vladimir Zhirinovsky was the first to publicly call on Putin to send troops to prop up Maduro: "If Tu-22M3 Backfire bombers fly to Venezuela and begin patrolling its skies, no one will dare to intervene" (Ura.news, January 25, 2019). Russian officials have, up to now, been noncommittal on military aid or any possible intervention to save Maduro. Still, there have been reports of hundreds of Russian contractors or mercenaries from the notorious private military company (PMC) Wagner Group arriving in Caracas to defend Maduro (see EDM, January 28, 2019). The Kremlin has denied knowing anything about any Russian contractors in Venezuela or of any Russian involvement in alleged attempts to move tons of gold bullion out of the Central Bank in Caracas using a Russian charter jet (Newsru.com, January 30, 2019).
In 2015, Moscow repeatedly denied any intentions of deploying its forces to Syria, when, in fact, preparations were already well underway. PMC contractors that allow the Kremlin to run foreign military interventions while exercising plausible deniability could be a spearhead of an invasion force. The deputy prime minister in charge of the defense industry, Yuri Borisov, has denied there being any Russian military personnel in Venezuela; but he told journalists, "Russia continues to watch developments" (Interfax, January 31, 2019).