Are Russian Mercenaries Ready to Defend Venezuela's Maduro?
Publication: Eurasia Daily Monitor Volume: 16 Issue: 9
By: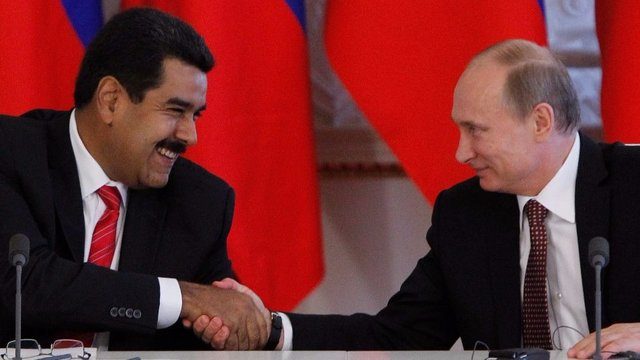 Mass anti-government protests that erupted this month in major Venezuelan cities apparently already claimed the lives of at least 29 protestors. The country's embattled president, Nicolás Maduro, has defined the events as "an attempt at forceful regime change organized by American imperialism" (Rosbalt, January 26, 2019). Despite widespread international condemnation of Maduro's authoritarian rule and mismanagement of the Venezuelan economy, support for him has stubbornly been voiced by Turkey, China and Russia. Indeed, the Kremlin might become the main loser if the current political regime in Caracas crumbles.
Meanwhile, a crucial piece of news came from Evgeni Shabaev, the ataman (head) of the "Khovrino" Cossack community and one of the main advocates for legalizing Private Military Companies (PMC) in Russia (see EDM, November 29, 2018). On January 25, Shabaev revealed that Russian mercenaries from the notorious Wagner Group—which has participated in conflicts in Ukraine and Syria and is currently training local armed forces in the Central African Republic (see EDM, January 23, 2019)—have been sent to Venezuela to provide physical protection to President Maduro. Shabaev noted that the Wagner Group "was ordered to compose a group without any delays, and was tasked to protect the most important public figures [in Venezuela]." He added, "[T]he military contractors had worked in Gabon and Sudan." The Russian contractors reportedly sent to Venezuela were apparently transported by two charter planes to Havana, Cuba, from where they were flown to Caracas, arriving on January 22 (Lenta.ru, January 25, 2019).
Interestingly, another source close to the Russian PMC community has stated that the first batch of Russian mercenaries entered Venezuela as early as May 2018—that is, prior to the presidential elections. Whereas, the current arrival represented a second group. It bears pointing out that the source expressed doubt about the accuracy of the frequently citied figure of 400 mercenaries operating in Venezuela; the real number is likely far lower, the source alleged (Focus.ua, January 25, 2019). Meanwhile, Shabaev also stated that, on January 21, he was contacted by one private contractor who revealed that a group was being rapidly assembled "for a special mission." The Khovrino ataman was unaware of the whereabouts of the mission. Yet, on January 22, "his relative got in touch and stated that the contractors are [already] in Havana" (RBC, January 26, 2019).
The reaction of Russian officials to these revelations has been predictable. The Ministry of Defense (as well as the Ministry of Information of Venezuela) refused to make any comment. While Dmitry Peskov, the Kremlin's press secretary, claimed that "he has no information." In turn, Russia's ambassador to Venezuela, Vladimir Zaemsky, stated, "I do not know about the presence of any Russian private military companies in Venezuela. This is another hoax" (Rosbalt, January 25, 2019).
The claims of ignorance coming from the Russian authorities were quickly confronted by information unearthed by Mitya Aleshkovskii, the co-founder of the Help Needed (Nuzhna Pomosh) and director of the Such Affairs (Takiye Dela) Internet-based research outfits. Aleshkovskii had tracked the plane that allegedly transported the Wagner contractors to Venezuela. According to the researcher, "The Il-96 RA-96019 of Rossiya Airlines flew from Moscow to Dakar on January 19, where it remained for two days. From Dakar, the airplane headed to Ciudad del Este (Paraguay), and later to Havana. The final destination—Caracas—was reached by regular commercial flight" (Znak.com, January 25, 2019).
The reaction (or lack thereof) from the Russian government regarding the news about Wagner mercenaries being sent to Venezuela appears to be even more questionable given a January 23 statement by the Russian Ministry of Foreign Affairs. On that day, foreign ministry spokesperson Maria Zakharova openly admitted that "Russian private security companies, unrelated to the state, are acting in Sudan." She argued that these structures are involved in rendering consulting and training services to the local military. This statement sharply contrasted with a comment, on November 15, by the press attaché of the Russian Embassy in Khartoum, Vladimir Tomsky, who shrugged off information about the alleged presence of Russian military contractors in the country as "fake news" (Lenta.ru, January 23, 2019). It is worth mentioning that anti-government demonstrations (somewhat resembling the current situation in Venezuela) broke out in Sudan on December 19, causing deaths and mass arrests of local political activists and journalists.
The potential collapse of the Maduro regime would be a huge blow to Moscow: in addition to being one of the main geopolitical pivots in Latin America (the Cuba-Nicaragua-Venezuela "axis") (see EDM, August 7, 2018), the fall of the current government in Caracas would most likely void Russia's previous investments in the Venezuelan economy (approximately $17 billion) and disrupt other prospective projects. This would primarily affect two main players. First, is the Russian state-owned oil giant Rosneft, to which Venezuela owes $3.1 billion. On December 5, during his trip to Russia, Maduro declared the conclusion of a $6 billion deal with the host country ($5 billion in the oil sector and $1 billion in the gold industry). However, the Russian side did not confirm this agreement (Banki.ru, January 25, 2019). As noted by Sberbank CIB analytics, "If Maduro remains in power, Rosneft is likely to remain a pure donor. If the regime collapses, Rosneft is likely to lose all of its assets in the country" (Thebell.io, January 24, 2019). The second potential big loser is Russian Rosoboronexport, the main supplier of Venezuela's Armed Forces. The current level of bilateral trade in terms of arms and weaponry is, in fact, ridiculously low (around $79 million). Yet, Rosoboronexport is still waiting on payment for a $1 billion loan it extended to Caracas in 2017, which will not come due until 2027. This loan is unlikely to ever be repaid if the current Venezuelan regime is abruptly replaced (Lenta.ru, January 25, 2019). Russian financial analysts have already expressed considerable concern on the matter: unlike Chinese firms, Russian defense producers cannot afford to not be reimbursed (Thebell.io, January 24, 2019).
If Maduro's government is dangerously close to collapse, Russia might try prop it up by employing the model it has used in Syria. Initially, local armed forces and militias (loyal to the regime) coordinated by Russian mercenaries, will try to regain control of Venezuela's major cities (Caracas, Valencia, Barquisimeto, Maracaibo, and San Cristóbal) as well as key oil infrastructure (Vpk-news.ru, July 23, 2018). But if this is not enough to keep the opposition or international pressure at bay, more Russian PMCs members could soon be drawn in.