The Syrian Predicament Turns Precarious for Russia
Publication: Eurasia Daily Monitor Volume: 16 Issue: 9
By: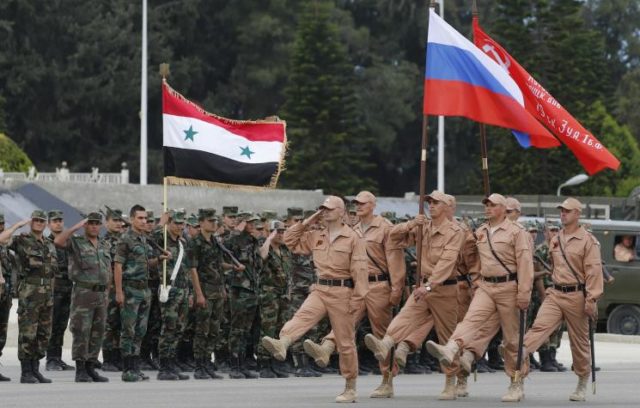 Foreign affairs have yielded few successes and much chagrin for Russia since the start of 2019 (see EDM, January 14, 2019). Relations with the United States are going from bad to worse, as the inevitable collapse of the 1987 Intermediate-Range Nuclear Forces (INF) Treaty signifies a failure in arms control talks, traditionally the main channel of bilateral communications (Russiancouncil.ru, January 21, 2019; see EDM, January 17, 2019). The much-anticipated breakthrough in relations with Japan never materialized because President Vladimir Putin opted against striking a deal on the disputed Southern Kurile Islands (Carnegie.ru, January 24, 2019). Public opinion is indeed firmly set against any territorial compromise, so the media noise around the bargaining with Prime Minister Shinzō Abe punched another dent in Putin's declining popularity (Rosbalt, January 22, 2019; see EDM, January 24, 2019). Meanwhile, the turmoil in Venezuela has exposed an ambiguous rationale of Moscow's support for the failing regime and a high risk of losing some $17 billion in dubious investments (RBC, January 24, 2019). But perhaps the most prominent entry in this list of setbacks camouflaged as achievements comes under the heading "Syria."
The war in this devastated country has mutated into a composite of fluid and overlapping hostilities—a conflict that Moscow seeks to stabilize but has scant control over. Putin greeted Turkey's President Recep Tayyip Erdoğan in the Russian capital last week, but the "constructive" talks produced no new resolutions of old disagreements (Kommersant, January 24, 2019). Moscow sought to obtain Ankara's consent for an offensive on the rebel-held Idlib province in exchange for Russian consent for a Turkish offensive against the Kurdish-held area in northeastern Syria (Nezavisimaya Gazeta, January 23, 2019). Erdoğan prefers to keep Syrian President Bashar al-Assad's forces out of Idlib, even if several militant groupings are entrenched there, and declares that Turkey needs nobody's consent for a military operation aimed at establishing a "security zone" along its southern border (Newsru.com, January 26, 2019). The two leaders are both excited and apprehensive about the forthcoming withdrawal of US forces from Syria, but Erdoğan is additionally inclined to question Russia's staying power.
Turkey has few reasons to worry about the third member of the Syria war-management coalition—Iran. Whereas, Russia is increasingly concerned about this tripartite "brotherhood-in-arms." Moscow is obliged to oppose Washington's pressure on Tehran and has pointedly refused to participate in the upcoming US-sponsored ministerial-level Middle East conference in Warsaw, Poland (Nezavisimaya Gazeta, January 23, 2019). At the same time, Russia can neither approve of nor check the growing dependency of the al-Assad regime upon Iran, particularly in building military and para-military forces (Russiancouncil.ru, December 6, 2018). The Iranian presence is resolutely unacceptable for Israel, which recently delivered a massive airstrike on Syrian military targets around Damascus, giving Russia a proper warning through the "de-conflicting" channel (Kommersant, January 22, 2019). Moscow nevertheless condemned the attack, but the dismal performance of the Syrian air-defense system, which Russia had claimed to bolster with additional S-300 surface-to-air missiles, revealed the futility of its attempts at deterring Israel (Rosbalt, January 21, 2019). Russia has no way to reconcile the execution of its costly intervention with maintaining neutrality in the momentous conflict between Israel and Iran.
The Syrian intervention was supposed to boost Russia's profile in the Middle East and to facilitate agreements with the Organization for the Petroleum Exporting Countries (OPEC) on production cuts designed to push up the oil price. This cartel had worked for most of 2018; but by the end of the year, oil prices had settled at a lower plateau and are not expected to rise in the near future. Hence, authoritative forecasts for the Russian economy predict growth of only 1.5–1.7 percent this year (RBC, January 21, 2019). The oil market has evolved enough that OPEC cannot easily manipulate the price single-handedly: thus, there was little point in holding the ultimately canceled meeting between Russian Energy Minister Aleksandr Novak and his Saudi counterpart, Khalid al-Falih, at the margins of the World Economic Forum in Davos (RIA Novosti, January 22, 2019). Syria is a serious problem for Russian oil geopolitics. And one indicator of its costs was the deadly fire engulfing two tankers near the Kerch Strait in the Black Sea (Kommersant, January 22, 2019). The unlucky ships were involved in the clandestine operation to deliver Russian liquefied natural gas (LNG) to Syria—risking punishment from US sanctions while bringing no profits for Russia (RBC, January 25, 2019).
Syria also puts Russian military structures under serious pressure, and the Aerospace Forces (Vozdushno-Kosmicheskiye Sily—VKS) show unmistakable signs of this strain. The Russian leadership has used air platforms as a versatile instrument for demonstrating force, from incursions into Swedish airspace to patrols along the northern border of Canada (Interfax, January 24, 2019; Kommersant, January 27, 2019). Yet, these shows of long reach are not always successful; and the visit of two Tu-160 strategic bombers to Venezuela last December (see EDM, December 13, 2018) did little to help the crumbling Latin American regime (Svoboda.org, December 16, 2018). More recently, the collision of two Su-34 fighters over the Sea of Japan was not an isolated incident, and the crash-landing of a Tu-22M3 long-range bomber on January 22 at the Olenegorsk base in Murmansk region proved the risk of accumulating stress on the VKS (Novaya Gazeta, January 23, 2019). Russian command was eager to use Syria as a testing ground for new weapons systems, including the sea-based long-range Kalibr (SS-N-27) cruise missile. But presently, this value is exhausted while the need to deploy boots on the ground grows ever more apparent (TASS, January 8, 2019).
A key political goal of the military intervention in Syria was to engage in sustained interactions with the US. However, this global geopolitical contest is currently reduced to hard bargaining with regional stakeholders and incessant transactions with local conflict entrepreneurs. The al-Assad regime has succeeded in crushing many opposition forces, but these victories, secured with Russian bombs, cannot ensure long-term stability nor do they make Damascus a reliable ally for Moscow. The only way for Russia to check Iranian influence is to increase the money flow to Syria. Yet, these costs are increasingly unpopular with the Russian public upset by falling incomes and shrinking social benefits. Putin has learned plenty of lessons about the messy Syrian calamity—though, apparently still not enough to find a way out of it. The next plane crash or terrorist attack on a Russian base is impossible to predict; but each setback will further shake Russia's precarious posture