Russia Forges Ahead With New Southern Rail Bypass of Ukraine
Publication: Eurasia Daily Monitor Volume: 12 Issue: 179
By: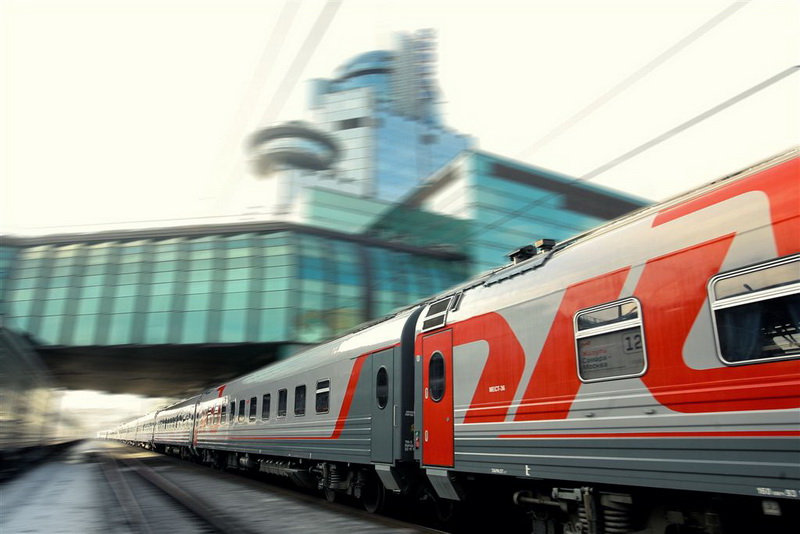 On September 21, Russian Prime Minister Dmitry Medvedev signed a decree to construct a railway line allowing trains in southern Russian to bypass Ukrainian territory. The new 75-mile double-track electrified railway will replace the existing one, 16 miles of which traverses Ukraine's war-torn Luhansk region. Several short stretches of rail lines linking Moscow to southern Russia currently cut through Ukrainian territory multiple times, exiting and reentering Russia's Voronezh and Rostov oblasts, a situation that the new bypass will remedy. Building the bypass is already well underway, with 60 percent of the groundwork completed. The new railway is expected to be operational by 2018. According to Medvedev, the new rail line is intended to provide secure train service by skirting the ongoing war in eastern Ukraine (TV-Novosti, September 21).
The idea of building the bypass has been under consideration for several years, but the decision was finalized in 2014, as relations with Ukraine deteriorated. Last November, the then-head of Russian Railways (RZD), Vladimir Yakunin, announced plans to connect the southern Russian cities of Zhuravka and Millerovo so that trains between them would not have to pass through Ukrainian territory, a plan that had "always existed" but was being implemented "as soon as we procure the funding," he proclaimed (see EDM, November 25, 2014). Medvedev's most recent decree on the matter is a clear sign that the Russian government does not expect to see the turmoil in eastern Ukraine resolved anytime soon.
The new railway line will run between Zhuravka railway station in Russia's Voronezh oblast, 20 miles from the Ukrainian border, and Millerovo in Rostov oblast. The two cities are currently about two and a half hours apart on the present railway line that enters parts of eastern Ukraine.
On April 25, a Russian defense ministry source told TASS that the Ukraine bypass—purportedly intended to improve Russia's security by tightening controls over "undesirables" arriving in Russia from Ukraine—would be built in 2018. In turn, a source within RZD said, "It is high time to put an end to arbitrariness and extortions by Ukrainian border guards and customs officers toward Russian citizens traveling in southbound trains via Ukraine" (TASS, April 25).
Interestingly, rather than use civilian RDZ personnel for the construction, Russian Deputy Defense Minister Dmitry Bulgakov admitted in late April that 900 troops of the Russian Army's Railroad Forces had begun laying an 11-mile section of the Zhuravka-Millerovo line to enable trains running between central and southern Russia to bypass Ukraine (Interfax, April 25).
The Russian defense ministry's participation in the construction of the bypass was further verified two months later, when an RZD source stated that Russian Railways and the Ministry of Defense signed a contract on June 25 for building the two-way electrified Zhuravka-Millerovo railway line (TASS, June 30). The document was signed by RZD's director for railway reconstruction and railway transport facilities construction, Aleksandr Butko, and defense ministry railroad troops department head Lieutenant General Oleg Kosenkov.
As Russian-Ukrainian relations remain strained, the tempo of the work on the Zhuravka-Millerovo line has apparently intensified. On August 22, General Bulgakov stated that the Russian Railway Troops laboring on the Zhuravka-Millerovo bypass were more than a month ahead of schedule constructing the second section, with "soldiers routinely fulfilling 200 percent of the project's excavation plan" (RIA Novosti, August 22).
Because of such exertions, RZD Vice President Oleg Toni, speaking in Voronezh a month later, noted that while the Zhuravka-Millerovo rail line was scheduled to begin operating before the end of 2017, the link could be opened sooner. Toni said, "This is a strategic project; in a short period—before the end of 2017—we will build 76 miles of double-track electrified railway and five electrical substations" (RIA Novosti, September 26).
The day after Toni spoke, General Bulgakov told journalists, "The Russia Ministry of Defense has begun work on the second, 19–32.5 mile section of the [Zhuravka-Millerovo] railway," adding that "work on the 7–19 mile first section is nearing completion" (Interfax, September 27). Bulgakov also reported on the Ministry of Defense railway troops involved in the construction of the route: "At present, the construction of the railway has involved 600 troops and 350 units of special equipment from the individual battalions of railway mechanization of the Western, Central and Southern military district."
The Zhuravka-Millerovo bypass construction is not the only railway dispute between Russia and Ukraine. On August 25, Medvedev issued Decree No. 1,640, unilaterally abrogating the bilateral Russian-Ukrainian agreement on the organization of international direct railway ferry connections through Russia's Caucasus ports and Ukraine's Crimean ports, signed in Kerch on November 12, 2004 (Publication.pravo.gov.ru, August 28).
While Moscow complains often and loudly about the North Atlantic Treaty Organization's (NATO) perceived encirclement efforts, Russia's rail bypass and severing of Black Sea ferry connections is having a similar effect on Ukraine, just as the closure of railways in separatist Abkhazia ended Georgia's options for a rail link through Russia westward to Europe. Railways are "dual use" technologies. Thus, even though RZD maintains that the new bypass will be used for passenger and cargo traffic, the new spur line will be a useful logistical route for the Russian military to transfer heavy equipment to areas along the border with Ukraine. On the economic front, bracketed as it is in the east by Eurasian Economic Union (EEU) member Russia and to the north by EEU member Belarus, Ukraine is effectively isolated from the "One Belt, One Road" Eurasian railway initiative promoted by China. In the past, railways have been a Russian foreign policy pressure point, leading to the question of why this rail bypass has taken precedence over other rail projects such as upgrading the Trans-Siberian Railroad. Providing easier passenger travel between Voronezh and Rostov hardly seems the prime motivation for Moscow. Rather, Russia is likely more concerned with being able to militarily and economically pressure Ukraine.