Russia Imposes Its Own Terms on Ukraine for Release of Prisoners (Part One)
Publication: Eurasia Daily Monitor Volume: 16 Issue: 122
By: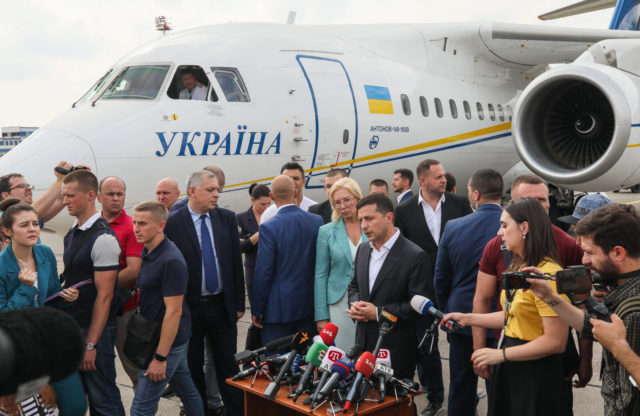 On September 7, Ukraine's Presidential Office and the Kremlin announced a mutually agreed decision to release 35 prisoners from detention by either side. On the same day, the 35 freed citizens of Ukraine were flown from Russia to Kyiv, where President Volodymyr Zelenskyywelcomed them on the airport's tarmac (see EDM, September 9). Meanwhile, there is no official information on the whereabouts of the 35 freed by Ukraine as a quid pro quo. The Kremlin did not stage a media event to fly any of them to Russia.
The Kremlin and the Ukrainian Presidential Office had negotiated this mutual release agreement amid due secrecy since August 7, following Zelenskyy's urgent plea to Russian President Vladimir Putin that day (Ukrinform, TASS, August 7). Both sides are currently negotiating for further prisoner releases.
This event's international context far outweighs the event itself. A humanitarian matter, which should technically have been handled at the legal level, is instead being conflated with the political-diplomatic negotiations on implementing the Minsk "accords." Zelenskyy eagerly construes Russia's agreement to mutual prisoner releases as presaging an imminent end to the war. He is thereby raising the Ukrainian people's expectations even higher than he did during the recent presidential election campaign, when he promised a quick-fix "peace" without addressing the terms of such an end to the conflict. Hostage to his own aspiration to end the war by December 2019, Zelenskyy now seeks a summit of the Normandy Format leaders (Russia, Germany, France, Ukraine), to be held in September, and within that summit to hold a bilateral decisive meeting with Putin (Ukrinform, UNIAN, September 5, 7, 9).
While the 35 Ukrainian citizens freed from Russian captivity were flown home to Ukraine, a mirror action involving the 35 released by Ukraine has not taken place as yet. All 35 in this group participated in one way or another in Russia's "hybrid" (New Type) war against Ukraine as soldiers, paramilitary fighters, intelligence agents or public agitators. This group seems to consist mostly of citizens of Ukraine (whether from the Russian-occupied territory or elsewhere in Ukraine). Under Ukraine's constitution, citizens of Ukraine cannot be expelled or handed over to another country. Transferring them to Russia would presumably necessitate some legal formalities—e.g., being granted Russian citizenship. Several citizens of Ukraine from this group are known to still be in Ukraine for the time being, freed from detention "under their recognizance." If any of these 35 were flown to Russia, it was not done publicly.
Overall, then, the terms "prisoner exchange" or "swap" (as widely used in the mass media) are inaccurate. What has taken place at this stage is a mutually agreed release, falling (on the whole) short of an actual swap.
The Kremlin demanded the release of Vladimir Tsemakh as a sine qua non condition to the entire 35-for-35 release. Ukrainian media reported on this fact, which was confirmed by Ukrainian Security Service (SSU) chief Ivan Bakanov on the day of the prisoners' release (Interfax, September 7).
Tsemakh is a possible key witness in the scheduled international trial on the downing of Malaysia Airlines Flight MH-17 from Amsterdam, over Russian-occupied Donbas in 2014, when 298 lives (many of them Dutch) were lost. Tsemakh, an "air defense coordinator" near the site of that catastrophe, subsequently told a local media outlet on video that he had helped to escort and shelter the Russian Buk mobile air–defense battery that shot down the airliner. The SSU abducted Tsemakh in June 2019 from the Russian-occupied territory because of his value as a witness in the upcoming international trial (one SSU officer was killed in the abduction operation). On September 5, a Kyiv court of appeals, undoubtedly prompted by the Presidential Office, released Tsemakh on his own recognizance. He is supposed to report his address and work place to the authorities and to remain at their disposal for two months (UNIAN, Ukrinform, September 5).
For all practical purposes, then, the value of this witness is lost to the upcoming trial. Russia's insistence on having Tsemakh freed may be taken as indirect confirmation of Russia's involvement in shooting down that airplane and fear that its involvement may be exposed. Dutchauthorities had asked Kyiv that Tsemakh not be included in the prisoner release. For its part, Ukraine's Presidential Office could have used the international trial for counter–leverage on Russia, but it has apparently decided to forfeit this chance. The handling of the Tsemakh case may well encourage other Russian agents in captivity to be uncooperative and quietly await being exchanged.
The 35 freed citizens of Ukraine who returned home include several political prisoners (among whom are two public personalities from Crimea, sentenced in Russia for refusing to take Russian citizenship) as well as the 24 sailors who were seized from three Ukrainian naval boats near the Kerch Strait, in November 2018. Russia was legally obligated to release those sailors and vesselsto Ukraine under a May 25, 2019, verdict by the International Tribunal for the Law of the Sea(see EDM, May 30).
However, Russia has chosen to release the sailors as part of a bilateral deal with Ukraine. This allows Moscow, on the one hand, to score a "legal" point: it does not recognize any international jurisdiction in its "territorial waters," unilaterally redefined after seizing Crimea. And on the other hand, it allows Moscow to eschew international penalties for noncompliance with the International Tribunal's order to release the Ukrainian sailors. The previous administration of Petro Poroshenko had achieved that hard-won victory in the International Tribunal. The Zelenskyy administration, in turn, has chosen (for humanitarian reasons, as it suggests) to abandon the legal way and reach instead an informal agreement with the Kremlin to free the sailors. The president and his office have therefore refrained from using the International Tribunal's verdict in Ukraine's favor.
In spite of the outward parallelism in Kyiv's and Moscow's prisoner releases, the underlying politics of these decisions have worked to Russia's advantage and will continue doing so in the negotiations on further prisoner releases. Ukraine's public opinion and state leadership (under both presidents Poroshenko and Zelenskyy) cares deeply about the plight of Ukrainian captives in Russia, in contrast to Russia's manifest callousness toward its own confederates detained in Ukraine. While Putin never staked his popularity ratings on freeing those prisoners and never faced pressure from below to have them freed, Zelenskyy did make such promises during his recent election campaign, raising popular expectations and, by the same token, pressure on him from below to deliver on these promises. And even as the Kremlin redoubles its intransigence in the Normandy and Minsk negotiation processes, Zelenskyy's team professes optimism that the mutual prisoner release opens the window of opportunity for some abstract notion of peace.