Russia in Search of New Gas Markets
Publication: Eurasia Daily Monitor Volume: 19 Issue: 177
By: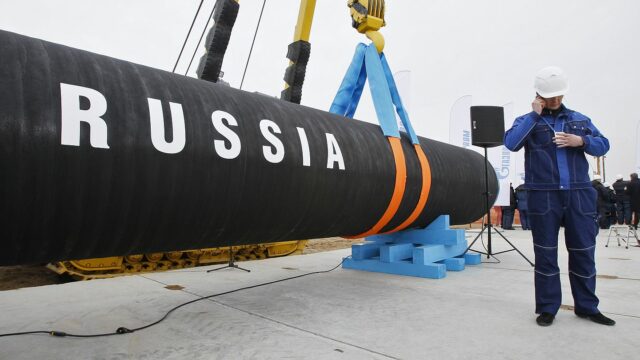 Since the start of the Russian all-out assault on Ukraine on February 24, Gazprom's natural gas supplies to Europe have been cut by approximately 80 percent (Bruegel.org, November 22). Such a drastic reduction is primarily due to Moscow's own decisions aimed at stoking political and economic instability in the European Union (see EDM, May 2). It seems that the Kremlin rightly anticipated that almost all European countries (with the exceptions of Hungary and Serbia) would abandon Russian gas as soon as alternative supplies were secured. However, Russia has no silver bullet for redirecting its gas exports, and any possible solutions will be lengthy, extremely expensive and will hardly replace the receptive and well-connected European market.
Back in 2021, Russia exported 155 billion cubic meters of natural gas to the EU (Iea.org, March 3). This accounted for as much as 61.7 percent of total Russian gas exports that year and 73.8 percent if one counts only pipeline gas exports, excluding liquefied natural gas (LNG) supplies (Vedomosti.ru, September 26). Such a large supply was realized in large part thanks to the vast pipeline network linking Russia with Europe, notably the Nord Stream One pipeline under the Baltic Sea, the Yamal pipeline via Belarus and Poland, the Brotherhood pipeline via Ukraine and the TurkStream pipeline under the Black Sea. Meanwhile, LNG supplies provided mainly by Russian natural gas producer Novatek constituted a rather small fraction of the EU's imports. Therefore, the probable loss of the European market constitutes a great challenge for Gazprom—especially as the Siberian gas fields that had supplied Europe until now have not been connected to any alternative markets, namely China.
Given the aforementioned context, it is not surprising that Russia is actively considering mitigation strategies. Already in April 2022, President Vladimir Putin publicly ordered the Russian government to accelerate preparations to redirect oil and gas exports from Europe to other markets, including speeding up new pipeline projects (RBC, April 14). Putin was referring to, among other projects, the long-discussed Power of Siberia Two pipeline, which would connect gas fields from the Yamal Peninsula in the Arctic with the Chinese market via Mongolia. The projected capacity of the pipeline is approximately 50 billion cubic meters per annum, which roughly corresponds to one-third of Gazprom's deliveries to the EU (TASS, September 21). Notably, in mid-September, Russian Deputy Prime Minister Alexander Novak bluntly stated that the Power of Siberia Two pipeline would effectively replace the now-defunct Nord Stream Two pipeline (Vedomosti.ru, September 15). However, the construction phase of the project is slated to start in 2024 at the earliest, and current projections show that the Mongolian section of the pipeline will not commence until 2027 (TASS, September 21).
However, the Power of Siberia Two pipeline is not the only investment project that Russia is mulling to open new markets for its gas exports. Overall, Russia wants to speed up regional gasification programs and develop new chemical plants (Interfax.ru, April 14). Yet, probably the most publicized idea so far in this realm has been the creation of a new hub for Russian gas in Turkey. The concept was presented in one of Putin's speeches in October 2022 and was first met with confusion from Turkish officials, with Turkish Energy Minister Fatih Donmez saying, "This is the first time we heard of the issue of supplying Europe through alternate routes" (Trtworld.com, October 12). Nevertheless, despite the initial reluctance, Turkey reportedly agreed to join the project (Trtworld.com, October 19).
However, the prospects for its implementation remain foggy to say the least. For one, no feasibility study has been completed as of yet, and the construction of a new gas pipeline under the Black Sea (which is more than two kilometers deep) might be impossible for Russia under the current Western sanctions regime. Additionally, it is difficult to say where the Russian gas could ultimately be sold since the only gas-starved region in Turkey's direct neighborhood is Europe itself.
Perhaps the most important conclusion that can be drawn from these Russian statements is that the Kremlin sees the loss of the European gas market as a huge challenge for the future. Theoretically, the problem could be solved over the next several years if Moscow can increase its liquefaction capacities and associated infrastructure in the Arctic. In such a scenario, Russia would be able secure real flexibility in terms of gas exports. However, the LNG option seems unavailable at the moment for the Kremlin due to Western sanctions (which include a ban on the export of liquefaction equipment to Russia) and the unwillingness of foreign companies, both investors and contractors, to deal with their counterparts in Russia.
To sum up, the Kremlin's strategy to leverage European reliance on Russian gas has ultimately become a double-edged sword, and ironically, Europe is much better suited to adapt, at least in the medium term, to this grand shift in energy relations. European countries have shown that they can secure fast-track deployment of additional gas import infrastructure, effectively ending their historical dependency on Russian supplies (e.g., the first "emergency" floating storage regasification units recently arrived in Germany) (Lngprime.com, November 23). Thus, due to its all-out war against Ukraine, Russia's past success with the European market will not be repeated in the coming years with relation to gas export infrastructure.