Russia in the Red Sea: Converging Wars Obstruct Russian Plans for Naval Port in Sudan (Part Three)
Publication: Eurasia Daily Monitor Volume: 20 Issue: 176
By: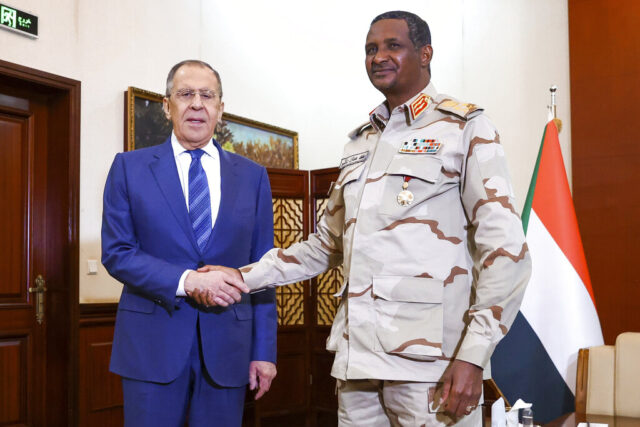 The Hamas attack on Israel on October 7 and the expanded war has pulled some of the Kremlin's attention to the Middle East and North Africa (see EDM, October 16, 18). The conflict gives fresh impetus to Russia's interest in establishing a stronger foothold in the Red Sea region. Russia's war against Ukraine and the ongoing power struggle in Sudan have derailed Moscow's efforts to establish a naval port in Sudan. The Wagner Group has allied with one side of the fight, which has hurt Russia's prospects, especially if the Sudanese Armed Forces (SAF) of General Abdel Fattah al-Burhan prevail (see Terrorism Monitor, April 28, May 26, June 9). In addition, recent drone attacks in Khartoum, possibly of Ukrainian origin, suggest Kyiv may be trying to challenge Russia's military contractors in Africa (The Moscow Times, September 20). The outcome of the fighting in Sudan will have important implications for the Kremlin's efforts to establish a stronger military presence in the Red Sea region.
Before these geopolitical upheavals, Russia seemed well on its way to setting up its planned naval base. In 2017, an agreement between Russian President Vladimir Putin and former Sudanese President Omar al-Bashir called for the establishment of a Russian base at an unspecified location on Sudan's Red Sea coast in return for arms and other military gear from Moscow. Operated by 300 Russian servicemen, the base would support as many as four Russian naval vessels at a time (see EDM, December 6, 2017).
By 2021, the new Sudanese government began having second thoughts about the deal and sought new terms that included economic aid (The Arab Weekly, September 16, 2021). Initially, Moscow had hoped that the base would be established in Port Sudan, building on existing infrastructure there. Khartoum, however, suggested a new base be built from scratch at Arakiya, a remote fishing village so small it does not appear on most maps (Radio Dabanga, December 7, 2021). Without supporting infrastructure or sufficient fresh water, the Arakiya suggestion was meant to cool Russian designs on Sudanese waters.
The only other viable option would be the ancient Arab port of Suakin. Originally built to accommodate shallow draft dhows, the British moved operations from Suakin to Port Sudan when it became clear that Suakin could not accommodate deep-draft naval and commercial ships. Dredging has since improved access, but the construction of new facilities would take years (Middle East Eye, September 30, 2022).
In 2022, Sudan's military rulers appeared ready to finalize a treaty authorizing the establishment of a Russian naval base at Port Sudan. The leader of the Rapid Support Forces (RSF), Mohamed Hamdan Dagalo (known as "Hemedti"), took the lead in most of these negotiations. He arrived in Moscow on February 23, one day before Russia's full-scale invasion of Ukraine, with a delegation that did not include any SAF representatives. Hemedti expressed surprise that anyone might find a Russian base in Sudan controversial (Africanews, March 3, 2022).
Port Sudan is a politically unstable city that serves as Sudan's primary connection to international trade routes. The city is riddled with ethnic rivalries and tribal divisions that could threaten any foreign military presence there. Port Sudan is separated from the Nile Valley by 250 miles of sun-baked desert inhabited almost entirely by Arab and Beja nomads. This isolation makes port operations and onward transportation of goods vulnerable to any group that could block the intersection of roads and narrow-gauge rail connections with the Nile.
The outbreak of fighting in and around Khartoum may squash any chances for the establishment of a Russian naval base in the near future. Videos circulating on X (formerly Twitter) on September 14 depicted a series of attacks by first-person view (FPV) kamikaze drones in Omdurman against RSF fighters and vehicles (Twitter.com/War_Noir, September 14; Twitter.com/Mupper2 September 14). FPV drones are cheap and commercially available and can be easily modified to carry the warhead of a rocket-propelled grenade. The drone pilot, wearing video goggles, controls the low and fast flight of the explosive drones with the assistance of a spotter drone that selects targets and records the results.
Such capabilities could threaten a prospective Russian base should the fighting in Sudan continue over the long term. FPV drones have become commonplace in Ukraine, but this constituted their first appearance in an African conflict (both the SAF and RSF use other types of drones). The tactics seen in the videos resemble those used by Ukrainian forces, and parts of the videos appear to display Ukrainian text on the drone controller's monitor. When questioned by journalists about the attacks, Ukrainian military intelligence chief Kyrylo Budanov simply said, "A year ago, I personally and openly said that all Russian war criminals who fought, are fighting, or plan to fight against Ukraine will be punished anywhere in the world" (Holosameryky.com, September 23).
Possible Ukrainian involvement in Sudan led to a flurry of diplomatic efforts by Moscow and Kyiv. On September 21, General al-Burhan spoke with Russian Foreign Minister Sergei Lavrov on the sidelines of the UN General Assembly session in New York. Lavrov indicated Moscow's supported for al-Burhan and the SAF's efforts to stabilize Sudan despite Wagner's association with the RSF (TASS, September 21). Two days later, al-Burhan met with Ukrainian President Volodymyr Zelenskyy and Defense Minister Rustem Umerov for "unscheduled" talks at Ireland's Shannon Airport (Kyiv Independent; Sudan Tribune, September 23). Zelenskyy reported that the two leaders discussed the activity of illegal armed groups financed by Russia (i.e., Wagner). Afterward, Zelenskyy said he was "grateful for Sudan's consistent support of Ukraine's sovereignty and territorial integrity" (Anadolu Agency, September 23). These developments point to Ukraine potentially pursuing a policy in Africa that will challenge Moscow's Wagner gambit. According to Ukrainian Foreign Minister Dmytro Kuleba, "Our strategy is not to replace Russia but to free Africa from Russia's grip" (Africanews, August 17).
Perhaps most troubling for the Kremlin is the inherent political instability of Sudan. Even before the current power struggle, regional insurgencies, tribal clashes, mass demonstrations, and coup attempts have characterized the country's political process. The months-long struggle between Sudan's two most powerful military commanders is reducing the national capital to rubble and has had a similar effect on Khartoum's international commitments. A Russian deal with one military faction is unlikely to be honored by the other, leaving a possible Russian base on Sudan's Red Sea coast in limbo. The SAF leadership is convinced that Moscow now controls the Wagner Group following Yevgeny Prigozhin's aborted mutiny and death, with the mercenary group supplying the RSF with arms and munitions. As a result, a victorious SAF would be unlikely to approve a Russian naval base and official military presence in Sudan.