Russia Increases Military Capacity in the South Caucasus
Publication: Eurasia Daily Monitor Volume: 12 Issue: 61
By: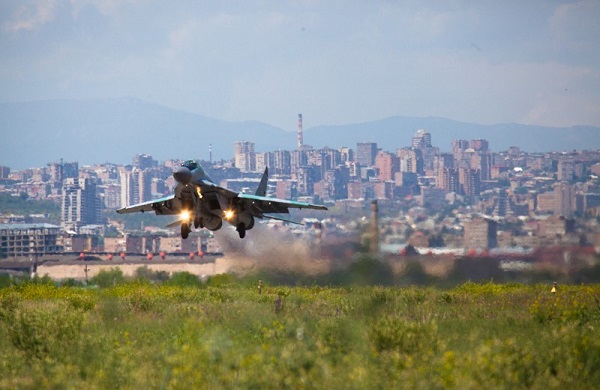 Recent geographically broad, intensive and large-scale military exercises of the Russian army, including those in the North Caucasus (Russia's Southern Military District—MD), have again raised concerns about Vladimir Putin's possible attempts to hinder the development of Georgia's cooperation with the North Atlantic Treaty Organization (NATO) and the European Union. Regional observers have been paying particular attention to the possible involvement of Russian troops based in Abkhazia and South Ossetia, as well as the Russian military base in Armenia (see EDM, March 19, 24).
Indeed, Russian troops stationed in Armenia have been involved in a wide series of military exercises in recent weeks. In February, Southern MD intelligence divisions started month-long exercises aiming to practice operations in mountainous areas located more than 2,000 meters above sea level (RIA Novosti, February 5). These training drills were followed by intensive military truck drivers' exercises, including 300-kilometer rides along mountainous terrain (RIA Novosti, March 5), engineer corps exercises (Gazeta.ru, March 10), MiG-29 flight exercises (Regnum.ru, March 13), drills involving a second military intelligence group (Gazeta.ru, March 17), as well as artillery training, including BM-21 Grad multiple rocket launchers (RIA Novosti, March 18). It is worth pointing out that, compared to the 300-kilometer training rides practiced by Russian soldiers, the distance from the Russian military base in Gyumri to Georgia's border—not to mention the distance from South Ossetia to Tbilisi—is less than 50 kilometers.
The Russian base in Armenia was integrated into the Southern Military District since the latter was formed in August 2010. At that time, during then-president Dmitry Medvedev's visit to Armenia, the two countries signed an agreement extending Russia's right to use the Gyumri base until 2044. Already then, some skeptical observers in Yerevan warned that Armenia's significance for Russia would come to resemble Abkhazia's and South Ossetia's. These dissenting voices argued that Russia, viewing relations with the West as a zero-sum game, would use its regionally based military capacity to influence and attempt to extend its control over the entire South Caucasus region (Zhamanak, August 26, 2010).
Since 2010, Russia has gradually upgraded the Gyumri base. In one relatively recent example, soon after compelling Yerevan to join the Eurasian Customs Union (forerunner of the Eurasian Economic Union—EEU), Moscow announced that it would modernize 18 MiG-29 fighters stationed in Armenia, making them capable to not only intercept airborne targets but also to attack targets on the ground. Moreover, Russia declared it would be deploying additional attack helicopters and airborne troops to Armenia. Therefore, the Gyumri base would develop the capacity to engage not only in defensive but also in offensive operations, including the possibility to deploy airborne troops within a range of 500 kilometers. That information was published, in October 2013, by the Russian newspaper Nezavisimaya Gazeta. The article noted the base was making "preparations for engagement against a potential adversary's rear" (Nezavisimaya Gazeta, October 21, 2013)—never openly naming but certainly suggesting that Georgia was this "potential adversary," which could be attacked in the rear from Russia's base in Armenia.
New weapons supplied to the Russian base in the last couple years have also included Tornado-G multiple rocket launchers (modernized versions of the BM-21 Grad) and Iskander-M (SS-26) short-range ballistic missiles (Portal Kultura, December 5, 2013). Considering that military buildup, some Armenian analysts again warned that Russia's presence at Gyumri would not serve Armenia's interests by providing security but would only function as a tool for Moscow's own strategic goals in the region, including creating obstacles for Georgia to fulfill its pro-European choice. Analysts also noted that Armenia's membership in the Customs Union (and later in the EEU) is not a goal as such, but rather a pretext for turning Armenia into Russia's regional policy tool (1in.am, November 11, 2013).
More recently, Russian sources have also been openly stating that the attempts to secure a land transportation corridor to Armenia after its admission to the EEU, as well as Russia's closer cooperation with Abkhazia and South Ossetia, are aimed particularly at preventing Georgia's deeper cooperation with NATO and the EU (see EDM, December 11, 2014). Notably, Russia has invested about $1 billion in reconstructing a previously abandoned highway approaching Georgia from the east, via Dagestan (see EDM, October 2, 2014; December 15, 2014). Georgian analysts and representatives of the country's National Security Council explicitly consider this roadway a political rather than an economic project (Kavkazsky Uzel, December 14, 2014). That road will enable Russian troops to attack Georgia from a fourth direction, in addition to already existing invasion corridors from Abkhazia, Ossetia and Armenia.
Georgian President Giorgi Margvelashvili has stated at a conference on democracy, foreign policy and security that a "hybrid war" has been under way in the South Caucasus, and that Russia's recent "strategic partnership" agreements with Abkhazia and South Ossetia have turned the situation in those regions from an occupation into an annexation (Apsny.ge, March 26). The "hybrid war" statement seems like hardly an exaggeration when one takes into account repeated advances of Russian troops from occupied South Ossetia into adjacent Georgian villages, with local Georgian inhabitants repeatedly being expelled.
Unquestionably, Russia views the South Caucasus as a zone of its exclusive interests and is vehemently opposed to the plans to establish NATO training infrastructure in Georgia (see EDM, February 4). When one adds Georgia's central location and the geo-strategic importance of pipelines and other infrastructure that traverses Georgian territory, control over this country clearly becomes a prerequisite for control over the entire South Caucasus. The possibility of open Russian aggression against Georgia, therefore, cannot be excluded.