Russia, Japan, China to Help Turkey Fulfill Its Nuclear Power Ambitions
Publication: Eurasia Daily Monitor Volume: 14 Issue: 146
By: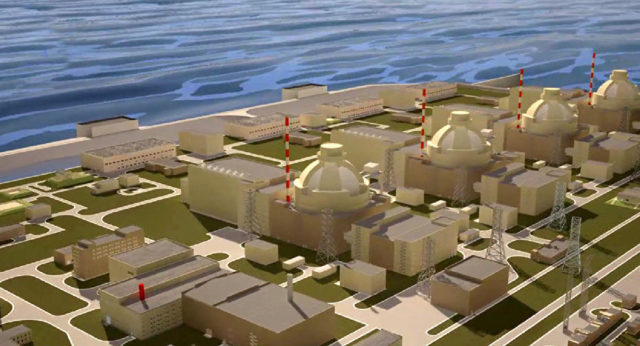 Turkey's interest in nuclear energy dates back to the 1960s, when the government first conducted a feasibility study to build a 300–400 megawatt (MW) nuclear power plant (NPP) (Iaea.org, accessed November 10). And in recent years, actual progress on Turkey's nuclear energy program has finally been growing more realistic. Notably, Russia, Japan and China, as well as several other countries, have been moving in to claim a share of the profit in Turkey's nuclear energy market. From 2023 to 2030, Turkey plans to build three nuclear power plants, which will provide 10 percent of the country's domestic electricity (Daily Sabah, August 10).
In June 2017, Russia's State Atomic Energy Corporation (ROSATOM) won final approval from Turkey to build the Akkuyu nuclear power plant for an estimated cost of $20 billion. Turkish Energy and Natural Resources Minister Berat Albayrak announced, on October 11, that construction of the plant will likely begin at the end of this year or beginning of 2018 (Daily Sabah, October 11). The Akkuyu plant will be Turkey's first NPP and will feature four water-water energetic reactor (VVER) units, each generating 1,200 MW of electricity. Together, the plant's reactors will produce approximately 35 billion kilowatt-hours per year once completed, in 2023 (Daily Sabah, February 3).
For Turkey, the choice of Akkuyu as the site of its first NPP has been at the top of the government's list of potential locations since the 1970s. The Akkuyu NPP project had temporarily stalled in 2015, after Turkey shot down a Russian jet near the Syrian border that had strayed into Turkish airspace. Over the past year and a half, however, particularly following the attempted coup in Ankara, Turkey's relations with Russia have improved considerably.
ROSATOM is an active player in the Middle East. Besides Turkey, the Russian nuclear company has struck various nuclear cooperation deals with countries like Jordan, Iran and Saudi Arabia, to name a few (Al-Monitor, January 28, 2015). For Moscow, nuclear cooperation with various countries in the region is viewed as a medium of respite from the Western sanctions imposed against Russia due to its aggression against Ukraine.
But Russia is not the only country involved in Turkey's nascent nuclear power industry. Japan is currently another key partner. Ankara and Tokyo signed a nuclear cooperation agreement in 2013. Moreover, according to a $20 billion deal reached in 2015, Atmea, a Japanese-French joint venture, has agreed to construct a nuclear power plant for Turkey at Sinop, near the Black Sea (Daily Sabah, October 4). This plant's four generation III pressurized water reactors (PWR) will produce 40 billion kilowatt-hours of electricity.
China is hoping to be chosen to build Turkey's third nuclear plant, the final location of which has yet to be determined. Indeed, nuclear cooperation is an integral component of China's transcontinental Belt and Road Initiative (BRI) (Hurriyet Daily News, September 3). Additionally, South Korea and the United States are also looking to enter the Turkish nuclear power market.
At present, Turkey is dependent heavily on imported natural gas, and domestic power production sources only account for 26 percent of its total energy use. Over the past 15 years, Turkey has had the highest rate of growth in energy demand of all member countries of the Organisation for Economic Cooperation and Development (OECD) (Mfa.gov.tr, accessed November 10). Hence, nuclear power, once operational, would help this country meet its growing energy demand via domestic generation. According to government reports, Turkey used 44,723,504 tons of oil equivalent (TOE) to generate electricity in 2014 (Turkstat.gov.tr, February 24).
The Turkish government's energy strategy, thus, explicitly includes the introduction of nuclear power into the country's energy mix to help diversify its power generating sources (Ministry of Foreign Affairs, accessed November 10). This perceived need for greater diversification of reliable sources of energy dates back to the energy crisis of the 1970s. Moreover, operating nuclear power plants does not release any greenhouse gases, which will help the country remain within its pledged climate change targets.
However, even though Turkey is progressing with constructing NPPs, there are concerns. First, the country does not have any official nuclear policy. Second, Turkey is situated in a particularly volatile region of the world—especially due to trans-border threats emanating from the Syrian civil war. Any NPP infrastructure could become a target for terrorist attacks. Turkey also suffered an attempted coup last year; and the country lies on top of seismically unstable terrain. All these concerns will need to be addressed by Ankara to mollify both the international community as well as portions of the domestic population (Hurriyet Daily News, April 14, 2015; April 26, 2016).