Russia Pours More Military Hardware Into 'Fortress Crimea'
Publication: Eurasia Daily Monitor Volume: 14 Issue: 147
By: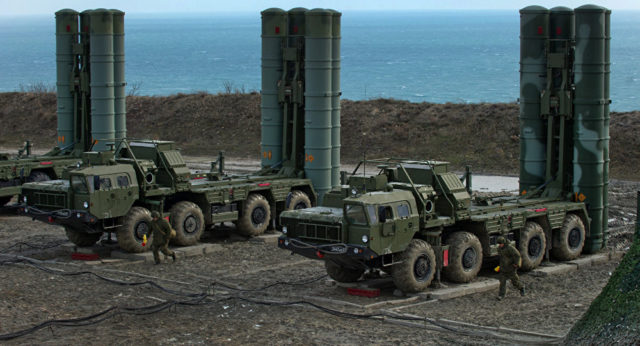 According to the chief of the General Staff of Russia, Valery Gerasimov, in the last five years Russia has profoundly increased its military presence in key regions of the world, in some areas "reaching the level of the Soviet Union" (Vpk.name, November 9). Speaking on November 7, Russia's top-ranking military official devoted significant attention to Crimea, which Moscow had forcibly annexed from Ukraine in spring 2014. In particular, Gerasimov noted that Russia has installed there a self-sufficient military formation ("samodostatochnaya gruppirovka woysk") consisting of a naval base, an army corps, as well as an aviation and air defense division. Also, the Black Sea Fleet (based out of Sevastopol) received six submarines, two frigates (the Admiral Gorshkov and Admiral Essen, which took part in Russian military operations in Syria) equipped with Kalibr cruise missiles, and three divisions of costal missile complexes Bal and Bastion. Gerasimov claimed these deployments are part of a strategy aimed at upgrading the military capabilities of the Southern Military District, which subsumes occupied Crimea (Rosbalt, November 7).
Sergey Ermakov, an analyst with the Moscow-based Russian Institute for Strategic Studies (RISS), has argued that Russia's primary strategic goal around the Black Sea is strengthening the military potential of the Black Sea Fleet (BSF), "which is the key factor precluding NATO [the North Atlantic Treaty Organization] and the United States from more decisive actions in the region" (Rueconomics.ru, November 7). Comparative analysis of recent developments on Russia's northwestern and southern flanks, however, undermines Ermakov's argument that Russia is only trying to bolster the BSF. Rather, it would be more accurate to say that Moscow's objective in Crimea is to complete the creation of an Anti-Access/Area-Denial (A2/AD) "bubble" on the shores of the Black Sea.
Experts have pointed to Russian efforts to build up a military presence in Crimea (see EDM, September 22, 2014; March 27, 2015) and establish an A2/AD zone on the peninsula since the annexation (see EDM, June 24, 2016). All too often, however, Western analysis has tended to regard Russian A2/AD efforts as defensive in nature. Yet, much as in the case of the A2/AD bubbles being developed in Kaliningrad and Syria, Russia's continuing aims in Crimea are in fact offensive (see EDM, March 4, 2016; November 1, 2017). Russia's A2/AD strategy—including in Crimea—combines information/cyber security (including Electronic Warfare), strategic air operations, an integrated air-defense system as well as naval superiority, with submarines playing a key role (this last element is not universally recognized by the expert community). The analysis presented below will seek to highlight the above-mentioned points with respect to the Crimean A2/AD bubble.
First, the domain of information/cyber security has received a huge boost in the past several months. Notably, Crimea has received a mobile Murmansk-BN coastal complex, which can disrupt radio communications at a range of more than 3,000 kilometers (5,000 km, according to Russia). Reportedly, it is effective against the High Frequency Global Communications System (HFGCS) employed by the US military (Tvzvezda.ru, March 10). In 2018, Russia is planning to deploy to Crimea an early-warning Voronezh-SM radar, which will be capable of monitoring both the southern and western vectors (Politexpert.net, August 15). For information-psychological warfare, the Crimean authorities are expected to soon raise a 151-meter radio antenna near Dzhankoy to broadcast television and radio signals covering Crimea as well as Ukrainian-controlled Nikolayev, Kherson, Zaporizhia and Donetsk Oblast. The main purpose will be to jam Ukrainian programs and spread Russian TV and radio content (Voenno-Promyshlennyy Kuryer August 9).
Second, in the domain of strategic air operations, in 2014 Russia established the 27th Mixed Aviation Division, consisting of three regiments located in Gvardeyskoye, Belbek and Dzhankoy. Russia claims that this division is unique within the Russian Aerospace Forces (VKS). More recently, Moscow has undertaken a comprehensive rearmament program encompassing the 43rd and 318th maritime/naval aviation regiments of the BSF (airfields located in Saki and Kacha, respectively) (Voenno-Promyshlennyy Kuryer, March 20). Yet, without the deployment of strategic bombers (such as the Tu-22M3), these measures will remain rather incomplete.
Third, Crimea's air-defense system has been boosted in recent years by the integration of S-300 (SA-10 Grumble) and S-400 (SA-21 Growler) anti-aircraft complexes (see EDM, January 18). Aside from this, local capabilities have been strengthened by the Pantsir-S1 (SA-22 Greyhound) short-to-medium-range surface-to-air missile (SAM) and anti-aircraft artillery weapons system, which particularly complements the S-400 (Tvzvezda.ru, October 24). And reportedly, Russia has also deployed to Crimea the Buk medium-range SAM system. The relative potency of local air defenses is inseparable from Russia's ability to promptly transport required pieces from other parts of the Southern Military District. The capability to do so was clearly demonstrated in November 2016, amidst the bilateral tensions over Ukrainian missile tests near Crimea (Tvzvezda.ru, August 10). Another factor that could have a profound impact on local military capabilities is the potential deployment of the Tor-M2 missile system. On November 9, this complex arrived in the 150th Rifle Division (based out of Rostov Oblast, on the border with eastern Ukraine), which means (on the basis of previous experience) that it could soon be anticipated in Crimea, too (Tvzvezda.ru, November 9, 2017). However impressive they might seem, these measures remain incomplete without Iskander-M complexes. The Iskander-M short-range ballistic missile is an essential element of Russia's broader A2/AD strategy—repeatedly and explicitly demonstrated in Kaliningrad, for example. But despite numerous rumors presented by Ukrainian sources (Censor.net.ua, June 3), there is no concrete supporting evidence that Iskanders had been permanently deployment to the Crimean peninsula for now.
Analysis of Russian activities during 2014–2017 emphasizes Russia's clear determination to turn Crimea into a new-style, offensively oriented A2/AD bubble. Yet, the process remains incomplete, and further progress will greatly depend on both internal and external developments—including NATO's posture.
The continued militarization of Crimea also brings into focus Russian perceptions of neighboring NATO members posing a regional containment threat. Analysis of Russian sources suggests that the Kremlin's apprehension of Turkey is subsiding due to the ongoing bilateral rapprochement (see EDM, July 7, 2016; November 6, 2017). At the same time, in the eyes of Russian military strategists and experts, Romania is increasingly seen as a concern to Russia and its regional aspirations. RISS analyst Ermakov argues, "Romania is currently perceived by the North Atlantic bloc as a pivot and a center for containment of Russia in the entire Black Sea region" (Riss.ru, November 9). If Moscow has truly internalized such a viewpoint, this also suggests that, unlike in Kaliningrad (contained by the Baltic States and Poland), Russia does not perceive the need to rush to develop the Crimean A2/AD bubble given NATO's relatively weaker presence in the Black Sea region.