Russia Launches International Tender for Warship Procurement
Publication: Eurasia Daily Monitor Volume: 7 Issue: 162
By: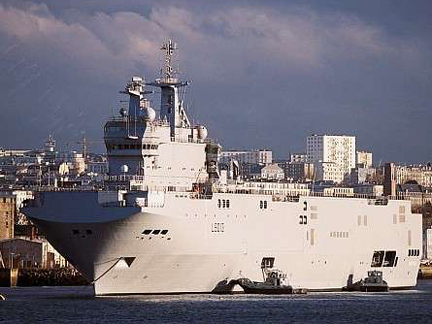 On September 7 in Paris, a regular session of the Franco-Russian Council for Security Cooperation turned into another French embarrassment over Russian procurement of Mistral-class warships. Russia is using bait-and-switch tactics. The defense and foreign affairs ministers, Anatoliy Serdyukov and Sergei Lavrov, officially informed their French counterparts and President Nicolas Sarkozy that Moscow is launching an international tender for the construction of two Mistral-analogue power-projection ships for the Russian navy. Shipyards from at least two other NATO countries and Russia are being invited to compete, alongside the French, for Moscow's procurement order (Interfax, September 8, 9).
The tender is meant, in the short term, to pressure Paris over the financial and technical terms of the Mistral deal. Beyond the short term, however, the tender seeks to broaden Russia's options for naval and other military procurement in Western countries.
Serdyukov had first disclosed this tender on August 20 in Yerevan, in the presence of Russian President, Dmitry Medvedev, on the occasion of prolonging Russia's military basing rights in Armenia for some 40 years (ITAR-TASS, August 20). No Western government or organization has ever commented on the interrelationship between Moscow's moves in Armenia, the extension of the Russian Black Sea Fleet's basing rights in Ukraine also for some 40 years, the occupation of Georgian territories, and Moscow's rearmament program, including procurement of these warships designed for offensive operations. Washington and Brussels seem loath to draw the conclusions from this pattern; the French president and government look eager for the deal with Russia, envisaging four Mistral-class warships; and some European arms producers seem poised to profit from Russia's rearmament program –an integral part of that country's modernization.
Moscow has not yet disclosed the conditions for its naval tender. According to Russian officials, proposals to participate have been sent to Dutch, Spanish, and South Korean shipyards, as well as to Russia's United Shipbuilding Corporation (OSK) to enter the contest, alongside the French naval industry. Russia is considering acquiring warships of the Johan de Witt class (Dutch), Juan Carlos class (Spain) and Dokdo class (South Korea), as well as the French Mistral class. These are amphibious and airborne assault warships, carrying troops with armored vehicles and helicopters for offensive operations. The electronics of these ships include certain US-made components, the transfer of which to Russia (or to other non-NATO countries) would necessitate US clearance (Interfax, August 22, 24, September 3, 8).
The tender is for the construction of two warships for Russia (whereas the negotiations with France envisage four ships, their construction to be shared more or less equally among French and Russian shipyards). Presumably, Moscow would award half of the construction work to the foreign winner of this tender. The case of Russia's OSK, however, looks even more intriguing. According to its spokesman, the government-controlled OSK would participate in the tender "probably in cooperation with two foreign partners" (Interfax, August 22, 26) –an indirect admission that Russia is not capable of building ships of this class or even competing in the tender without foreign assistance. According to Russian Deputy Prime Minister, Igor Sechin, the Admiralty Shipyard (Admiraliteyskie Verfi) in St. Petersburg has been designated as the main Russian contractor for this project (ITAR-TASS, August 31). Sechin's multiple posts include that of chairman of the board of OSK and head of the interdepartmental commission for this warship procurement deal.
The French warship deal, if ultimately signed, could by itself create the precedent for NATO countries' arms producers and governments to sell modern arms to Russia, undermining NATO itself. Moscow's initiative to launch the international tender is designed to accelerate and, potentially, generalize movement in that direction. It seeks to incentivize other Western countries, beyond France, to participate in Russia's rearmament. It aims to create more vested-interest constituencies within Europe for special bilateral relations with Russia, including the military-industrial sector, circumventing the NATO alliance. Until now, France had become a distant and controversial front-runner in its eagerness to sell warships and some other arms to Russia. Now with an international tender, involving several NATO countries, all to compete for Russian defense ministry procurement orders, Moscow seeks to create an even larger precedent for bilateral arms deals.
Moscow must regard the timing of its initiative as uniquely propitious. Crisis-hit European governments are slashing military procurement orders, forcing national arms industries to look for new markets. The prevailing ideology in Western Europe (promoted also by NATO rhetorically) claims that the use of conventional military power is a thing of the past, ignoring however the re-expansion and entrenchment of Russian military power in Europe's eastern neighborhood. In the case of warship construction, which is manpower-intensive, the French regard it as an employment-generating measure at this time of crisis; and other West Europeans may also treat Russian arms procurement offers as coveted business opportunities. Russia seeks to capitalize on the West's temporary crisis, scoring gains and setting precedents that can endure after the Western recovery. NATO leaders apparently stifle debate on these issues, Washington seems to ignore their implications, and the Alliance's upcoming summit looks set to pass them over in silence.