RUSSIA LAUNCHES NEW STRATEGIC SUBMARINE
Publication: Eurasia Daily Monitor Volume: 4 Issue: 76
By: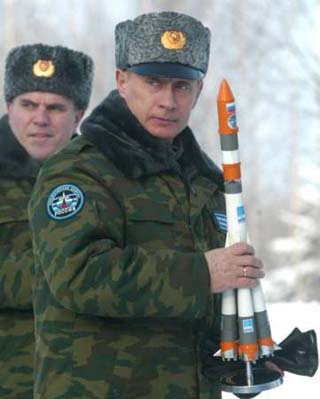 The Russian nuclear shipbuilding industry celebrated two successes on Sunday, April 15. At Sevmash — Russia's largest nuclear submarine-building shipyard — in Severodvinsk, located north of Moscow on the White Sea, First Deputy Prime Minister Sergei Ivanov officially launched the first of the Borei class (project 955) nuclear strategic subs. Later that day the chief of the Federal Atomic Energy Agency (Rosatom), Sergei Kiriyenko, inaugurated the building of Russia's first floating nuclear power station.
The new submarine, the Yuri Dolgoruky, is reported to be 82% complete and should embark on its maiden voyage by October. Russian President Vladimir Putin asked Ivanov to prepare a list of ship-builders and military personnel worthy of state commendation for bringing the sub to completion. Putin declared the launch of the Yuri Dolgoruky to be "an important and nice event for our Armed Forces and the entire nation" (Itar-Tass, April 16).
At the ceremony in Severodvinsk, Ivanov described the Yuri Dolgoruky as "the first truly Russian ballistic missile nuclear submarine." The previous strategic nuclear sub Novomoskovsk — the last of the Delta-4 class — was completed in 1992 after the Soviet collapse, but was built mostly in Soviet times. After approving the official launch Ivanov announced, "It is much more pleasing to sign such documents than international agreements" and added, "now we [know] what to defend and what to defend with" (RIA-Novosti, April 15).
Many in Moscow consider Ivanov to be a leading candidate to succeed Putin as the next president of Russia. Based on his latest remarks, Ivanov does not seem to be a fan of international arms control agreements and, as president, he might prefer to launch new nuclear arms systems instead. Deputy Defense Minister Army General Alexei Moskovsky told journalists in Severodvinsk that by 2017 Russia will have eight new Borei-class nuclear subs that will replace the present fleet of seven Delta-4 class subs (RIA-Novosti, April 15).
This ambitious rearmament plan has at least one serious drawback: the Yuri Dolgoruky is designed to carry the new Bulava (SS-NX-30) sea-based intercontinental ballistic missile, which is not ready for production and deployment. The last four test launches of the Bulava in September, October, November, and December last year ended in explosions after take-off (see EDM, September 11, 2006, November 1, 2006, and March 7, 2007).
The main designer of the Bulava, Yuri Solomonov, insists that all the mishaps will be overcome and the new ICBM will be delivered "on time." However, Solomonov complains that some of the Russian-made components and materials used to construct the Bulava are of inferior quality and that key Soviet military technologies are "being lost." Solomonov accuses the Russian government of not doing anything to stop the constant degradation of the Russian defense industry (VPK, April 4).
The future of the Bulava is in doubt, and Russian military chefs openly contradict each other in discussions about what comes next. In Severodvinsk the chief of the navy, Admiral Vladimir Masorin, told journalists that the next test of the Bulava will be in June, while in the same place and day General Moskovsky insisted it will be July or later (RIA-Novosti, April 15).
If the remaining Bulava test launches are successful, serial production and arming of the Yuri Dolgoruky may happen in the next few years. However, further mishaps may postpone full production indefinitely, rendering the new Borei class subs useless, highly expensive items.
Even in a best-case scenario, the prospects of Russian nuclear rearmament are not as optimistic as Ivanov and Putin imply. The Bulava payload is 1.15 tons and the Yuri Dolgoruky is reported to have 12 missile silos. A U.S. Trident II D-5 ICBM can carry an 2.8-ton payload and an Ohio-class sub has 24 silos. The future Russian fleet of eight Borei-class subs will be equivalent by payload capability to two Ohio-class subs. Washington plans to have ten such subs with Trident II D-5 ready by 2012, while at least four others will be converted to carry conventional missiles. This large disparity unnerves the Russian military, especially as Britain has announced plans to build four new strategic subs with Trident II D-5 ICBMs (Nezavisimoe voennoe obozrenie, February 16).
It may turn out that Russia will have a sea-based nuclear strategic potential five times smaller than that of the United States, and two times less than that of Britain. And these figures assume that the Bulava will eventually become a reliable weapon. At present, the Russian Defense Ministry does not seem to have any emergency back-up plan to replace the Bulava if it utterly fails.
There have been reports that Borei-class subs may eventually have 16 ICBM silos instead of 12 (Nuclear Status Report, 2002, www.carnegie.ru). But this increase will not change the fact that in the next decade the Russian sea-based, land-based, and air-based strategic nuclear potential will decline dramatically. Russia is steadily sliding from its Cold War position of nuclear parity with the United States to a position where it will be on par with second-tier nuclear states like Britain, France, and China, with India, Pakistan, Iran, and Israel rapidly catching up.
Such a nuclear downgrading of Russia may be in line with the country's current economic and technological potential, but it is a fact that Russian political and military leaders find hard to swallow. In time, Ivanov or another "successor" may realize that international agreements sometimes are better than a bunch of rusty nukes, but it is impossible to predict when Russia's leaders will realize that fact.