Russia Launches 'Passportization' in Occupied Ukrainian Donbas (Part Two)
Publication: Eurasia Daily Monitor Volume: 16 Issue: 64
By: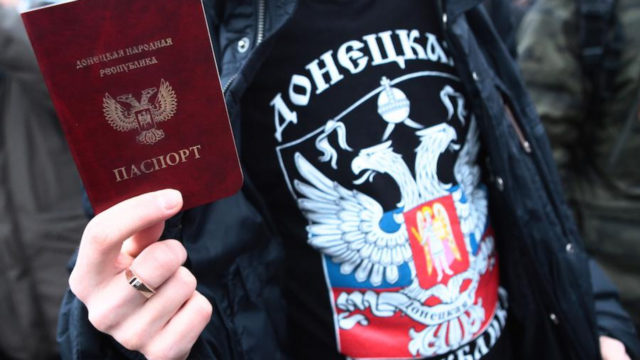 The Kremlin's decree, offering Russian citizenship ("passportization") to residents of the Russian-occupied Donbas (eastern portions of Donetsk and Luhansk provinces), is the latest in the series of legislative and economic moves to wrest this territory from Ukraine in real terms, absorbing it de facto—though not yet officially—into Russia.
Moscow has, from 2014 to date, entrenched its military and its security services into this part of Ukraine, set up two "people's republics," suffused them with Russia's neo-nationalist ("Russian World"—"Russkiy Mir") propaganda, introduced Russia's school curricula and textbooks, and launched the ruble currency into circulation in this territory. The language policy has practically excluded the Ukrainian language from the public sphere. The two "republics" have "nationalized" Ukrainian public and private property, including industrial plants and coal mines, placing them under the central management of Moscow officials via Vneshtorgservis, a Russian holding formally registered in the occupied Georgian territory of South Ossetia. The Russian government has recognized the validity of identity documents ("passports") issued by the two Donbas "republics" to their local residents ("citizens") since 2017. And on April 24, 2019, Russian President Vladimir Putin's decree offered the real thing—Russia's own citizenship—to the Russian-occupied Donbas residents, en masse, under a simplified procedure (see Part One in EDM, May 1).
The cumulative effects of these moves are heavily prejudicial to any peace settlement, including one based on the Minsk ceasefire terms. The Kremlin is building a fait accompli by assimilating this territory of Ukraine into Russia, ahead of any peace settlement.
Russia's passportization in the occupied areas of Donetsk-Luhansk blurs the difference that Russia has until now affirmed to exist between Donbas and Crimea, at least in legalistic (if not legal) terms. While insisting that Crimea's incorporation into Russia since 2014 is irreversible and non-negotiable, Moscow has equally insisted that the Russian-controlled Donbas be returned to Ukraine by negotiation, under certain Russian-imposed conditions (the Minsk terms).
Moscow has based that distinction, in part, on the twin arguments that Ukraine has obligations toward its citizens in the Russian-controlled Donbas, while Russia is obligated to protect the safety and welfare of its own citizens in Crimea. Indeed, Russia had started "passportizing" Crimea's residents (citizens of Ukraine) well before 2014, and completed that operation quickly after the annexation. Crimea was, until now, the only Russian-passportized part of Ukraine. Now, however, the Kremlin is starting to equalize the Russian-controlled Donbas with Crimea in terms of passportization and the ensuing "obligations" of Russia to its newly-made citizens.
Passportization in the Donetsk-Luhansk territory gives Russia a new pretext for its military presence—namely, to "protect Russia's citizens," with a potential for offensive military operations to "defend Russia's citizens," as in the Georgia 2008 and Crimea 2014 scenarios.
On the propaganda level, the Kremlin suggests that the passportization program is one that substantiates its Russian World idea. President Putin announced, "We are thinking about giving our citizenship through the simplified procedure to citizens of Ukraine generally" (Interfax, April 27). And he commented (again) that "Russians and Ukrainians are essentially one people, with varying peculiarities in language and culture" (Rossiya 24 TV, Interfax, April 29). Putin's aide Vladislav Surkov (key actor on policy toward Ukraine) asserted, "This [program] is Russia's obligation to Russian-speaking and Russian-thinking people" (TASS, April 24). Top television propagandist Pyotr Tolstoy explained that passportization represents "the future of the young generation of the Russian people who live in this territory. Of course this is a signal not only for Donbas, but for all those Ukrainians who regard themselves as part of our wider Russian World" (Russian TV Channel One, April 28).
Putin and other Russian officials are pointing to Hungary and Romania, each of which has granted its citizenship to Ukraine's ethnic Hungarian and ethnic Romanian citizens, respectively; as well as Poland, which has granted the "Pole's Card" (less than citizenship) to its kinsmen in Ukraine. Equating these cases with Russia's passportization, Putin declared, "Russia will give its passports to Russians in Ukraine as well as those Ukrainians who feel that their ties with Russia are unbreakable" (TASS, April 25). Russia's envoy to the United Nations, Vasily Nebeznya, repeated Putin's defense in the UN Security Council's emergency session that Ukraine had called to remonstrate against Russia (Interfax, April 25). Putin's defense does not acknowledge, however, that Russia's passportization is an aspect of its multi-dimensional assault on the Ukrainian state and nation.
From Kyiv's standpoint, passportization in Donetsk-Luhansk confirms Russia's "real role as an occupying state and aggressor state, waging war against Ukraine," according to statements from President-Elect Volodymyr Zelensky and his team (Ukrinform, April 24, 27). Kyiv further characterizes the passportization as a new dimension of Russia's "creeping annexation" of Ukrainian territory. Statements from the outgoing and incoming presidents, Petro Poroshenko and Zelensky, and their respective teams are practically indistinguishable in this regard.
Western reactions to the launch of Russia's passportization in the occupied Donbas are feeble as usual. Yet, given Russia's recidivist action, more serious reactions would have been warranted. Reactions from Brussels, Berlin, Paris and Washington share the following weaknesses in common: First, the reactions came merely from the ambassadorial level (in Kyiv or at the UN) and spokespersons for ministerial-level officials, without carrying the weight of ministers or governments. Second, the statements are limited to long-accustomed expressions of concern. Third, they have nothing to propose but observance of the Minsk "agreements." Fourth, yet again they ignore Kyiv's appeals (this time from both the outgoing and the incoming presidential teams) to react with sanctions on Russia.
And fifth, Western governments ignore or overlook the continuity in Russia's actions from the passportization in Abkhazia and South Ossetia (followed by Russia's military intervention against Georgia in 2008, "defending its citizens") to the passportization in Donbas, this time preceded (not followed) by military intervention against Ukraine, and entrenching Russia's military presence to "protect its citizens."
A serious Western response this time around would highlight the continuity in Russia's passportization operations against Georgia, Moldova (in Transnistria) and Ukraine (in Crimea and Donbas), so as to expose the pattern in Russia's conflict undertakings, and Russia as a systematic recidivist aggressor. Acknowledging the comprehensive nature of the problem would require the West (collectively) to take the next step by adding sanctions on Russia. The Crimea-related sanctions, however, seem to have exhausted Europe's capacity to add any meaningful sanctions. Hence, the West prefers to handle each case of Russian aggression and escalation as an isolated case, reacting on an ad hoc basis to Russia's systematic actions.