Russia Mends Energy Ties with Turkmenistan and Azerbaijan
Publication: Eurasia Daily Monitor Volume: 7 Issue: 8
By: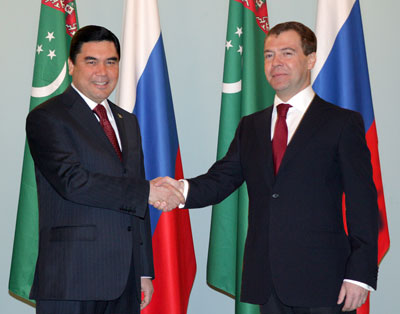 Moscow has moved to revive its gas partnership with Turkmenistan and started unprecedented gas imports from Azerbaijan. However, Russia now faces Iranian competition in its gas dealings with both Caspian nations. This month, Russia's gas giant Gazprom restarts gas imports from Turkmenistan. On December 31, Gazprom announced that Turkmengaz would resume gas supplies to Russia from January 9. This year, Gazprom plans to purchase Turkmen gas at $240-250 per thousand cubic meters (tcm).
On December 22, Russian President Dmitry Medvedev and his Turkmen counterpart Gurbanguly Berdimuhamedov met in Ashgabat and signed an agreement to expand bilateral "strategic" energy cooperation. After the meeting, Medvedev expressed hope that the agreements would give bilateral energy cooperation a much needed boost (Interfax, RIA-Novosti, December 22).
Also, on December 22, Gazprom's deputy head Alexander Medvedev and Turkmengaz CEO Nary Mukhamedov signed an agreement on the resumption of Turkmen gas supplies to Russia between January 1-10, amounting to 30 billion cubic meters (bcm) annually. Both sides will use a price formula that reflects the realities of the European gas market, Medvedev said, but declined to elaborate (Interfax, December 22). Therefore, Gazprom and Turkmengaz amended their long-term gas supply contract signed in 2003.
After the April 9 explosion on Turkmenistan's Davletbat-Daryalik pipeline, also known as Central Asia Center (CAC)-4, near the border with Uzbekistan, Gazprom halted imports of Turkmen gas. Initially, Ashgabat insisted that the blast was caused by Gazprom's violation of its gas supply agreement and indicated plans to seek financial compensation. Subsequently, Turkmenistan toned down its accusations and no longer mentioned claiming any compensation from Gazprom. Before April 2009, Turkmengaz was supplying 50 bcm of gas annually to Russia.
The rift between Moscow and Ashgabat came as a departure from Russian and Turkmen pledges to develop their "strategic" relationship. Since April 2009, both countries refrained from mentioning the planned Pricaspiysky gas pipeline, designed to supply more Central Asian gas to Russia. They also failed to sign an agreement on the "East-West" 600-kilometer link that was expected to connect eastern Turkmenistan with the Pricaspiysky pipeline at an estimated cost of $1.5 billion.
The gas dispute between Russia and Turkmenistan apparently undermined the planned bilateral gas pipeline projects. However, on December 22 Gazprom's Alexander Medvedev claimed that both sides had reiterated their interest in the joint development of the Pricaspiysky and East-West gas pipeline projects. However, there was no confirmation from Turkmen officials. Moscow's gas deal with Ashgabat followed the inauguration of the Turkmenistan-China pipeline. This pipeline project indicated that Ashgabat had managed to develop alternative gas export routes to China and Iran. In the immediate aftermath of the April 9 blast, Turkmen authorities lost no time in pursuing alternative gas export opportunities. On April 15, Turkmen state-owned Turkmengaz dispatched a mission to Tehran to negotiate with Iranian officials on gas export prices and joint investments in the development of Turkmenistan's gas deposits.
It was not coincidental that in the wake of the renewed gas deal with Russia and the launching of the Turkmenistan-China pipeline, Ashgabat moved to open a new gas export route to neighboring Iran. On January 5-6, the Iranian President Mahmoud Ahmadinejad traveled to Turkmenistan to inaugurate the bilateral gas pipeline project. During their bilateral talks, both sides pledged to raise the annual trade turnover to $10 billion, up from $3 billion in 2009.
On January 6, Berdimuhamedov and Ahmadinejad witnessed the launch of the 30-kilometer Dauletaban-Khangeran pipeline that was built in the past six months. They reportedly hailed the project as designed to diversify gas transit routes. It has a capacity of 6 bcm annually that would be eventually raised up to 12 bcm per year. The new pipeline would allow Turkmenistan to raise its total gas supply capacity to Iran up to 20 bcm per year, including the existing pipeline capacities. Iran reportedly plans to purchase 14 bcm of Turkmen gas this year, up from 8 bcm in 2009.
Meanwhile, Moscow has clinched a gas supply deal with yet another Caspian energy supplier, Azerbaijan. From January 1, Gazprom started purchases of 1 bcm of gas annually from Azerbaijan. In October 2009, Gazprom and Azerbaijan's state-run energy giant SOCAR signed a gas supply contract for 2010-2014 on gas supplies to Russia. Before 2007, Azerbaijan was importing 4.5 bcm of gas per year from Russia. However, in the past three years the development of its own gas deposits has allowed Azerbaijan to become a gas exporter.
In 2009, Moscow pushed for a gas supply agreement with Azerbaijan. On April 17, President Medvedev met his Azerbaijani counterpart Ilham Aliyev in Moscow to discuss the deal on natural gas sales. Gazprom and SOCAR were previously expected to clinch a deal in May, following their memorandum of understanding which was signed on March 27, 2009 on Azerbaijan's possible gas supplies to Russia from January 2010.
In parallel, Azerbaijan has also sought to diversify its gas export routes by aiming to start gas exports to Iran soon. In December 2009, SOCAR agreed to supply 2 bcm of Azeri gas per year to Iran from 2010. Therefore, Moscow has pursued securing gas supply agreements with Ashgabat and Baku in an apparent bid to sustain its energy clout in the Caspian region. However, Gazprom now faces serious Iranian competition in its regional gas dealings.