Ukrainian Presidential Election: the Fear of Vote-Rigging
Publication: Eurasia Daily Monitor Volume: 7 Issue: 8
By: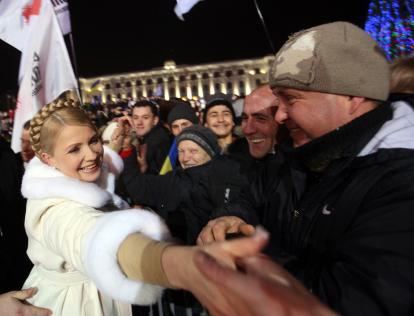 Closer to the January 17 presidential election, the front-runners have grown suspicious of each other. Prime Minister Yulia Tymoshenko and Party of Regions (PRU) leader Viktor Yanukovych, who as opinion polls predict should both make it into the runoff on February 7, have accused each other of harboring plans to meddle with the election results. Tymoshenko suspects that Yanukovych will organize vote rigging like his team reportedly did in 2004, when he was eventually defeated by Viktor Yushchenko on a wave of popular protests known as the Orange Revolution. Also, the protests may be repeated as farce: Yanukovych's supporters are preparing to take to the streets of Kyiv if necessary.
It is interesting that everything seemed calm only several weeks ago. Andry Portnov, a key legal adviser to Tymoshenko, told 5 Kanal on December 8 that there were no reasons to expect massive irregularities. He also said that Tymoshenko's party was happy with the current election law and did not plan to propose any amendments to it. Everything changed after January 4, when the Central Electoral Commission (TsVK) decided in a vote of 8-4 with two abstentions that home voting would be allowed for those citizens who are willing to vote, but cannot physically make it to the polling stations. Portable boxes will be used for such voters, and they will not be requested to show medical certificates to prove their disabilities.
Tymoshenko immediately claimed the "corrupt" TsVK would rig the ballot by using home voting. According to her, this will result in ballot papers being thrown in en masse as happened in 2004 to help Yanukovych win. Tymoshenko appealed against the TsVK's decision in court (UNIAN, January 5), adding that she has asked international organizations to send more monitors to prevent vote rigging (Ukrainska Pravda, January 7). It is believed that the majority of TsVK are Yanukovych's supporters, so Tymoshenko has reasons to be nervous. Warnings came from Tymoshenko's Crimean headquarters, whose manager said that an unusually large number of requests for home voting were received on January 5-6. He predicted that the PRU could "organize" some 200,000 votes in its favor using home voting in Crimea alone (UNIAN, January 6).
People directly involved in the election process have appealed for calm. Oleksandr Chernenko, the leader of the Committee of Voters election watchdog, noted that TsVK's decision on home voting was fully in line with the election law for which Tymoshenko's party had voted in parliament (UNIAN, January 7). TsVK Chairman Volodymyr Shapoval warned against making unsubstantiated accusations of ballot rigging. He said he knew of no cases involving an official accused of election irregularities being named or their guilt proven. He called on the law-enforcement bodies to provide names and open criminal cases if they found anything (Interfax-Ukraine, January 11).
The Security Service (SBU) head, Valentyn Nalyvaychenko, announced at a press conference on January 11 that certain violations were found in eastern Ukraine. As is known, the eastern regions are Yanukovych's stronghold. Nalyvaychenko did not say which party representatives were caught red-handed, but he spoke about the nature of those irregularities. According to Nalyvaychenko, certain election commission heads ordered commission members to canvass for one candidate, others tried to bribe vote counters. Also, non-existent streets and names ("dead souls") were found in local voter registers (Kommersant-Ukraine, January 12).
Earlier, President Viktor Yushchenko warned that one candidate was going to stage a mass throwing-in of fake ballot papers and as many as two million might appear on January 17. Yushchenko hinted that he meant Tymoshenko. He said this would be logical as Yanukovych will reach the runoff stage, according to opinion polls. However, Yushchenko predicted that the PRU will resort to falsifications in the runoff (UNIAN, January 4). The most well-known method is the so-called carousel, where the same people cast ballots several times at several polling stations, the Russian election observer Aleksandr Torshin noted. Equally, he noted that Tymoshenko's team had more than enough registered observers to prevent irregularities (Interfax, January 7).
The PRU also fears irregularities. PRU people's deputy Valery Bondyk predicted that the policemen present at polling stations would turn a blind eye to carousels organized by Tymoshenko's supporters because the Interior Minister Yury Lutsenko is her ally. He also claimed that he personally knew of cases where people allegedly attempted to buy votes for Tymoshenko, and local election commission members were offered money for vote-rigging (Segodnya, January 11).
Meanwhile, the interior ministry said that the PRU applied to the Kyiv mayoral office for permission to hold mass protests starting from January 17. The PRU plans to picket the government and parliament buildings. Officially, the goal of the event as proclaimed by the party is to explain the need to respect the constitutional rights of citizens in the election (UNIAN, Ukrainska Pravda, January 5). Apparently the PRU is preparing for a bad result for Yanukovych and the protesters may claim that the ballot was rigged. Tymoshenko also may consider a repetition of the Orange Revolution. Her right-hand man, First Deputy Prime Minister Oleksandr Turchynov, warned that if "massive falsifications" take place, this would be "our organization issue, and people will defend their choice once again" (TVI, January 10).