RUSSIA-MOLDOVA GAS ARMISTICE: A PRECEDENT FOR OTHERS?
Publication: Eurasia Daily Monitor Volume: 3 Issue: 12
By: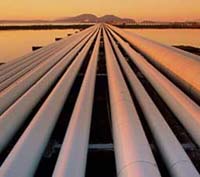 On January 16 in Moscow, Gazprom and Moldova agreed on the terms of a temporary resumption of gas supplies. The agreement, signed by Gazprom president Aleksei Miller and Moldovan First Deputy Prime Minister Zenaida Greceanai, is only valid for the first quarter of 2006. Gazprom had totally halted the supplies on January 1, demanding a 100 percent price hike from $80 to $160 per one thousand cubic meters, although apparently preparing to leverage that demand into Moldovan concessions on other issues.
In contrast to Ukraine, Moldova refuses to deal with the Rosukrenergo company. Due to the secrecy and widespread allegations of corruption surrounding it, Moldovan officials insisted on keeping Rosukrenergo out of Moldova. This sets an example for Georgia and Armenia, where Gazprom—in cooperation with Kyiv under their January 4 agreement— intends to market Central Asian gas through Rosukrenergo.
President Vladimir Voronin's published instructions to Moldovan negotiators set two top priorities: First, transparent and direct relations with the gas producer, excluding intermediaries. And, second, a compromise on the price: Moldova would agree to reach the $160 price level gradually within three to four years.
The agreement sets the price at $110 per one thousand cubic meters until April 1, to be re-negotiated for the subsequent period. This is a price jump, rather than the beginning of a gradual rise. With this, Moldova accepts the same price that Gazprom demands of Georgia and Armenia, and it is considerably higher than the $95 price temporarily offered to Ukraine by Gazprom. In negotiating with these countries, Gazprom will be able to cite the Moldovan-accepted price as a precedent.
There is no word yet about the volume of deliveries to Moldova during the period covered. Gazprom turned down Moldova's demand that the value-added tax be levied on those deliveries in accordance with the country-of-destination principle of the World Trade Organization (WTO). As a WTO member, Moldova has named the country-of-destination VAT collection as a condition of its consent to Russia's admission into the WTO.
Gazprom already owns a controlling stake of 50 percent plus one share in Moldovagaz. Under the January 16 agreement, Moldova turns over to Gazprom the 13.4 percent stake held by Transnistria's authorities in Moldovagaz. Last year, those authorities declared that they were seceding from Moldovagaz to form a separate Transnistrian gas distribution company, and offered to hand it over to Gazprom. The latter could not have taken it over legally, but can do so now, thus raising Gazprom's stake to 64.4 percent. For its part, Gazprom pledges to "preserve the structural unity" of Moldovagaz. Again, Gazprom will be able to cite Moldova's consent to this solution while negotiating with Armenia and Georgia and when it re-negotiates the price with Ukraine.
Given that the transit pipelines originating in Russia cross Transnistria before reaching Moldovan-controlled territory, Tiraspol can theoretically close the valves on the gas supply to Moldova. Thus, from Chisinau's standpoint, control of those valves by the legally accountable Gazprom seems preferable to control by the unaccountable Tiraspol. While this calculation may have some merit, it spells greater dependence on Gazprom, as well as perpetuation of that dependence in the event of Moldova's reunification with Transnistria.
Price arrangements limited to a few months (three for Moldova and Armenia, six for Ukraine) entail constant re-negotiations and ample opportunities for Gazprom to wring concessions out of these countries. One form of such concessions is the step-by-step transfer of assets and stakes in their energy sectors to Gazprom, as Moldova's case now shows. Moldova has negotiated this arrangement under duress.
The European Union seems to have turned a deaf ear to Moldova's requests for expert assistance in the negotiations with Gazprom. At Voronin's initiative, Moldova and Ukraine had jointly requested such EU assistance on January 3, and Moldova's EU-accredited mission in Brussels renewed that official request on January 15. The EU turned it down on the basis that the matter is a Russian-Moldovan bilateral matter, according to a EU Commission spokesperson (AP, BBC, January 16). The EU is now sending an expert to assess the energy situation in Moldova, but only after the Russian-Moldovan agreement was signed, so that the EU's move will not be interpreted as interference into Russia-Moldova relations.
(Moldpres, Interfax, January 16, 17; see EDM, January 4, 11)