RUSSIA NULLIFIES FRENCH-BROKERED ARMISTICE IN GEORGIA
Publication: Eurasia Daily Monitor Volume: 5 Issue: 159
By: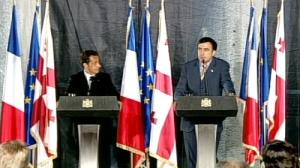 The Kremlin has already nullified the agreement on cessation of hostilities in Georgia, which French President Nicolas Sarkozy had brokered with Presidents Dmitry Medvedev in Moscow and Mikheil Saakashvili in Tbilisi on August 12-13 (see EDM, August 13, 18).
Russia has junked the six-point agreement in the traditional way of Russian and Soviet diplomacy in Europe's East: It eviscerates an international agreement of its content while preserving its carcass for continuing reference to excuse Kremlin actions.
Further along the traditional lines, Moscow demands new concessions in return for theoretical promises to respect an agreement already signed. And it demands Russian-controlled "mechanisms to guarantee" Georgian compliance with Russia's unilateral interpretation of the agreement, but rules out any countervailing or reciprocal means for the West and Georgia to obtain Russian compliance.
The agreement's points 1 and 2 — "no resort to force" and "permanent cessation of hostilities" — are implemented by Russia only in the sense that it no longer shoots or bombards Georgian troops and civilians. Russian troops, however, are blowing up bridges and other infrastructure on Georgian highways and railways, destroying Georgian military bases deep inside the country, and looting local Georgian civilian administrations at gunpoint — all of this under the Sarkozy-brokered armistice.
Point 3 in the agreement, "free access for humanitarian assistance and permission for refugees to return," has also been torn apart. Access is impeded by Russia's de facto naval blockade of Georgia's coast and interdiction of cross-country transport in Georgia, continuing under this "armistice." The few U.S. Air Force humanitarian assistance flights can not possibly cope with the magnitude of the task. The refugees' return — meaning, to all practical purposes, the evicted Georgians' return to South Ossetia — is being blocked by Moscow indefinitely. According to Russia's Ministry of Foreign Affairs, Georgian refugees might conceivably return to South Ossetia in the future, subject to lengthy political negotiations, and keeping in mind that Palestinian refugees have "not yet returned" (Russian MFA statement, Interfax, August 17). Last month, Russian Minister of Foreign Affairs Sergei Lavrov had used these same words to rule out the Georgian expellees' return to Abkhazia.
The agreement's 4th point, "Georgian troops are to return to the places of their regular stationing," seems largely compromised by the devastation of those bases deep inside Georgia, under Russian bombardment and looting before and during the armistice.
Point 5, "Russian forces shall withdraw to the positions [they had held] prior to the start of hostilities," has been repudiated by Moscow in two ways: by stationing and moving troops deep inside Georgia and by carving out "security zones" under Russian military control outside South Ossetia and Abkhazia. The Russians are creating de facto such a zone beyond Abkhazia and are demanding Western and Georgian acceptance of such a zone beyond South Ossetia. For this they cite part of the next clause in point 5 of the French-mediated armistice agreement: "Awaiting an international mechanism, Russian peacekeepers shall implement additional security measures." The French president and his minister of foreign affairs have allowed this loophole in the document, through which the Russians are biting off more chunks of Georgian territory.
Point 6, regarding negotiations toward a political settlement on South Ossetia and Abkhazia, lacks a reference to Georgia's territorial integrity and internationally recognized borders. Russia ruled out such a reference and Sarkozy bowed. Paris and Moscow both claim that recognition of "independence and sovereignty" is sufficient, being of a higher order than integrity and borders, and subsuming these. The peculiar manner of Russia's recognition of Georgia's independence and sovereignty seems sufficient for Paris to omit integrity and borders.
The Georgians yielded to Sarkozy's argument that failure to sign the document would immediately trigger the occupation of Tbilisi by Russian troops. By descending on Tbilisi with this argument straight from his tete-a-tete with Medvedev, the French president became in effect a messenger of Russian coercion of Georgia.
Even so, Georgian President Mikheil Saakashvili delayed signing the document until U.S. Secretary of State Condoleezza Rice arrived in Tbilisi on August 15 and advised Saakashvili to sign the document on the basis of American reassurances. According to Rice during her joint press conference with Saakashvili, the United States insists on "immediate withdrawal" of Russian troops and observance of Georgia's territorial integrity in South Ossetia and Abkhazia. In that Tbilisi press conference, Rice called repeatedly on Russia to withdraw the troops "immediately." From Washington and Crawford, U.S. President George W. Bush similarly called for troop withdrawal and supported Georgia's territorial integrity. German Chancellor Angela Merkel also endorsed explicitly Georgia's territorial integrity during her visits with Medvedev in Sochi and with Saakashvili in Tbilisi (international news agencies, August 15-17).
The United States, however, is not a party to the Sarkozy-brokered armistice; and the EU is a party only in a notional sense. The Elysee Palace and Quai d'Orsay have moved in this matter to elbow out the United States from a mediating role. Paris eagerly bought Moscow's argument that Washington could not serve as an objective mediator, although the same Paris officials did not challenge Moscow's qualifications as impartial peacekeeper.
Meanwhile, the Russian government and military are using the armistice agreement's loopholes to delay the withdrawal of troops and to justify the continuing predatory movements of Russian troops deep inside Georgia's territory. Moscow claims to be acting within the loose framework of the Sarkozy document, which sets no specific deadline for troop withdrawal and fails to defend basic Georgian interests.
The Medvedev-Sarkozy document reveals glaring procedural flaws. Presented by Sarkozy to Saakashvili for signing, and bearing Sarkozy's hand-written inserts, the French-language document was evidently typed by the Russians and handed to Sarkozy during his Moscow visit. The tell-tale signs are obvious. The document's preamble names Medvedev first and Sarkozy second, and misspells "Sarcozy." The body of the document contains several errors of French grammar and style. The Russians added, in French, the fatal points 5 and 6, which did not figure in French Minister of Foreign Affairs Bernard Kouchner's four-point draft. In sum, the Elysee Palace seems to have rushed into a diplomatic misadventure.
The United States, the European Union on the institutional level, and NATO need to step in. They need to protect Georgia in their own strategic interests.