Russia Plans to Strengthen the Black Sea Fleet
Publication: Eurasia Daily Monitor Volume: 7 Issue: 218
By: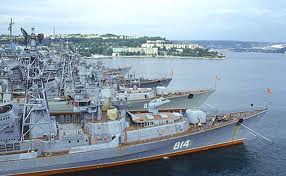 The April 2010 extension of the Black Sea Fleet (BSF) treaty base in Sevastopol until 2042 or 2047 has three ramifications for Ukraine's democracy, its relations with Russia, NATO and the EU. Russia now has an investment in President Viktor Yanukovych staying in power at least for two terms until 2020 and possibly longer. The opposition has stated their intention of annulling the treaty extension if they receive a majority in parliament in the September 2012 elections. Moscow, therefore, has a direct interest in supporting democratic regression in Ukraine and the coalescence of an authoritarian managed democracy around Yanukovych and the Party of Regions.
Moreover, the treaty being extended has psychology changed Moscow's attitudes towards the Sevastopol base into a long-term, de facto strategic asset. "I am quite sure that the Russian Black Sea Fleet will stay in Ukraine until doomsday," Kirill Frolov, an expert with the official Russian Institute of Commonwealth of Independent States, asserted (Christian Science Monitor, October 25).
Moscow's psychological shift, in turn, is spurring investment in modernizing the BSF into a combat ready fleet. Russia and Ukraine signed a protocol in Yalta whereby Russia promised to provide information on numbers of BSF personnel, aircraft and vessels. The two countries defense ministries would soon sign an agreement to replace out-dated BSF equipment (Krymskaya Pravda, October 21).
On October 25, Moscow announced that it would modernize the BSF over the next decade with the addition of eighteen new warships, the first modernization of the BSF since the 1970's. These will include six frigates, six submarines, two giant troop-landing ships, and new squadrons of naval aircraft. President of OSK (Russia's United Shipbuilding Corporation), Roman Trotsenko, admitted that currently the BSF has only one combat-ready submarine but that the addition of four to six submarines would change the BSF significantly. "The Black Sea Fleet is very interesting for us. We are planning to build four to six corvettes and some four to six diesel-electric submarines and the first of them will be built at the Admiralty Shipyards," Trotsenko said (www.nr2.ru, September 30).
The BSF's naval aviation is inferior in quality and quantity to Russia's Pacific Fleet, Aleksandr Otroshchenko, the commander of the BSF naval aircraft, admitted. The BSF's aging aircraft has been in service for decades and lacks qualified personnel, fuel, lubricants and spare parts (https://sevastopol.su/, October 10). Protests over wage arrears are common among personnel in the BSF, particularly by Ukrainian citizens. A recent protest by 29 Ukrainians was over 2 million hryvni ($250,000) unpaid wages. Another protest by 60 workers picketed the BSF construction department office in Sevastopol demanding unpaid wages (Sevastopolskaya Gazeta, October 14).
Valeriy Saratov, the head of Sevastopol's State Administration, complained that the city's expectations had not been met by the April treaty extension. New orders have not been given to local repair and construction companies which are in a "dire condition." The BSF also owed the city a large amount in arrears for utilities (UNIAN, September 10).
The third ramification is that Ukraine's membership of NATO is ruled out as long as Yanukovych and the Party of Regions remain in power and guarantee the de facto permanent basing of the BSF base. Yanukovych is the first of four Ukrainian presidents to oppose Ukraine joining NATO. The modernization of the BSF would have security implications for NATO members Turkey, Romania and Bulgaria, and for Georgia. BSF vessels were used in the August 2008 Russian invasion of Georgia which prompted protests by the then President Viktor Yushchenko, who supported Georgia.
The drive towards a managed democracy and the changing strategic balance in the Black Sea will be accompanied by ending Ukraine's Euro-Atlantic integration. With NATO membership no longer sought by Kyiv, Ukraine's possibility of signing a Deep Free Trade Agreement and obtaining EU membership will be placed on an indefinite backburner if democratic regression continues to undermine this objective. NATO and EU membership closed to Ukraine means Russia will have achieved its objective of ensuring Ukraine's only integration option is the CIS.
EU diplomats are exasperated by Kyiv's belief that it can pursue domestic democratic regression and continue its European integration. Yanukovych failed his first "democracy test" on October 31 when the Organization for Security and Cooperation in Europe (OSCE), Council of Europe, EU and US criticized the elections as not meeting democratic standards. The long-term BSF base will restrict Ukrainian options for joint military exercises. Inevitably, a greater number will eventually be undertaken with Russia. In October, Ukraine and Russia held the Peace Fairway naval exercise that involved the landing of troops and a search and rescue mission. "It is necessary to enlarge the number of participants, and to involve aviation, submarine and surface fleets," Defense Minister, Mykhailo Yezhel, said (UNIAN, October 20).
Between 1994 and 2009 Ukraine was one of the most active countries in NATO's Partnership for Peace (PfP) program. But, the Party of Regions has always adopted a multivector approach towards PfP. When in opposition the Party of Regions aligned with the extreme left and Russian nationalists to oppose security cooperation with NATO and the US while in power they have supported these exercises. It is therefore disingenuous of Yanukovych to say in Paris that relations are "comfortable for both Ukraine and NATO. They are open and honest, at least" (Interfax-Ukraine, October 8).
Russia will seek to pull Ukraine into CIS security structures. Ukraine's state-owned arms export agency is headed by a Russian citizen and Party of Regions member, while the head of Yanukovych's bodyguards is a Russian citizen (EDM, October 18). Defense Minister Yezhel's daughter is married to an admiral in the Russian Pacific Fleet, one reason why Moscow lobbied for his appointment (Vecherniye Vesti, September 28).
Russia and Ukraine plan to establish a joint venture between Russia's OAK (United Aircraft Construction Company) and Antonov (Vecherniye Vesti, October 15, Komentarii, October 22). A joint venture in shipbuilding has for the moment stalled, Prime Minister, Nikolai Azarov, said. "Vladimir Putin ordered that this issue should be studied," Azarov revealed (Interfax-Ukraine, October 10). Ukraine hopes to economically gain from the buildup of the BSF through shipbuilding orders and maintenance contracts.
Western policymakers did not criticize the April BSF treaty and have not recognized the close connection between the permanence of the base and the Yanukovych administration also remaining in power indefinitely at the cost of Ukrainian democracy.