Russia Plays Spoiler in the Most Recent 5+2 Talks
Publication: Eurasia Daily Monitor Volume: 9 Issue: 146
By: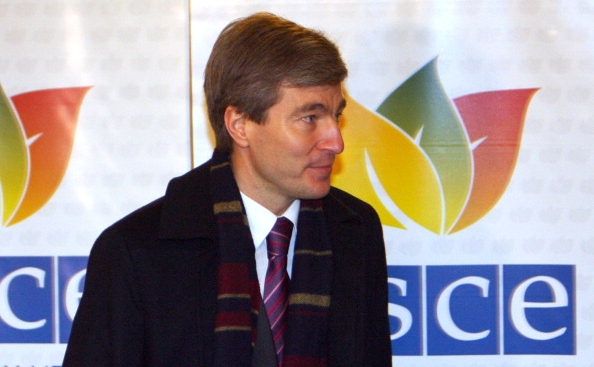 The veil of uncertainty obscuring the results of the latest official "5+2" talks on Transnistrian settlement, which took place on July 12-13 in Vienna, is getting thinner as new details about the meeting are being revealed. Apparently, the optimism with which Moldovan diplomats had entered these talks was grounded in high but unfounded expectations. A few days before the meeting, Eugen Carpov, the Deputy Prime Minster for Reintegration and Moldova's top negotiator on Transnistria, insisted that the debates on whether or not Chisinau and Tiraspol are co-equal parties in negotiations are over, as a documented compromise was in place (https://www.europalibera.org/content/article/24639734.html).
However, Mr. Carpov was promptly rebuffed just a couple of days later by Sergey Gubarev, the Russian Ministry of Foreign Affairs (MFA) envoy at the "5+2" talks, who demanded that the document the Moldovan chief-negotiator had referred to would have to be clarified (Kommersant.md, July 11). The document, which was drafted earlier this year in April, mentioned the provision of co-equal status for all of the "5+2" participants. The Russian diplomat's concern very likely reflected Moscow's opposition to upgrading the EU and US status from observers to full participants in the talks, which would diminish Russia's ability to manipulate the process and agenda of negotiations. To prevent this wider and more uncomfortable interpretation, Moscow pushed Tiraspol to request in Vienna the review of the document that it has already approved in April.
This ping-pong style of interaction has continued in the aftermath of the Vienna meeting. On July 27, Moldovan President Nicolae Timofti conveyed to Russian Deputy Foreign Minister Grigory Karasin the idea that Russia has to withdraw its military troops from Moldovan territory. He also stated that the Russian-led peacekeeping mission must be replaced by a civilian mission holding an "international mandate" (Pan.md, July 27). On the following day of his visit to Tiraspol, Mr. Karasin responded to the Moldovan President by unequivocally declaring that Russian peacekeepers will continue to stay in the Transnistrian region of Moldova until a "sound" political solution is reached (Nr2.ru/pmr, July 28; Kommersant.md, July 30).
Such nonchalant and dismissive responses by Russian mid-level bureaucrats to the statements of Moldova's top officials reflect their understanding of the political self-limitations accepted by Moldova's policymakers on Transnistrian negotiations. Russian diplomats are aware that their Moldovan counterparts lack the political mandate to pursue legal arbitration at an international body such as the UN in order to defend their national sovereignty.
In essence, the Russian Federation has managed to build a powerful deterrence mechanism against Moldova's leadership, discouraging it from taking any serious policy actions that would generate political and economic costs for Russia. As such, any declarations from Chisinau that are not backed by costly signaling such as effective policy moves, are interpreted by Russia as meant purely for domestic consumption in Moldova.
Even the much praised détente between Moldovan Prime-minister Vlad Filat and Tiraspol's "president" Yevgeny Shevchuk should be viewed with skepticism. The Transnistrian participants to the "5+2" format have staunchly refused to discuss any political resolution issues. Instead they prefer to focus on the social-economic basket (mfa-pmr.org, July 17), effectively receiving everything they want, while offering nothing in return. Moldovan negotiators have already walked this muddy path before, when Igor Smirnov was the leader of the break-away region, with disastrous failure. This strategy is so obvious that even the OSCE Secretary General Lamberto Zannier openly conceded that Tiraspol is much too concerned about the social-economic questions at the expense of the necessary discussions on the region's political status (Nr2.ru/pmr, July 18).
Moldovan negotiators accept Transnistria's diplomatic games in order to sustain a positive dynamic and maintain contacts with Tiraspol. However, there is in fact a possible side benefit in these unilateral concessions by Moldova, albeit not fully recognized by Chisinau. Moldova's concessions to Transnistria, in fact, consolidate the political position of Shevchuk in the break-away region at the expense of his electoral opponent Anatoly Kaminski and his team, which was backed by Moscow (see EDM, January 26; www.regard-est.com, May 1).
This internal Transnistrian power rivalry continues. The Shevchuk administration has repeatedly pressed charges against Vladimir Antyufeev, the ex-chief of the local KGB, who took refuge in Russia. In an initial attempt, the authorities accused Antyufeev of destroying sensitive documents, but this was rejected by the Tiraspol prosecutor's office (Kommersant.ru, July 4), which is apparently controlled by Kaminski's camp. However, at the Shevchuk-led executive branch has again filed charges against Antyufeev to the prosecutor's office (Kommersant.ru, July 23). It also made an earlier attempt in April 2012 to replace General Prosecutor Anatoly Guretzky, a move which was blocked by the local legislature, controlled by Kaminski's "Obnovlenye" party.
Considering these developments, it is clear that the Shevchuk administration does not yet have a solid enough political position on the left bank to be able to make concessions to Chisinau. It is not surprising then that the official website of the "Transnistrian president" failed to post Russian Deputy Foreign Minister Karasin's recent statement that Russia views Transnistria as a region of Moldova holding a special political status (president.pmr-gov.org, July 28). Furthermore, the Russian Federation prefers to play on Transnistria's internal rivalries, as it allows it to keep in check both power groups in Tiraspol. Therefore, the current negotiations will remain in a solid deadlock for the time being – contrasting sharply with the optimistic picture of the talks that the OSCE and Moldovan diplomats have been painting for political reasons.