Russia Prepares for Possible New Summer Military Campaign in Eastern Ukraine
Publication: Eurasia Daily Monitor Volume: 12 Issue: 95
By: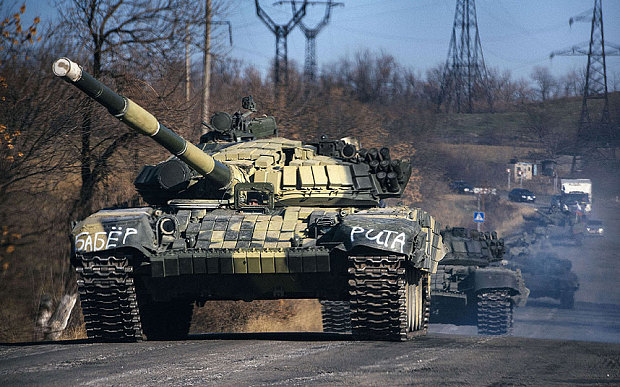 Summer is the best time for major offensive military action in the Donbas region (Donetsk and Luhansk provinces) of eastern Ukraine. In the spring and autumn, long periods of bad weather turn unpaved roads and plains into a mud quagmire (Rasputitsa), seriously hampering troop maneuverability and logistic support. In 2014, intensive summer fighting in Donbas lasted until early September and ended with the so-called "Minsk One" ceasefire after a massive intervention of Russian regular troops stopped and reversed an offensive by Ukrainian government forces. A wobbly ceasefire, punctured by constant barrages and clashes, lasted until mid-January 2015, when the dirt froze and a full-scale winter campaign began. It effectively ended in mid-February 2015 with the so-called "Minsk Two" ceasefire and after Russia-backed forces captured the strategically important town of Debaltseve, northeast of Donetsk, routing the Ukrainians. A wobbly ceasefire followed, punctured by constant barrages and clashes. Attempts by observers from the Organization for Security and Cooperation in Europe (OSCE) to solidify the present ceasefire, mediation efforts, as well as negotiations to revive the Minsk accords seem to have little effect. This week (May 20), Ukrainian President Petro Poroshenko accused Russia of supporting the rebels and of direct involvement in the fighting after two wounded Russian special forces servicemen, allegedly from the 3rd separate guards Spetsnaz GRU (military intelligence) brigade, were captured north of Luhansk following a clash with Ukrainian forces. Poroshenko declared: "They are preparing an offensive, we must be ready" (Kommersant, May 20).
The two servicemen—Captain Yevgeny Yerofeyev and contract Sergeant Alexander Alexandrov—were allegedly captured on May 16 near Shchastya, a Ukrainian-controlled town north of the Seversky Donets River (see EDM, May 20). A major electric power plant that supplies Luhansk is located in Shchastya. The rebels want to take the town to secure a steady electricity supply to Luhansk, and the Ukrainian forces threaten to destroy the plant, if attacked. According to footage of testimony by Yerofeyev and Alexandrov, published by the Security Service of Ukraine (SBU), the 2nd Battalion of the 3rd GRU Brigade (some 220-man-strong) was deployed in Donbas on March 26, 2015, under the command of Major Konstantin Napolskykh. On April 16, a group of Spetsnaz soldiers led by Captain Yerofeyev allegedly infiltrated Ukrainian-controlled territory near the Seversky Donets River. They were on a reconnaissance mission "to find a new position to stop constant Ukrainian bombardments," according to Yerofeyev, when they were ambushed by the Ukrainians. Apparently, Russian special forces were led to believe strategically important positions in Shchastya were abandoned by the Ukrainians during a badly organized rotation of forces and could be taken. A reconnaissance team was sent to investigate and possibly spearhead an attack (YouTube, May 20).
Yerofeyev and Alexandrov insist they are active service members. The Kremlin flatly denies this claim, "since there are no Russian servicemen in Donbas." The Russian defense ministry recognized Yerofeyev and Alexandrov as "former special forces members, who were retired at the time of their capture." The Luhansk rebels claim the two men are members of their militia. The Russian authorities, though officially disavowing the two captured "black ops" soldiers, have promised to use "all possibilities" to free them "as captured Russian citizens" (Kommersant, May 19). Apparently, some informal exchange may be organized in the future, but a backdoor tradeoff may take months.
The failed Spetsnaz reconnaissance mission near Shchastya looks like an attempt to tactically improve positions and secure the safety of the strategically important power plant in the run up to a possible escalation of hostilities—a summer campaign. Currently, the skies over Donbas are blue, and the pro-Russia rebel proxy forces seem to have been armed, reinforced and led by pro-Russia military personnel. One last problem needs to be sorted out before all is ready to go in the possible summer campaign—the massive seasonal rotation of Russian combat-ready forces must be concluded. The spring call-up of some 150,000 conscripts began in Russia on April 1, lasting until July 15. As new conscripts are mustered in, some 154,000 well-trained soldiers called up a year ago, must be demobilized and sent home (Trud, March 25).
The actual mass demobilization of conscripts during the spring call up (veseniy prisiv) typically begins each year in mid-May and lasts sometime until July. Russian soldiers and specialists integrated into the proxy forces inside Ukraine in Donbas may be mostly volunteers, but the forces camped on the Ukrainian border and in Crimea, or in mobile battle-ready units all over Russia, including the GRU Spetsnaz and the 3rd Guards Brigade, have large conscript contingents. A former 3rd Brigade conscript soldier, who insisted his identity be concealed, told BBC's Russian service he had served under Captain Yerofeyev's command and alleged Yerofeyev was not much liked by the men, hence he was abandoned on the battlefield, wounded and captured (BBC–Russian service, May 19).
The situation in Donbas today is at a crossroads: A summer campaign may begin in a month or so. In July and August, the weather is best for war-making in the Donbas region, and the Russian military is operationally at its peak for carrying out mass engagements if the confrontation, by chance, begins to escalate out of control. Come September, major operations must be wound up. Maybe some "Minsk Three" ceasefire accord will be agreed to sometime next September, with French and German participation, to solidify the further possible Russian gains on the ground: perhaps the capture of Shchastya, Slavyansk, Kramatorsk or Lisichansk—all north of Luhansk and Donetsk. Peski north or Luhansk, the western suburbs of Donetsk and Mariupol (Mariupil) port in the south are the other obvious points of a possible offensive. Come next October, the autumn rains bring back Rasputitsa mud and a new autumn call-up and demobilization will begin in Russia—at that point, another operational pause in fighting seems inevitable.
If a summer campaign can be avoided somehow, the next possible chance would not be until January, in the dead of winter; or maybe action could be postponed until the summer of 2016. It is up to one person—President Vladimir Putin—whether the Donbas conflict will be frozen, allowing the consolidation of the present regime in Kyiv, or whether more immediate military pressure will facilitate a regime change in Kyiv, which, in turn, could lead to more punitive sanctions on Russia. Moreover, the Kremlin is beholden to domestic political, social and economic repercussions of the pending decision to go or to freeze the conflict. The clock is ticking, and Putin must make a decision soon.