Russia Prepares for War with the US and NATO, While Lacking Resources
Publication: Eurasia Daily Monitor Volume: 10 Issue: 48
By: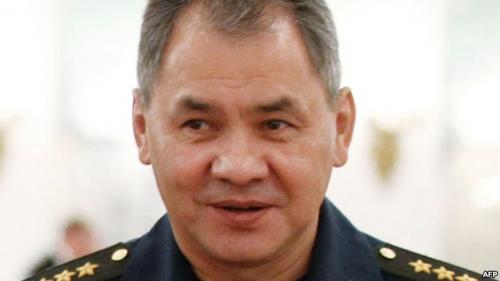 Sergei Shoigu, a former long-time emergency situations minister (MChS) and a former Moscow region governor is a well-known and popular figure in Russia—according to recent independent Leveda-Tsentr polls, he is at present more popular than Prime Minister Dmitry Medvedev. Last November, President Vladimir Putin sacked the highly disliked Defense Minister Anatoly Serdyukov, replacing him with Shoigu, whose popularity has been growing ever since; Serdyukov continues to be discredited by a high-profile investigation of alleged mass misappropriations in the defense ministry under his watch. Today, Shoigu seems to be second in popularity only to Putin himself, though, according to Leveda-Tsentr director Lev Gudkov, "Shoigu's popularity is within Putin's core base—the elderly, badly educated and ill-informed provincial folks." According to Gudkov, Shoigu cannot politically compete with Putin, but can with Medvedev (Kommersant, February 26).
Despite Shoigu's popularity, present plans to reverse Serdyukov's military modernization are being attacked by experts as basically flawed and doomed to fail. In a keynote address at a seminar in Moscow this week, well-known politician and defense analyst Alexei Arbatov (62), a former Duma deputy and chief of the Center for International Security of the Russian Academy of Sciences, described Serdyukov's attempts to reform the Russian military as "controversial." From 2008 to 2012, then-President Medvedev continuously implied, according to Arbatov, the need to closely cooperate with the West in order to obtain technologies and know-how to modernize Russia as well as its military and civilian infrastructure. Serdyukov followed these political directives by attempting to Westernize Russia's military structure and to procure Western-made weapons. At the same time, according to Arbatov, the Russian military doctrine, adopted in 2010, de facto implied that the United States and the North Atlantic Treaty Organization (NATO) are the main threat and Russia must prepare to fight them (https://www.lawinrussia.ru/node/247260).
Today, Arbatov noted, Russian defense and foreign policies have been streamlined and are not "controversial" anymore. It has been decided:
1) Russia is surrounded by enemies led by the US.
2) The US is using the pro-democracy opposition inside Russia to subvert the regime.
3) The US with its allies may invade Russia anytime.
4) The West plans to use military power to seize Russia's natural riches.
5) Russia will use its own technologies to rearm its military.
6) Russia's allies are the Shanghai Cooperation Organization or SCO nations together with Belarus, Armenia and possibly Syria.
7) Nuclear weapons are the cornerstone of Russian security, while calls for nuclear disarmament are a malicious US swindle.
According to Arbatov, Putin's ambitious rearmament program, costing 23 trillion rubles ($754 billion) until 2020, will surely fail, since Russia does not have the needed technologies or the money, as its economy is today hit by stagflation. Russia must, Arbatov argued, return to Medvedev's foreign policy of closely cooperating with the West, end spreading misleading propaganda about a possible imminent major war with the West, and with Western help build a modern, compact all-volunteer military of some 800,000 service personnel, while canceling conscription (https://www.lawinrussia.ru/node/247260).
The personal wealth and political power of Putin and his close cohorts is based on the control and distribution of wealth created by exporting oil, natural gas, metals, diamonds, fertilizer and other natural riches. Putin and his supporters took over Russia in the 2000s and began to project power over neighboring nations after sidelining or destroying a previous generation of oligarchies that controlled Russia's multiple natural resources in the 1990s. Putin and his team seem to truly believe that Russia's riches make it the envy of the world and that the US wants to appropriate Russian oil and gas so much it is ready to risk war, if Russia is weak enough. Both Putin and his top general—First Deputy Defense Minister and Chief of the General Staff, Army General Valery Gerasimov—have recently spoken publicly of mounting military threats and enemies surrounding Russia from all sides. Putin's highly expensive rearmament program has, therefore, been presented as a desperate attempt to preempt Western-led military aggression (see EDM, February 14).
Putin's rearmament program is clearly too ambitious, while the overall threat assessment that underpins it seems ludicrous. The Russian defense industry is struggling and often fails to produce decent modern weapons despite massive budget cash injections. According to defense ministry sources, some 30 percent of the 200 military helicopters procured in recent years are permanently disabled because of major technical breakdowns—mostly the newest attack helicopters, the Mi-28s and Mi-35s. Newly procured computerized command-and-control communication systems, which were intended to profoundly change the way the Russian military operates, do not work at all, and the Russian military is forced to use Cold War era-produced Soviet communications equipment that is still in working order (Vedomosti, February 15).
Plans to speedily produce and procure next generation jet fighters, tanks and warships in accordance with the rearmament plan will most likely be curtailed and postponed. The present Russian GDP is some 60 trillion rubles ($1.95 trillion). To generate enough revenue to run the rearmament program and prevent dramatic cuts to social spending, Russia's GDP must grow to 150 trillion ($5 trillion) by 2020, which is virtually impossible. The rearmament program is not only too ambitious, it seems unbalanced, with half of the money earmarked to the Air Force and the Navy (5 trillion rubles or $164 billion each), while the Army and the Airborne Troops (VDV), which actually face serious potential security challenges in Central Asia and the Caucasus, will be given much less—2.6 trillion rubles ($85 billion) (Vedomosti, February 15). It appears that Shoigu, appointed defense minister on November 7, has outlived his 100-day grace period and will be increasingly under attack even by military experts who are basically loyal to the present regime, but who are nevertheless frustrated by the lack of adequate military decision-making.