'Cultural Ties': Russia's New War Tool with Georgia
Publication: Eurasia Daily Monitor Volume: 10 Issue: 47
By: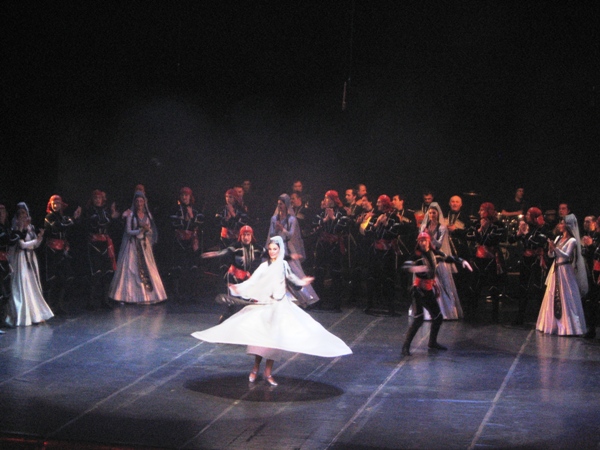 On March 4, renowned Georgian folk dance and music ensemble Erisioni departed to Russia for a tour, culminating in a series of grandiose concerts at the Kremlin on March 9–10 (Imedi TV, March 4). Two other Georgian folk ensembles, Rustavi and National Ballet Sukhishvilebi, as well as the Rustaveli Theater, also plan tours in Russia in the following months (TV 9, March 6; www.pirweli.com.ge, March 10). As Tbilisi seeks a rapprochement with Moscow, such tours are becoming part of a wider trend, which the Georgian government labeled as a restoration of cultural ties with Russia. Prime Minister Bidzina Ivanishvili personally and strongly supported the restoration of cultural relations as essential to normalizing his country's political relations with Russia (TV 9, March 6).
However, it must be noted that although Georgia did have very close cultural relations with Russia and Russian society since Tsarist and Soviet times, these cultural links did not impede Russia from aiding Abkhazian and Ossetian separatists against the sovereign Georgian government in the 1990s, nor did it prevent a Russian-orchestrated dismemberment of Georgia in 1990–2008. Cultural relations between the two countries, along with political ties, were almost entirely severed after the August 2008 Russian-Georgian War as Moscow recognized the "independence" of Abkhazia and the Tskhinvali Region (South Ossetia) and entrenched its military occupation in these two Georgian regions. It is, therefore, not clear how or why a restoration of close cultural relations will help Georgia now in its bilateral relationship with its northern neighbor.
The Erisioni dancers' tour was followed by protests and a storm of criticism in Georgia against the ensemble. Many in Georgia saw the tour as a self-humiliating act for the country, and embarrassing to the memory of Georgian soldiers and civilians killed by the Russian invading army during the August 2008 war (www.frontnews.ge, www.radiotavisupleba.ge, March 9). It is highly unlikely that the Georgian ensemble was allowed to perform at the Kremlin—President Vladimir Putin's residence—without Putin's personal approval or even some form of direct or indirect invitation. Based on this, many Georgians see Erisioni's Kremlin performance as a symbolic act of Georgia's capitulation to Russia, cynically orchestrated by the Russian regime and naively accepted by the government in Tbilisi.
Trying to defend itself from criticism, Erisioni's management claimed that it was invited to Russia by a Russian-based private company (Imedi TV, March 8). Nevertheless, it would be incorrect to think that Erisioni, a government-funded state ensemble, would go on such a politically controversial cultural tour on its own initiative based on a private company's invitation without the Georgian government's—and personally the prime minister's—direct approval or even initiative. Indeed, Prime Minister Ivanishvili actually did welcome Erisioni's tour to Russia (www.netgazeti.ge, March 5).
However, the central issue goes beyond just several Georgian ensembles' visits to Russia. In November 2012, with the new Georgian government's permission, Russian—largely pro-Kremlin—TV channels were allowed to again broadcast via cable in Georgia (www.iveroni.com.ge, November 11, 2012; www.commersant.ge, November 13, 2012). Georgia's government had blocked the broadcast of Russian TV channels via cable during the August 2008 Russia-Georgian War to stop the Kremlin's damaging war propaganda amid military actions (www.civil.ge, August 9, 2008). The resumption of Russian TV broadcasts provide Moscow with a viable means to influence and even dominate Georgian public opinion on a host of political issues—first and foremost on Georgia's foreign policy orientation.
Moscow also made sure to reach out to Georgian journalists. On February 4, the Russian political science center "North-South" and the non-profit organization "Caucasian Cooperation" opened the Russian-Georgian School of Journalism in Tbilisi. Russian journalists from government-owned news agencies, as well as professors from Moscow State University and the Moscow Institute of International Relations will train and teach Georgian journalists there. Some of these students will be specially chosen to attend a regional school of journalism in the southern Russian city of Sochi. At the end, the school will grant certificates to its graduates (www.geworld.ge, February 6). By this effort, Moscow is clearly trying to create a loyal network of Georgian journalists through which it will influence Georgian public opinion.
Also, joint Russian-Georgian experts' conferences and round table meetings—a rarity before the October 1 elections—have become more and more frequent (www.livepress.ge, October 27, 2012; www.for.ge, November 26, 2012; www.geworld,ge, February 6). Such venues provide the Kremlin and its loyal experts with additional opportunities to penetrate and influence Georgian intellectual circles.
Restoring and maintaining cultural relations with any society and country, including Russia, is desirable and normal. However, at second glance, these seemingly innocuous cultural relations are not so innocent at all—at least, not in the Kremlin's hands. Moscow has historically used culture and ideology as a weapon of expansion, domination, and assimilation, especially against small nations such as Georgia. As independent Georgia looked westward over the past decade, it painfully worked to detach itself from Russia's cultural and ideological influences. But that seems to be changing now.
Clearly, under the label of restoring Russian-Georgian cultural relations, Moscow is unfolding a new strategy to bring Tbilisi back under Russia's cultural influence. This trend will continue as Georgia's increasingly pro-Russian government insists on a restoration of cultural relations in different forms, including by reopening the Russian entertainment market to Georgia's formerly Soviet, pro-Russian art intelligentsia; by opening the Georgian market to Russian entertainers; by emphasizing religious ties between the two countries; and so on. If the trend continues, Russia may eventually try again to spread the Russian language in Georgia to undo the gains English has made in society over the past decade.
The resurgence of Russian cultural influence in Georgia will provide the Kremlin with access to large segments of Georgian society. Such a development will gradually and fundamentally change Georgian society's attitudes in many respects in the medium and long term. First and foremost, it will sour Georgian public opinion toward the country's Euro-Atlantic integration. A large majority of Georgians currently support accession to the North Atlantic Treaty Organization (NATO) and European Union. But that may change as Russia gains new means to culturally and ideologically influence the Georgian population. If unchecked, these will eventually incur irreparable damage to Georgia's prospects of Euro-Atlantic integration.