Saakashvili's Visit to Baku Ignites Political Debates
Publication: Eurasia Daily Monitor Volume: 10 Issue: 47
By: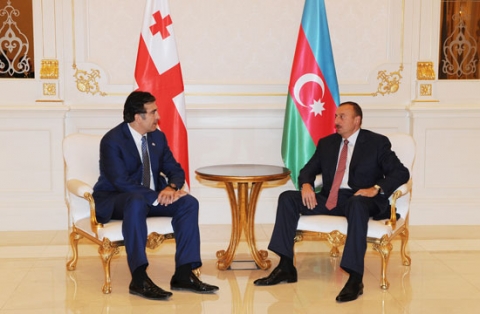 At the end of February 2013, Georgian President Mikheil Saakashvili paid an official visit to Baku. During the visit, Saakashvili met with his Azerbaijani counterpart, President Ilham Aliyev, and discussed several issues of mutual interests. As analysts suggested, the visit was supposed to calm down Azerbaijan. Baku became worried after the new Georgian government headed by Bidzina Ivanishvili criticized a number of joint projects, including the Baku-Tbilisi-Kars railway as well as Azerbaijan's gas sales to Georgia. These issues were consequently on the agenda as well during Prime Minister Ivanishvili's visit to Baku several months ago (see EDM, January 14). Despite the fact that Ivanishvili had already reassured the Azerbaijani side that conditions would not change, Baku looked forward to hear such statement from the Georgian president himself. "Whoever is in the Georgian government realizes the importance of Azerbaijan and must continue the policy of cooperation," Saakashvili said in Baku. He stated that the planned Trans-Anatolian natural gas pipeline (TANAP), a joint Azerbaijani-Turkish project, would open great opportunities for Azerbaijan, Georgia, Turkey and Europe. Meanwhile, speaking on the construction of the Baku-Tbilisi-Kars railroad, Saakashvili assured his hosts that the project would be implemented successfully. Aliyev, meanwhile, stated that Azerbaijan and Georgia have become strategic allies and that this relationship would be further developed in the future. The Azerbaijani head of state specifically focused on cooperation in the energy and transport sectors (Day.az, February 28). Within the framework of the visit, Saakashvili also visited the Nakhchivan Autonomous Republic—a large exclave of Azerbaijan located between Armenia and Iran—where he met with Vasif Talibov, the chairman of Nakhchivan parliament, and discussed a range of regional issues as well as mutual projects.
After returning to Tbilisi, the Georgian president made several noteworthy statements that sparked political debates both inside and outside of Azerbaijan. Saakashvili noted that during his two-day visit to Azerbaijan, he "clearly saw the danger Azerbaijan and Georgia are facing" (Zerkalo, March 1). In particular, he said that Georgia and Azerbaijan are threatened by the possibility of destabilization by Russia. Georgia faces disintegration while Azerbaijan fears Russian-sponsored regime change. "A billionaire named [Soyun] Sadikhov in Russia is from Georgia's Gardabani region and promised to achieve autonomy for Azerbaijanis in Georgia," Saakashvili warned (apa.az, March 1). He added, "Meanwhile, the recently pardoned Armenian activist Vaagn Chakhalyan also raises the issue of autonomy for Georgian Armenians. At the same time, Sadikhov, together with another billionaire, Vagit Alekperov [the president of Lukoil, who is half Azeri and half Russian], are planning a regime change scenario similar to the Georgian one" (Vesti.az, March 1). According to Saakashvili, the threat specifically comes from Russia where a new Azerbaijani diaspora organization has been established. Headed by Sadikhov, an influential and very rich Russian businessman, this diaspora organization was also strengthened by the introduction of several other Russian billionaires, including Alekperov. The major goal of the organization, the Georgian president argued, is to oppose Ilham Aliyev.
Immediately after this statement, Eldar Aliyev, the official representative of Lukoil in Azerbaijan, stated that "information on Lukoil's president staging a coup is a lie and rubbish." Sadikhov himself called Saakashvili's statements "groundless" claiming that neither he nor Alekperov have any interest in Azerbaijan. At the same time, he acknowledged the creation of a new National United Party of Russia, but asserted that it has nothing to do with Georgia or Azerbaijan (Haggin.az, March 2). Previously, several high-ranking Azerbaijani officials, including Mubariz Gurbanli, the deputy secretary of the ruling Yeni Azerbaijan Party had heavily criticized Sadikhov's activities (Zerkalo, February 28).
Meanwhile, the website Haggin.az divulged that Sadikhov, who was born in Georgia, had worked for the Soviet KGB in 1980–1981. In 2002, he was re-elected president of the Federal National-Cultural Autonomy of Azerbaijanis of Russia (AzerRos). Furthermore, Sadikhov is a member of the Council for Inter-Ethnic Relations under Russian President Vladimir Putin. The site further claims that Sadikhov is establishing a political party named Borchaly (the historical name for the region of Georgia populated by Azeris) and has developed its anthem and other attributes (Haggin.az, February 27)

Nevertheless, most Azerbaijani politicians met Saakashvili's statement with some reservations. "There is certain pressure from Russia and we see it in the form of Russian arms supplies to Armenians. However, it is wrong to state that Russia intends to attack Azerbaijan. Both countries have great diplomatic, cultural and economic relations. It would be wrong to compare our relations with Russia with Georgia's [bilateral relationship with Moscow]," Rasim Musabekov, a member of Azerbaijan's parliament stated (Zerkalo, March 4).
Another MP, Asim Mollazade, however, believes that Azerbaijan should heed the statements by President Saakashvili. "I do not think that Russia has specific plans for a coup in Azerbaijan, but after signing the TANAP agreement, the situation in the region resembles the period following the signing of the Baku-[Tbilisi-]Ceyhan [oil] pipeline agreement. At that time, both Azerbaijan and Georgia witnessed coup attempts as well as [Russian] pressure on the governments of these countries. Today we see more 'soft pressure' defined in the statements of the Russian president," he concluded (Zerkalo, March 4).
The sudden alarming public comments by the Georgian president caught off guard many in the Azerbaijani government. Politicians and MPs in Baku perfectly understand that such claims could spoil relations with Russia and, consequently, tried to largely dismiss Saakashvili's remarks. Local Azerbaijani analysts believe that by making such statements, Saakashvili is attempting to increase his popularity within the country as well as bring global attention back to the Georgian situation. Nevertheless, by raising the issue of possible destabilizing forces working from inside Russia, Saakashvili brought the debate in Azerbaijan to the forefront, and—amid Moscow's increasingly aggressive attempts to reintegrate the post-Soviet space—it is unlikely to subside quickly.