Russia Prioritizes Increased Energy Supplies To China
Publication: Eurasia Daily Monitor Volume: 8 Issue: 82
By: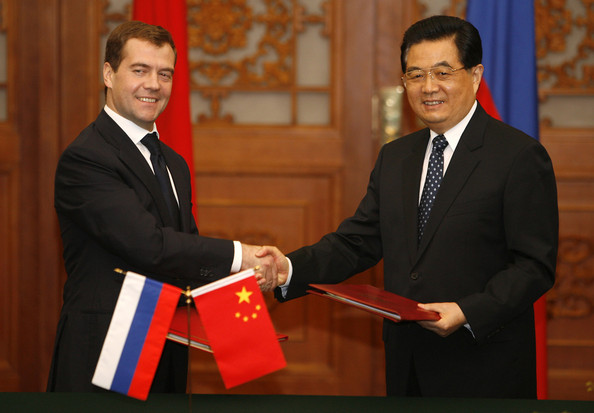 Russia has pledged to expand its trade with China but commercial ties between the two nations remains focused on energy. During his trip to China for the BRICS summit (Brazil, Russia, India, China and South Africa), on April 13, Russian President Dmitry Medvedev pledged to develop a strategic economic partnership with China, following talks with his counterpart Hu Jintao. In response, Hu Jintao also suggested further developing bilateral ties (Interfax, ITAR-TASS, RIA Novosti, April 14).
Ahead of the visit, Medvedev promised to increase trade with China up to $100 billion annually (Interfax, ITAR-TASS, RIA Novosti, April 12). In 2010, Russia's trade with China reached $59.3 billion or 50.3 percent up year-on-year, according to official Russian and Chinese statistics.
Russian officials have been keen to increase trade with their Chinese neighbor. In January 2006, former Russian President Vladimir Putin announced plans to raise bilateral trade up from $60 billion to $80 billion per year by 2010. But in 2009, Russia's trade with China dropped to $38.8 billion or some 32 percent down year-on-year.
On the eve of his trip to China, Medvedev's foreign policy aide, Sergei Prikhodko, argued that both leaders had no plans to discuss energy prices (Interfax, April 12). Nonetheless, Medvedev was forced to interfere in the ongoing gas dispute. On April 14, he voiced hope that Moscow and Beijing would agree on prices of Russian gas to be supplied to China, adding that the matter had been discussed during his talks with Hu Jintao (Interfax, ITAR-TASS, RIA Novosti, April 14).
Ahead of the bilateral summit meeting, Russia's gas giant Gazprom made yet another attempt to clinch a deal on gas prices. However on April 12, Gazprom was only able to announce continued talks on gas prices, aiming to reach an agreement by mid-2011. The statement followed talks on April 11-12 in Beijing between Gazprom deputy CEO, Alexander Medvedev, and his Chinese counterparts (Interfax, April 12).
According to Russian media citing Chinese sources, the latest round of price negotiations between Gazprom and China National Petroleum Corp (CNPC) reached no conclusion (Interfax, April 13). Hence Moscow's expectations of increasing global demand for hydrocarbons and subsequently Gazprom's insistence on higher gas prices encountered Beijing's reluctance to accept expensive gas imports.
Gazprom's project to build the Altai gas pipeline to China has been stalled for several years as a bilateral agreement on gas prices has remained elusive. Four years ago, Moscow promised to export up to 40 billion cubic meters (bcm) of Russian gas to China via a 6,700-kilometer Altai pipeline. In March 2006, Gazprom and CNPC signed a memorandum on the delivery of Russian natural gas to China starting in 2011. Gazprom first offered to supply gas at European prices, while CNPC insisted on lower prices.
In October 2009, Gazprom and CNPC signed a framework agreement on gas supplies, including construction of a gas pipeline. Gazprom and CNPC agreed that gas prices would be linked to the "Asian oil basket." Russian officials had previously expected a final agreement on gas prices to be reached in June 2009, while gas supplies would start in 2014-2015.
In July 2010, Gazprom and CNPC held talks on financing the Altai pipeline but the negotiations proved to be fruitless. Gazprom initially estimated the pipeline's construction costs at $10 billion, but then raised this figure to $14 billion. However, the agreement on gas prices is still expected in the first half of 2011 while supplies could start in 2015.
In a yet another blow to Russian energy pricing policies, an additional rift reportedly emerged in relations with Chinese consumers. On April 18, Russian media reported that China's CNPC aimed at cutting the price of oil supplied from Russia, arguing that Rosneft inflated the price of oil supplied via the ESPO pipeline from January 2011 (Interfax, April 18). Rosneft supplied some 9 million tons of crude per year to China by rail before the end of 2010.
In April 2009, the Chinese and Russian governments finalized a deal under which Russia will supply China with 300 million tons of oil for 20 years in exchange for loans totaling $25 billion to the Russian state-run companies Rosneft and Transneft. Subsequently, Transneft moved to build a branch from the East Siberia Pacific Pipeline (ESPO) to China. The branch's construction commenced in April 2009 and was completed on August 29, 2010.
Meanwhile, Moscow's hopes of increasing electricity exports to China also appear slow to fully materialize. Chinese officials reportedly complained that Russian suppliers have raised electricity prices from $0.2 per kilowatt hour (kWh) in 2005 up to the current $0.42 per kWh, and warned that China would not accept any further price increases.
Russian energy companies had pledged to export 60 billion kWh by 2020, but in recent years Moscow and Beijing have struggled to agree on the terms of the electricity trade. In February 2007, China halted imports of Russian electricity, citing disagreements on pricing. However both sides solved their differences and in March 2009 Russia re-started electricity exports to China. Last year, Russian suppliers exported about 1 billion kWh to China.
The Russian authorities also announced plans to increase Russian coal supplies to China. On April 14, Prime Minister Vladimir Putin told a cabinet meeting that the governmental blueprint to develop the country's coal mining sector should envisage increase exports to Asia-Pacific. After the meeting, Energy Minister, Sergei Shmatko, promised to increase Russian coal exports to China up to 20 million tons per year (Interfax, ITAR-TASS, RIA Novosti, April 14).
Russian coal producers started large-scale coal exports to China in 2008. By 2010, Chinese officials voiced hopes that Russian coal exports to China would reach 13 million tons per year. However, exports to China still remain a fraction of Russia's total coal production of 323 million tons in 2010.
Therefore, commerce between Russia and China remains focused on energy, as Moscow appears to be satisfied with its current role of energy supplier to China.