Who Rules Kyrgyzstan Today?
Publication: Eurasia Daily Monitor Volume: 8 Issue: 81
By: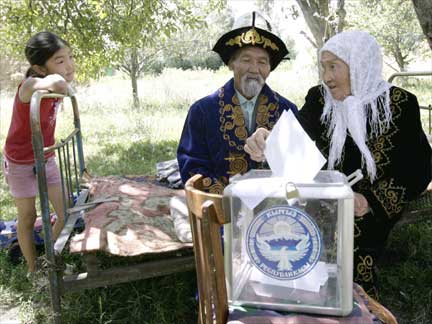 It will soon be one year since Kyrgyzstan adopted a parliamentary system of governance. Although the country's political life is more transparent, it is also increasingly unpredictable. Almost all parties represented in parliament favor a stronger political center. Likewise they all see the upcoming presidential elections, preliminarily scheduled for the end of this year, as a defining point, when the strongest political power will be defined.
Since the July 2010 constitutional referendum that approved a parliamentary system of governance, politicians and the wider public have been learning how to function in the new political environment. While most politicians remained corrupt and manipulative, preferring to maintain control over major business structures in the country, in the absence of a strong center of political power in Kyrgyzstan, all face strong challenges from competing factions.
In this uncertain environment it has become easy for political parties to claim credit for certain achievements and deny responsibility over any mishaps. A lot of space is left for improvisation. In one recent example, Deputy Prime Minister Omurbek Babanov resigned from office arguing that the investigation of criminal allegations made by former Prosecutor-General Kubatbek Baibolov must proceed without interruption (www.ca-news.kg, April 24). That Babanov is trying to downplay allegations of illegally appropriating control over the mobile communications company, MegaCom, is one common interpretation among Kyrgyz observers.
Meanwhile, Prime Minister Almazbek Atambayev, complained that opposition parties are trying to distort the current distribution of political power (www.24.kg, April 20). According to Atambayev, some parties are trying to undermine the government's importance in order to prevail over their competitors. However, within the ruling coalition consisting of Ata-Jurt, Social Democratic Party of Kyrgyzstan (SDPK), and Respublika, consensus is rarely found. In one recent showdown, a member of Ata-Jurt and Respublika's Altynbek Sulaimanov engaged in a real fistfight, almost leading to the coalition's collapse.
Today Atambayev is seen as the likely frontrunner in the presidential election. However, Atambayev would require support in the southern areas of the country where his SDPK is outperformed by Ata-Jurt and Respublika (mostly among ethnic Kyrgyz voters). The leaders of both parties also share strong ambitions to lead the country. Their possible agreement to support Atambayev is unclear.
In an attempt to gain a stronger voice in parliament Ar-Namys tried to join the ruling coalition. The party's ten Members of Parliament (MPs) were accepted by members of the ruling coalition as well as by Ata-Meken. Former KGB officer and Ar-Namys leader Feliks Kulov, however, interpreted the coalition's welcome to his ten team-members as an effort to undermine his faction (www.24.kg, April 20). According to the Kyrgyz constitution, only entire factions can join a coalition and if any of the MPs defect from their respective parties, they lose their mandate. Instead, Kulov preferred to have Ar-Namys join the coalition in its entirety.
In the aftermath of the first anniversary of the April 7, 2010 regime change, political parties represented in parliament rushed to name their own heroes who made the ouster of Kurmanbek Bakiyev possible. Overall, the list reached more than 1,160 people from all those who participated in the mass demonstrations on that day and risked their lives by opposing former President Kurmanbek Bakiyev's regime (www.24.kg, April 19). By commemorating the heroes of the April 7 events, political parties seek to strengthen their own standing in Kyrgyzstan, preferring to inflate their achievements over the past year.
Meanwhile, most other political leaders who were unable to secure their election to parliament have been pushed aside from the country's political life. The voices of parties formed by former Bakiyev's opposition members are rarely heard, making opposition outside parliament irrelevant. They are unlikely to resurface during the presidential election. The real competition will unfold between existing MP's.
It is important to remember that the parliamentary system of governance was initiated by members of the interim government that came to power after ousting Bakiyev. The system rather represents a consensus between powerful political elites that ensures that no single power faction emerges to oppress other players. Because forming a ruling coalition presented an immediate opportunity to consolidate most power in parliament, political parties were anxious to join it to compete in the presidential elections. Today, however, the ruling coalition is still holding together because it remains uncertain who holds the key to the presidency.