Russia Pursues Post-Soviet Integration
Publication: Eurasia Daily Monitor Volume: 7 Issue: 97
By: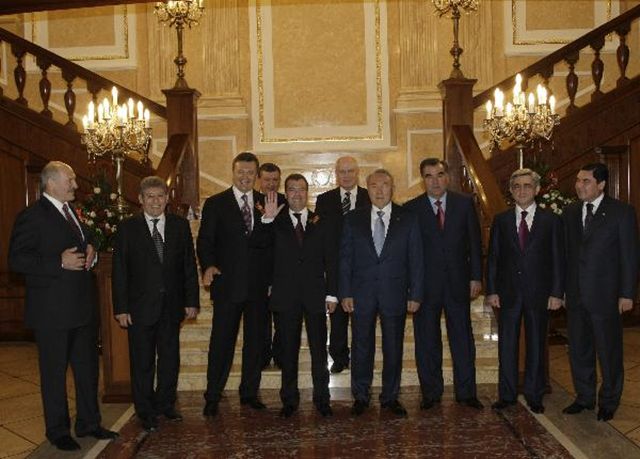 In yet another bid to strengthen cooperation with the "near abroad," Moscow has hosted informal summit meetings of the major post-Soviet groupings. However, the gatherings also served to highlight continued disagreements between some member states.
On May 8, informal summits of the Collective Security Treaty Organization (CSTO) and the Commonwealth of Independent States (CIS) were held in Moscow to mark the 65th anniversary of defeating Nazi Germany. President, Dmitry Medvedev, told the summit meeting at his Gorki residence outside Moscow, that the CIS remained what he termed as an "appropriate platform" for economic coordination and joint modernization efforts (Interfax, ITAR-TASS, RIA Novosti, May 8).
The CIS leaders refrained from any political statements, only adopting an address on the 65th anniversary of the victory in World War II. Yet, they welcomed Ukraine's President, Viktor Yanukovych, hoping that the country will rejoin the regular meetings of the grouping. The summit meetings in Moscow were attended by the heads of state of almost all the ex-Soviet Republics, except Islam Karimov, who sent the Uzbek Prime Minister, Shavkat Mirziyev, to represent the country. However, Belarusian President, Alyaksandr Lukashenka, and Ukraine's Yanukovych left early to attend celebrations in their capitals. The Georgian leadership was not invited.
President Medvedev told visiting heads of state that nations should work together in the face of modern threats. In a symbolic non-confrontational gesture, NATO troops marched in the annual Victory Day parade through Red Square on May 9. Ahead of the symbolic parade, the CSTO hailed the recent nuclear arms reduction agreements between Russia and the US, and advocated continued global efforts to pursue nuclear disarmament. Ironically, Russia's new military doctrine stipulates the defense of the country's allies by all means, including nuclear weapons. According to CSTO's mandate, if there is a threat of aggression against one country, other member states can provide help, including military aid.
The CSTO heads of state also advocated what they described as a "peaceful return" to normal political life, prevention of violence and restoration of law and order in Kyrgyzstan. The grouping also pledged "humanitarian and other assistance" to Kyrgyzstan, but voiced concern about the "non-constitutional" regime change there in April (Interfax, ITAR-TASS, RIA Novosti, May 8).
The sudden collapse of the Bakiyev regime in Kyrgyzstan also benefitted the Kremlin. Subsequently, Roza Otunbayeva, the head of the Kyrgyz provisional government was allowed to attend the celebrations in Moscow on May 8-9. The Russian-led CSTO has indicated that its Collective Operational Reaction Forces (CORF) would not intervene in any internal unrest in Kyrgyzstan because it was not designed to interfere in such domestic conflicts. The CSTO, which includes Armenia, Belarus, Kazakhstan, Kyrgyzstan, Russia, Tajikistan and Uzbekistan, currently has the collective rapid deployment forces (KSBR), due to be replaced by the Russian-led CORF.
In June 2009, CSTO leaders signed an agreement to form the CORF, although some member states abstained. A CSTO summit meeting in Moscow on June 14, 2009 agreed to form the Russian-based CORF to respond to regional security challenges, but Belarus and Uzbekistan declined to sign the agreement. Furthermore, Minsk also refused to assume the CSTO rotating presidency and refrained from the CORF deal due to economic disagreements with Moscow. Subsequently, Russia was forced to assume the CSTO "temporary presidency."
In yet another affront to Moscow, Lukashenka granted asylum to Bakiyev and made it clear that any extradition requests would be declined. On April 25, Lukashenka argued that the CSTO "had no prospects" in its current form, and accused the grouping of turning a blind eye to the Kyrgyz coup (Interfax, April 25).
Last year, Russia's relations with its once closest ally, Belarus, reached a new low following a bitter dispute about Moscow's restrictions on Belarus food exports into Russia. In May 2009, Lukashenka told his government to end "weeping, bowing and begging" to Russia, and urged them "to seek happiness in another part of the planet."
Subsequently, Belarus is now planning to receive up to 10 million tons per year in oil supplies from Venezuela, via Ukraine and Lithuania. Possible oil transit issues were discussed during talks between Lukashenka and Yanukovych in Minsk, and Prime Ministers, Andrius Kubilius, and, Sergei Sidorsky, in Vilnius (Interfax, April 29-30). Therefore, economic disagreements between Russia and Belarus continue despite pledges by both nations to form a "union state," and a Customs Union along with Kazakhstan.
In contrast, following Yanukovych's accession to power, the Kremlin has pushed to rapidly develop ties with Ukraine. These moves include bilateral agreements on gas supplies and the Black Sea Fleet, Moscow's initiatives to merge Russia's Gazprom and Ukraine's Naftogaz, and Russian pledges to grant Ukraine preferential loans. Yet, despite the continued disagreements with Belarus, the Kremlin also moved to forge close ties between the three major Slav nations. On May 9, heads of the presidential administrations in Belarus, Russia and Ukraine (Vladimir Makei, Sergei Naryshkin and Sergei Levochkin) met in Sevastopol to discuss an upcoming trilateral summit meeting to be held in the area where the borders of the three nations meet.
Therefore, Russian policies in the "near abroad" apparently continue to revolve around the nexus of post-Soviet groupings and related ideas of closer economic integration. However, it is far from certain whether these policies might serve to solve persistent disagreements between the former Soviet Republics.